October 2017 Two Day Adventure Preview
Friday, October 06, 2017, 9:00 AM - Saturday, October 07, 2017, 5:00 PM
Spend two-days at Denver Seminary, experiencing life on campus one day and enjoying an exciting adventure in the Colorado outdoors! A typical preview day will loosely follow the schedule below.
Friday, October 6: On Campus
9:00 am – Welcome (breakfast provided)
9:10 am – Devotional
9:30 am – History
9:50 am – Break
10:00 am – Training & Mentoring
10:30 am – Program Overview
11:00 am – Financial Aid & Residency
11:30 am – Campus Tour
12:00 pm – Faculty Welcome Lunch (lunch provided)
1:00 pm – Class Visit
2:00 pm – Student Panel
3:00 pm – Application & Registration
Saturday, October 7: Hike to The Loch in Rocky Mountain National Park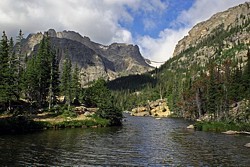 Meet at Denver Seminary at 7:00am for breakfast and enjoy a beautiful day exploring the great Colorado outdoors through hiking and fellowship. You'll return to Denver Seminary around 5:00pm. Meals and transportation provided!
To plan your trip and make overnight reservations, please click here.
If you would prefer, you may register for the campus daytime preview only.