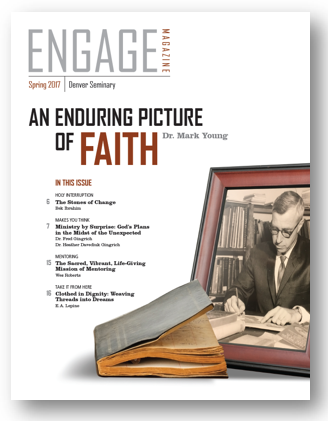 Welcome to Engage Magazine, a biannual publication of the Seminary. Our Spring 2017 issue features "An Enduring Picture of Faith" by Denver Seminary President, Dr. Mark Young. In addition, Drs. Fred and Heather Davediuk Gingrich co-author a piece entitled "Ministry by Surprise: God's Plans in the Midst of the Unexpected."

Along with these articles from our faculty, you'll find contributions from current students, stories of alumni around the globe, and news and events from Denver Seminary.
Click here to view this issue.
Receive Your Copy Today
Email us and provide your mailing address to be added to our free subscription list for Engage Magazine.
Email Updates
To receive email updates about the magazine, subscribe below.
Archives
Engage Magazine - Fall 2013
Engage Magazine - Spring 2014
Engage Magazine - Fall 2014
Engage Magazine - Spring 2015
Engage Magazine - Fall 2015
Engage Magazine - Spring 2016
Engage Magazine - Fall 2016