A Denver Journal Review
Christian Leadership Essentials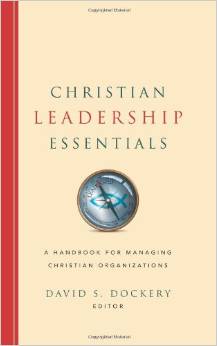 A Denver Journal Book Review by Chris Cobb, Associate Pastor at The Church on the Hill
Dockery, David. S. (Ed.). Christian Leadership Essentials: A Handbook for Managing Christian Organization. Nashville: B & H Academic, 2011, 368 pgs. $29.16, Hardcover. ISBN-10: 0805464778; ISBN-13: 978-080546477
There is a plethora of leadership books dedicated to addressing one specific area of leadership. However, few volumes effectively communicate the wide range of needs that leaders face on a regular basis. Dockery's book, Christian Leadership Essentials, attempts to tackle this feat as it encompasses the heart of a Christian leader while giving sound practical advice that every head of an organization can apply to his or her particular situation. As the President of Union University in Jackson, Tennessee, Dockery is able to combine the insight of several qualified practitioners (with a combined 350 years of experience) to promote the idea that everything in leadership flows down from an organization's mission and vision. In fact, practically every chapter speaks to this concept in some way or fashion. After all, leaders are marked by vision. This includes the goals and strategies developed with team members. Each author discusses different aspects of an organization as it relates to mission and vision.
This motif is initially realized in the first chapter as the author lays the foundation for a biblical model of leadership. The author discusses the fact that all Christian leaders exercise their power according to the will of God. Throughout the chapter, he recognizes that a biblical model of leadership will begin with God and find its behavioral and convictional patterns in Christ. Christ understood and presented Himself as one who had a mission for His life. Today's leaders should emulate the words and actions of Christ as they attempt to reflect His intention to implement the overarching mission of God.
The second and third chapters pick up on the central theme by addressing how an organization develops and implements its mission and vision. The authors here stress the factors that shape organizational identity. It should be a leader's prerogative to influence the development of that identity and maintain it in the organization. In other words, they have to be ones to cast the vision and keep it in front of everyone involved. Essential to the development of an organization's mission and vision is the collaboration of those who serve alongside of the leader. The more ownership people in the organization have in the mission and vision, the more committed they will be to seeing organizational goals come to pass. Additionally, leaders need to develop a plan for moving forward. What good is a lofty goal if there is no plan to get there? In doing so, effective leaders will be informed by standards of best practice. They will be dedicated to setting the direction and functioning as coaches, as they guide the planning process and address issues as they arise.
By chapters four and five, the book moves into a discussion about governance, board relations, and managing the organization. This is crucial, as organizations need accountability. When a mission or identity crisis occurs in an organization, it is usually due to a faulty relationship between the leader (often the Chief Executive Officer or CEO) and the governing board. The author of chapter four notes that the board is often the most underdeveloped part of an organization. As boards are developed, their influence should increase as they monitor and evaluate the mission of an organization. However, these indispensable leadership partners need to be heavily involved in developing policies and values that help drive the mission of the organization to eliminate mission drifting. They are the ones who have to make tough financial decisions for the sake of the mission. The fifth chapter moves away from the board and concentrates on how leaders build trust with and between people in their organization. First, the author notes that a leader who wants to be trusted must demonstrate transparency and be visible and available. A leader would not be effective if he or she could not be found in a crisis. Additionally, the staff needs to be led to be open and sensitive to the needs of one another as well as being people of integrity.
The next section of the book deals with finances and fund-raising. An organization can have a big vision or dreams that it wants to see come to pass, but it will be stifled if it does not have the money to fulfill those dreams. To keep this from happening, leaders must bridge the gap between the reality of their budget and their vision. It is with this tension in mind that effective leaders find the budget process an opportunity to fulfill the institution's core mission. The author here notes that budgets assist leaders in the planning and wise use of financial resources so that the organization has the resources necessary to accomplish its mission. However, they need to be aware of "mission creep" or activities and projects that displace or slightly move away from the organization's mission.
With this backdrop in mind, the ensuing section speaks to how to fund the mission and vision. Donor contributions are essential for non-profit organizations, and so the CEO will also need to act as the chief-fundraiser and help donors understand the mission and vision of the organization. The author details how an organization can find other resources, such as foundations, to accomplish its mission. Alongside of this, a leader's relationships with various constituencies help in this process. Effective leaders make networking an essential aspect of their jobs as they are always looking to find ways that their vision can grow from those connections.
The last few chapters of the book are even more practical in nature as they clarify how the heads of organizations can navigate through various situations in leadership. For example, a chapter is dedicated to helping a leader understand crisis management. While every leader is relentlessly focused on the mission, they also need to be prepared in case the unthinkable happens. Practical steps are given to come up with a plan of action. Along with this, a chapter is dedicated to selecting and building teams. Successful organizational teams complement one another and are committed to work together toward the vision of the organization. It should also be the goal of every leader to help build a community of grace that treats each employee with kindness and care as they carry out the goals of the organization. Lastly, the book ends with down-to-earth advice on how to handle leadership transitions.
By way of evaluation, the authors of this book should be commended for their practical advice for Christian leaders. This volume should be viewed as a great leadership resource that leaders can refer to when dealing with a certain circumstance or situation. Of course, there is no way to remember the overabundance of sound advice; however, if a leader were to deal with a certain issue in leadership, it would be very handy to have. For instance, many leaders do not know how to write and submit foundation proposals, but this book spells it out, step-by-step. This being said, the only real negative about this book was that some of the concepts were unnecessarily repeated. The various authors had a tendency to give similar (sometimes identical) definitions of vision and it did not come across as intentional. The editor would have benefited by keeping this to a minimum.
Overall, it will be easy for readers to apply the concepts from this book and the applicable principles given in it. The guided instruction for leaders is biblically based as it emphasizes how an organization's mission and vision should be compatible with Christ's mission. It will help leaders understand the importance of getting out of their comfort zones to reach out into their community and be a part of the bigger mission of God. The combined insights of the authors help set the stage for leaders to develop a mission and communicate that mission to all those invested. Anyone who reads this book will immediately be able to take away at least several ideas or concepts that can be directly applied to his or her current role.
Chris Cobb, Ed.D.
Associate Pastor
The Church on the Hill
June 2014