« Back to Staff
Hélène Dallaire, PhD
Earl S. Kalland Professor of Old Testament and Semitic Languages; Director of Messianic Judaism
Earl S. Kalland Professor of Old Testament and Semitic Languages; Director of Messianic Judaism
Dr. Hélène Dallaire joined the faculty in 2006 as associate professor of Old Testament. She is an ordained minister with the Evangelical Church Alliance, and is a member of the Society of Biblical Literature, the American Academy of Religion, and the National Association of Professors of Hebrew.
Dr. Dallaire earned a PhD and an MPhil in Hebrew and cognate studies from Hebrew Union College—Jewish Institute of Religion, an MA in biblical literature from Oral Roberts University , and a BA in psychology from Ottawa University . She completed additional work at the Hebrew University of Jerusalem, the Institute for Holy Land Studies in Jerusalem, McMaster University inOntario, and Western Pentecostal Bible College in British Columbia.
Prior to coming to Denver Seminary, Dr. Dallaire served five years on the faculty of Hebrew Union College—Jewish Institute of Religion in the position of director of Hebrew language instruction, one year on the faculty of Alliance Biblical Seminary in the Philippines, and completed 10 years of pastoral ministry at the Word Faith Christian Center in Canada.
Dr. Dallaire regularly presents academic papers at professional conferences on Biblical Literature, Hebrew language and Pedagogy. For 3 years, she was on the Field test team of the CoHeLeT project (Communicative Hebrew Learning and Teaching). She has recently written Biblical Hebrew: a Living Language [Eerdmans, forthcoming] and The Syntax of Volitives in Biblical Hebrew and Amarna Canaanite Prose (Eisenbrauns, forthcoming). She has authored commentaries on "Joshua" in the Expositor's Bible Commentary (Zondervan) and "Esther" in The Baker Illustrated Bible Commentary (Baker).
Dr. Dallaire has contributed chapters and articles in the following books, commentary series and encyclopedia: "Judaism and the World to Come" in A Case for Historic Premillennialism: An Alternative to "Left Behind" Eschatology (Baker), "Ten Commandments", "Wisdom", "Law", "Blessings", "Covenant", "Day of the Lord", "Sacrifice" in The Dictionary of Everyday Theology and Culture (NavPress),"Messianic Judaism from the 6th to the Early 20th Century AD: Textual Evidence" in Chosen To Follow: Jewish Believers in Jesus through History and Today (Caspari Center), "Emotional Meltdown: Stuttering in Hebrew" and "Are You Blessed (baruch) or Blessed ('ashrey)?" in Devotions on the Hebrew Bible: 52 Reflections to Inspire & Instruct (Zondervan, forthcoming), "Joshua and Israel's Exodus from the Desert Wilderness" in Reverberations of the Exodus in Scripture (Wipf & Stock, forthcoming).
View Dr. Dallaire's Travel Schedule
Areas of Academic Interest and Research
Hebrew (biblical, mishnaic, modern) grammar, syntax, Hebrew pedagogy - CoHeLeT project (Communicative Hebrew Learning and Teaching), ancient Near Eastern languages and comparative Semitic linguistics, Esther, Joshua, Patriarchal narratives, Old Testament backgrounds, Messianic Judaism.
Recent Publications
"Where Shall Wisdom Be Found?" A Grammatical Tribute to Professor Stephen A. Kaufman. Edited by Hélène Dallaire, Jennifer Noonan, and Benjamin Noonan: Eisenbrauns, 2017.
ISBN: 978-1575067766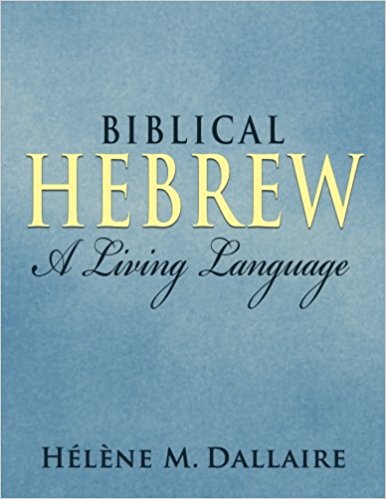 Biblical Hebrew: a Living Language. CreateSpace Independent Publishing Platform, 2016.
ISBN: 978-0998127118

The Syntax of Volitives in Biblical Hebrew and Amarna Canaanite Prose. Eisenbrauns, 2014.
ISBN: 1-57506-307-7