« Back to Staff
Janet R. McCormack, DMin
Assistant Professor of Chaplaincy and Pastoral Counseling; Director of Chaplaincy and Pastoral Counseling Programs
Assistant Professor of Chaplaincy and Pastoral Counseling; Director of Chaplaincy and Pastoral Counseling Programs
Dr. Janet McCormack directs the Chaplaincy and Pastoral Counseling programs and holds the faculty rank of Assistant Professor of Chaplaincy and Pastoral Counseling at Denver Seminary. She joined the full-time faculty in 2000.
Dr. McCormack holds a BA degree in Social Work from Lock Haven University in Pennsylvania, an MDiv degree from Southeastern Baptist Theological Seminary in North Carolina and a DMin degree in the Executive Leadership Track from Denver Seminary.
Jan is ordained by the American Baptist Churches, USA and is a retired Air Force chaplain with 22 years experience in military chaplaincy, during which she pastored in five states and three foreign countries. She has experience as a hospital, police, prison, NASCAR, Drag Racing, Crisis and Trauma, and Industrial chaplain. She has served as consultant to the U.S. Army Chaplaincy on mentoring; was a subject matter expert to the U.S. Navy Chaplaincy on Institutional Excellence; and was on the U.S. Air Force Chief of the Chaplains "Leaving a Legacy" mentoring team.
Her counseling expertise is in the areas of brief therapy and crisis, trauma, and disaster work. She is on the faculty of the Billy Graham Evangelistic Training Institute, training others in disaster response. Dr. McCormack is also a member of the Billy Graham Association's rapid response team and serves as the team liaison for Denver Seminary's Crisis Incident Stress Management Team (CISM).
Dr. McCormack is a Board-certified Chaplain with the Association of Professional Chaplains and is in the process to become a Supervisor in the Association for Clinical Pastoral Education. She held the position of Vice President of Chaplaincy for Marketplace Samaritan, Inc., a non-profit corporation that places chaplains in business settings and has held numerous board positions with the Military Chaplains Association. Jan is a frequent presenter at professional and denominational organizations and seminars and has contributed articles on chaplaincy and counseling topics to several journals and magazines, as well as co-authoring The Work of the Chaplain.
View Dr. McCormack's Travel Schedule
Recent Publications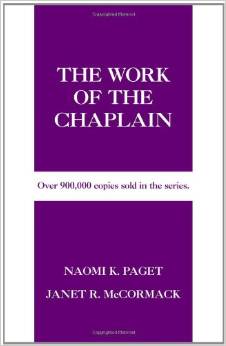 The Work of the Chaplain (Work of the Church). Judson Press, 2006.
ISBN: 978-0817014995