Denver Seminary is partnering with Women Doing Well to inspire a movement of living and giving generously. This giving personality assessment was developed to advance that mission.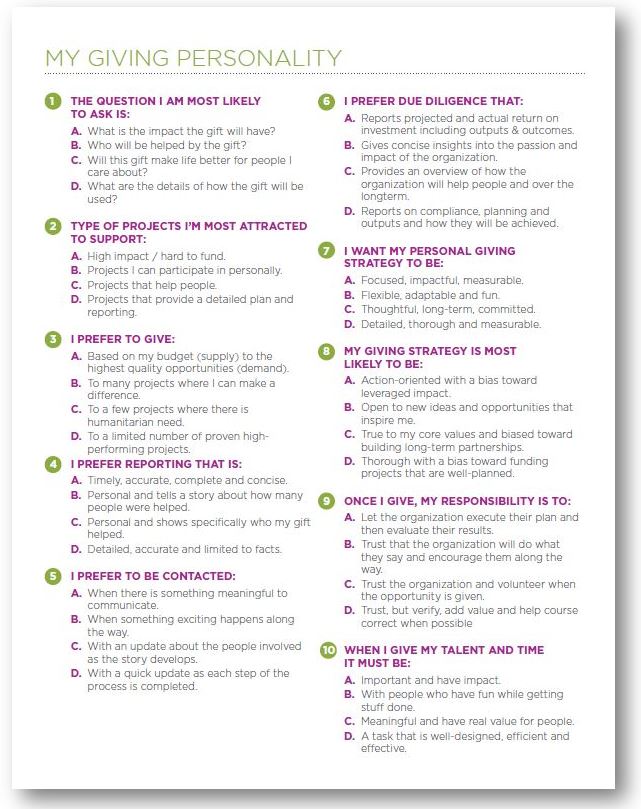 Click here to view the quiz.
Instructions for Quiz:
1. Respond to each question by circling the answer A, B, C, or D that most closely sounds like you.
2. Now, total all A responses, B responses, C responses, and D responses.
3. If your highest score is an:
A: Your giving personality is a "Driver". You tend to like concrete, concise and measurable facts when you choose to give. You will often act boldly in your giving.
B: Your giving personality is a "Champion". You tend to like big picture information in story format. You tend to champion a cause with advocacy and financial support.
C: Your giving personality is an "Encourager". You appreciate the individual aspect of care in non profit organizations. You tend to spend time encouraging the workers and the beneficiaries in an organization.
D: Your giving personality is an "Analyst". You appreciate a well designed plan to approach the problem the organization is seeking to solve. You support organizations that have a clear grasp on bringing the right solutions.
4. Have a family member take the test and see how they score and then discuss how your giving personalities complement one another.