March 2018 Two Day Adventure Preview
Friday, March 16, 2018, 8:30 AM - Saturday, March 17, 2018, 5:00 PM
Are you considering Denver Seminary? Join us in March for a preview of Denver Seminary, and get the answers you need to take the next step.
Learn who we are. Meet the people of Denver Seminary: have lunch with your future professors, meet your future classmates, and connect with our Admissions, Financial Aid, and Student Life teams. In short, meet all the people you'll need to know to make your Seminary education happen.
Experience what it's like to be a student. Step into the shoes of a current student, and experience Denver Seminary first-hand. At a preview day, you'll visit a class, tour the campus, and get a candid take from a panel of current students about what life is like at Denver Seminary.
Get your questions answered. A preview day gives you the opportunity to delve more deeply into what Denver Seminary offers. The afternoon features breakout sessions with in-depth information about our academic programs, Training and Mentoring at Denver Seminary, Financial Aid and Scholarships, and our Ministry Residency program.
Saturday, March 17: Snow Tubing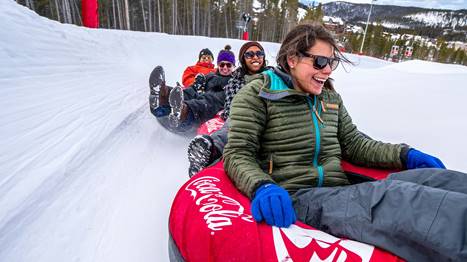 Interested in a snowy Colorado adventure but not so sure about skiing or snowboarding? You have come to the right place! Join us on a Tubing adventure in stunning Winter Park, just over an hour outside of Denver. We will be spending the day sliding down snowy slops, taking in mountain views, and hopefully enjoying some of that famous Colorado sunshine. This is a great way to get a feel for life in Colorado without the need for winter sports experience. It is also a fun something different for those that do love to hit the slopes in other ways. Whether you are a native or visiting for the first time this trip will be a blast!
Breakfast, lunch, transportation and tube tickets will all be provided. Remember to dress warmly in layers and wear comfortable winter boots. If you do not have what you need outerwear and helmets available for rent once we arrive. We may also be able to accommodate your need, so feel free to contact admissions ahead of time!
To plan your trip and make overnight reservations, please click here.
If you would prefer, you may register for the campus daytime preview only.
Return to Campus and Adventure Previews