Women Engage
Tuesday, March 05, 2019, 5:00 PM - 7:00 PM
Women Engage is a dynamic, intergenerational community of women in Denver committed to pursuing communal development and personal growth. As part of Denver Seminary, we address these areas from a perspective that engages and proclaims the redemptive power of the gospel and the life-changing truth of Scripture. There are four guiding values that define the structure of Women Engage: LEARN, PRAY, SERVE, and GIVE.
Deep Gladness: Finding & Following God's Call
with Angie Ward
Tuesday, March 5, 2019
You feel it, deep in your bones: God is inviting you to join him, to participate in his redemptive work in the world. And yet, you see so many potential obstacles: Lack of clarity over your unique calling. Competing time demands. Changing seasons of life. Challenges such as self-doubt, criticism, and spiritual dryness.
Angie Ward knows firsthand the unique challenges that women face as they seek to pursue their calling. At this Women Engage event, Angie will explore critical questions about calling — What is it? How do you discover it? What does it look like to practically live out that calling amid a multitude of challenges? — while interweaving her own story of discerning and following God's call through nearly 30 years in leadership and ministry.
Details
Date: Tuesday, March 5, 2019
Prayer Team Meeting: 4:15 pm - 5:00 pm (all are welcome!)
Reception: 5:00 pm - 5:45 pm
Presentation: 5:45 pm - 7:00 pm
Location: Denver Seminary Chapel
6399 South Santa Fe Drive, Littleton, CO 80120
Appetizers will be served
Guests are welcome
About the Speaker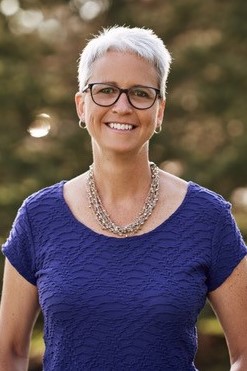 Angie Ward has impacted thousands of influencers during nearly 30 years of ministry as a leader, teacher, writer, and pastor's wife. She is known for her love for ministry leaders and the Church, her down-to-earth style, and her unique ability to see and explain complex concepts and systems.
Angie is an award-winning contributor to Christianity Today leadership publications, blogger at www.churchmatters.com, and host of the Church Chat podcast. She is also a highly regarded teacher and collaborative leader with experience in church, parachurch, and Christian higher education contexts. Angie graduated from Denver Seminary with an MA in Educational Ministries and holds a PhD in Ministry Leadership from The Southern Baptist Theological Seminary. Angie is an Associated Faculty member at Denver Seminary and also serves on the Seminary's Board of Trustees.
A sportswriter in a previous life, Angie loves running, basketball, humor, movies, and juicy cheeseburgers with fresh-cut fries (see: running). She and her pastor-husband live just outside Indianapolis. They have two young adult sons and one very spoiled beagle.
Please RSVP by Monday, March 4, 2019
If you have questions, please contact Shannon Jack at 303.762.6949 or .