Restoring the Shattered: A Symposium for Working with the Trafficked and Abused
Daily, from 06/27/2019 to 06/28/2019, 9:00 AM - 5:00 PM
Restoring the Shattered: A Symposium for Working with the Trafficked and Abused
Restoring the Shattered is a symposium for those working with trafficked and abused. This conference will help individuals discover some of the best models, materials, and practices in this important area of ministry and be equipped to restore the shattered.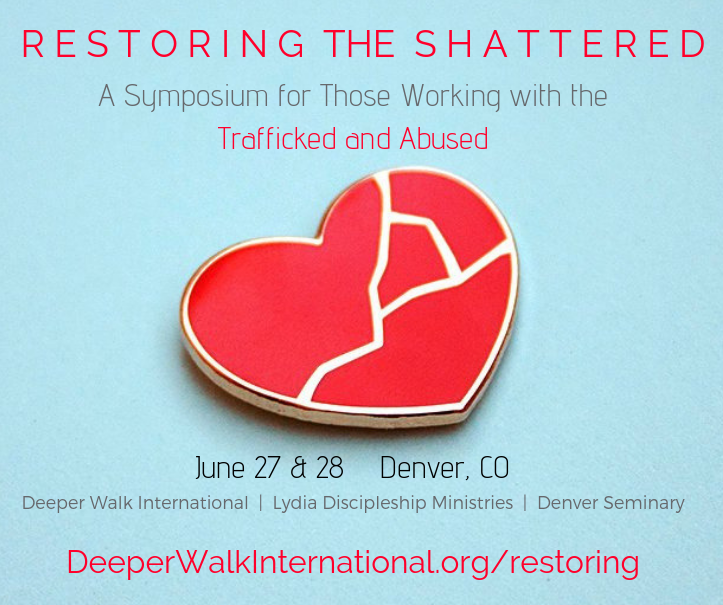 The keynote speakers for this conference are Dr. Alaine Pakalla, Dr. Marcus Warner, Dr. Dan Rumberger, Dr. Heather Gingrich, and Judy Dunagan.
Details
What: Restoring the Shattered
When: June 27-28, 2019. 9:00 a.m. – 5:00 p.m. both days
Where: Denver Seminary, 6399 South Santa Fe Dr. Littleton, CO 80120
Classrooms 117 & 118
Partners: Deeper Walk International and Lydia Discipleship Ministries; hosted by Denver Seminary
Cost: $79 for students (limited to 50 students); $169 through May 10; $199 through June 20
Volunteering: there are 10 open spots for student volunteers to attend for free. Please email Kimberly Rigsby ( ) to volunteer.
Register for Restoring the Shattered