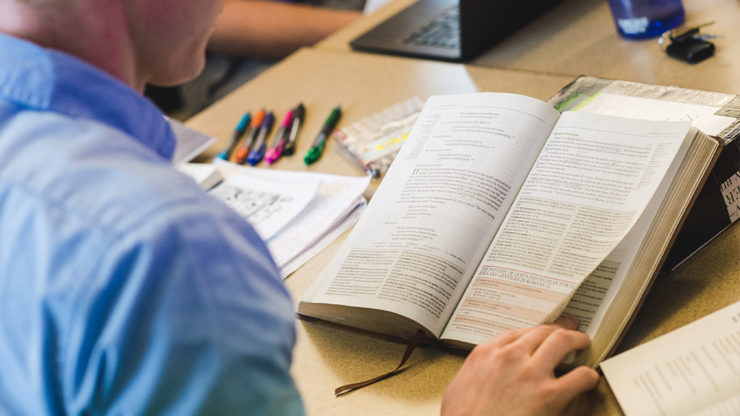 Denver Seminary's Biblical and Theological Studies programs provide students the opportunity to delve into the intricacies of God's Word and how it can be applied today.
For students called to a ministry of preaching or teaching the Bible, the grasp of God's Word must be impeccable. Their command of Scripture will have a direct impact on the spiritual depth of those who learn from them. We maintain that anyone involved in a ministry of substantive Bible teaching should attain a thorough education in the language, history, culture, and theology of Scripture.
Denver Seminary provides all of this and much more, and it shows in how our diverse students and alumni share the redemptive power of the gospel and the life-changing truth of Scripture. They serve their communities, locally and globally, as ministry and pastoral leaders, business and nonprofit executives, educators, and more. No matter where they are called, alumni attest that their experience in the Biblical and Theological Studies program taught them how to practically apply the knowledge of Scripture to the whole of their lives – home, church, work, and ministry.
Denver Seminary's Biblical and Theological Studies programs meet students where they are in their academic pursuit, with online and in-person options that are expanding regularly to provide even more flexibility. Most recently, we added a 39-credit hour MA with a major in biblical and theological studies. This program is designed to be completed entirely online and can be completed in just two years, a perfect complement to our already robust department.
---
Make a Donation
Your gifts to Biblical and Theological Studies help to ensure the vital training of pastors, teachers, and ministry leaders who continue to proclaim the truth in our communities, churches, and ministries, as well as globally. Please donate today.
---
"We want to graduate from seminary not knowing lots of things about God, but knowing God."

– Brandon Washington, Alumni and Board Member, MDiv
---
Give Now