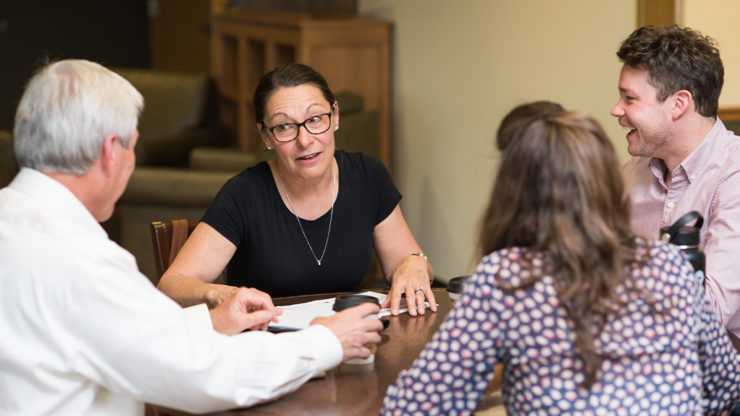 The need to cultivate counselors and prepare them to share truth and light with a hurting world grows greater every day. Depression, grief, anxiety, and other challenges are troubling people of all ages. Now more than ever, we need to prepare biblically-informed counselors who are able to offer wise, prudent, and empathetic counsel, in-person and through Telehealth.
Denver Seminary's Counseling programs are meeting this need by training future counselors in chaplaincy, mental health counseling, counseling ministries, and school counseling, as well as through our new PhD program, starting its first class in 2021. Where there is a need, Denver Seminary's Counseling alumni stand ready to provide support whether in clinical or educational settings, churches or ministries, parachurch or nonprofit organizations, or in global missions.
Our students learn from some of the most esteemed biblically-trained counseling faculty, who draw from a variety of expertise. Our students also benefit from full integration of faith and practice within coursework, keeping Christ at the center of all their training.
Denver Seminary fills gaps in community care
For nearly 20 years, our counseling students have taken part in practical experience through the Denver Counseling Center (formerly Shepherd's Gate), our on-campus counseling center. Our counseling center is recognized as an esteemed partner for Christian and non-faith based organizations within the community, because of their expertise in clinical counseling and the ability to provide low-cost counseling to those who need it most. This center provides an excellent training ground for our students, who work with diverse clients in a safe, educational setting.
In addition, Denver Seminary is reaching into the mental health system and local schools through our unique School Counseling Mental Health Initiative (SCMHI). SCMHI hopes to increase research-based knowledge and collaboration between Denver-area school systems, school counselors, mental health providers, and the Seminary. This program is even more crucial in light of the mental health strain being placed on children and communities due to issues such as COVID-19 and racial disparity. We look forward to sharing more about this program as it continues to grow.
Denver Seminary's PhD in Counselor Education and Supervision
Denver Seminary's new Doctor of Philosophy in Counselor Education and Supervision is a four-year fully-online, cohort-based, accredited doctoral degree program designed to prepare students to serve as skilled counselors, educators, and supervisors, grounded in the Christian faith. The PhD in Counselor Education and Supervision provides an integrative educational experience that will enable students to connect with professors and peers through interactive online environments and during an annual weeklong in-person residency. The program will begin accepting applications September 1, 2020 for classes beginning in fall 2021.
---
Make a Donation
Your gift will make a difference in the lives of students as well as those to whom they minister. If you're ready to support Denver Seminary's unwavering commitment to the education of biblically-trained counselors, please donate today.
---
"Denver Seminary has increased my confidence in preparing for my future as a professional counselor. I have been challenged and supported by my professors to articulate my opinions, perspectives, and beliefs. One of my greatest takeaways from my time thus far, is holding a hope-filled perspective for my clients and myself. I am learning how I can further use my gifts of compassion and leadership. My understanding of who God is has grown in reverence. He is a God of justice and grace. Denver Seminary meets students where they are on their faith journey and gives them the tools to engage and thrive."

– Kelsey Bocher, student, Clinical Mental Health Counseling
---
Give Now