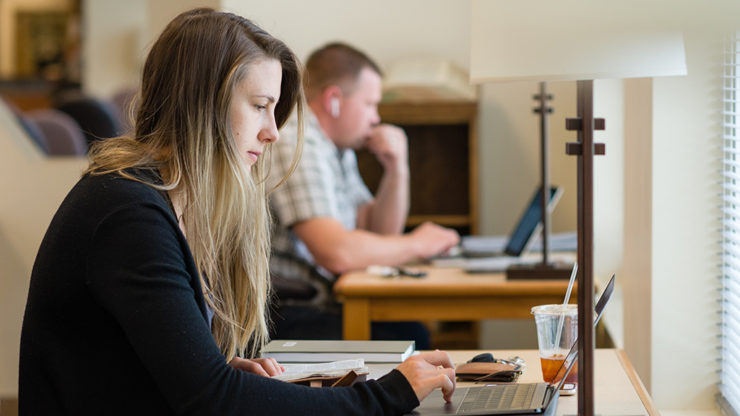 Preparing students to engage the needs of the world isn't a one-size-fits-all endeavor. For some, attending classes on campus fulfills their needs. For others, having to attend class on campus makes pursuing their ministry calling impossible. Denver Seminary's Global Campus is changing the way seminarians study, while expanding our reach around the globe.
Why students choose an online campus is as unique as the students themselves. For some, Denver Seminary's education and culture is the best fit for them, but they run ministries and have jobs and families, making a cross-country move impossible. Others may live near the campus but need the flexibility of the online classroom. Still others live on another continent.
In an effort to support all students, no matter where they want to study, Denver Seminary began its first fully online degree programs in 2015. By 2018-19, Denver Seminary had more than 150 students across the US and across the world in its online degree programs. Today, the Seminary reaches a global community of more than 1,000 graduate students spanning eleven countries.
In recent years, Denver Seminary's Department of Educational Technology (Ed Tech) has been laying the groundwork for robust and continued innovation. The department has proactively sought solutions that enable the Seminary to utilize new technology, reach more students, and create business efficiencies. In March of 2020, their experience, expertise, and forward-thinking preparation allowed us to quickly and seamlessly move in-person classes to a virtual setting.
By integrating technologies like interactive touchscreen displays, Ed Tech has enhanced faculty and student interaction in Zoom conferencing and expanded the Seminary's course modalities and offerings. New modalities like "Denver Live" and "DC Live" offer scheduled classes where faculty and students engage as a group in real time, but students are able to choose whether to attend on-campus or on-Zoom. For many students, this option is a game changer, making seminary logistically possible.
---
Make a Donation
As we move forward, we will continue to expand our online offerings and our on-campus/virtual settings that allow students to attend Denver Seminary in-person or online. Your investment in our Global Initiatives helps us extend the Seminary's resources and reach locally, nationally, and internationally. Please donate today.
---
"The MDiv will help me become a better minister, especially as I serve youth and children in a country where 80 percent of the residents are below age 30. The Global Campus lets me connect with other like-minded individuals and learn with people from other cultures and locations. I'm also able to connect with my professors in a way that makes me feel welcome and valued at Denver Seminary."

– Peter Dusabe, Global Campus student studying in Uganda
"As a full-time consultant, I find myself in a different state each week. I chose the online MDiv program at Denver Seminary because it allows me to complete my coursework on my own time while still encouraging interaction with online classmates. I am well supported by the Seminary in my studies and use of technology. As a biblically-based evangelical graduate institution, Denver Seminary was the best choice for me to learn a deeper understanding of theology and strengthen my relationship with Jesus."
---
Give Now