A Denver Journal Review
C.S. Lewis: A Life: Eccentric Genius, Reluctant Prophet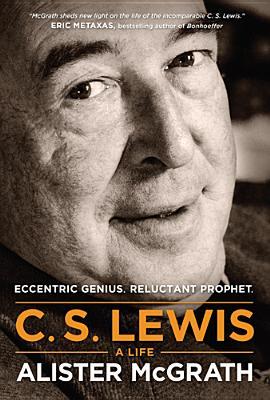 A Denver Journal Book Review by Denver Seminary Professor Dr. Doug Groothuis, Professor of Apologetics and Ethics, October 2014
Alister McGrath, C.S. Lewis: A Life: Eccentric Genius, Reluctant Prophet. Tyndale House, 2013. Hardback. ISBN-10: 1414339356. ISBN-13: 978-1414339351.
Do we need another biography of C.S. Lewis, a man who made such a deep and wide mark in the worlds of apologetics and literature that books about him and his works fill shelves and shelves and shelves? I suspected not, but given McGrath's expertise in historical theology and thoroughness of the book, I found otherwise. This is not a reprise of previously published information, but, rather, a careful assessment of Lewis's life and writing. As such, it contributes much to our understanding of this consequential Christian thinker. McGrath offers us a compelling account of the life and ideas of one of the twentieth century's greatest literary figures, one that is rich in facts, rewarding in insights, and superbly written. While McGrath has been a dependably clear writer, perhaps his exposure to Lewis's prose made his own writing even better. McGrath has also written The Intellectual World of C.S. Lewis (2013), which probes more deeply into Lewis's philosophical and theological thought.
McGrath has a knack for providing details only when necessary for the greater understanding of Lewis and his significance. While the book is fairly long, it never sinks into tedium, as do many biographies. McGrath has come up with new material, much of it gathered from an exhaustive reading of Lewis's voluminous personal letters. Surprisingly, he makes a good case that Lewis's conversion was about one year later than the received date. This is good sleuthing, and helps us understand better just how Lewis came to faith.
All periods of Lewis's life are covered competently, and I, a long-time student of Lewis, gained new insights into Lewis. For example, McGrath, an Irishman, explains how the Irish countryside and Ireland in general affected Lewis's attitudes and even his fictional work—and may make one desirous to visit or revisit this storied land. McGrath relates some of his own experiences in his native land, but only as pertinent to his biography, thus sparing us the autobiographical excesses of so many contemporary authors.
On a less savory note, McGrath convincingly argues that before his conversion, Lewis expressed some interest in sadomasochism. There is no evidence that he practiced it, however. This may come as a shocking surprise to readers. However, while one should be disturbed by this, it does not come from nowhere. There is a passage in The Four Loves where Lewis speaks of the enjoyment of inflicting a small amount of pain in a loved one. This always struck me as odd, to put it mildly. But having read McGrath's careful (and not lurid) treatment of the subject, this disturbing passage makes more sense. However, the reader is assured that Lewis at no point engaged in this activity. His interest was related to his reading of Marquis de Sade, and formed but a small part in his intellectual path that eventually led him to Christianity.
McGrath goes into fascinating detail about Lewis's relationship with the American author Joy Davidman, who, very late in Lewis's life became his wife. This story has been either romanticized or treated rather curtly. McGrath presents the relationship in all its messy humanity. Once married, the couple was happy and shared a deep intellectual and emotional bond. However, their courtship (if one can call it that) involved a number of irregularities. Davidman was divorced. The wedding was performed by a civil authority, since the Anglican Church did not approve. However, a priest later married the couple, but under odd conditions. (Read the book for the drama.) The marriage caused a rift in Lewis's relationship with J. R. R. Tolkien, who had been a good friend and who had helped Lewis become a Christian. McGrath also tells the sad story of Davidman's illness and death, which left Lewis a very troubled man. This is recounted by Lewis in his classic memoir, A Grief Observed (1961).Some authors to the contrary, Lewis never lost his faith. Rather, he had to learn to live through a long season of lament—putting flesh on ideas he defended in his first Christian book, The Problem of Pain (1940).
McGrath is not content to chronicle Lewis's life, ending with his death. In a final chapter, "The Lewis Phenomenon," he also takes up the matter of the considerable influence that Lewis has had on the church and culture. As a friend of mine said to me a few years ago, "I expect Lewis's writings to be around a hundred years from now." I agreed then, and am more certain having read C.S. Lewis: Eccentric Scholar, Reluctant Prophet.
Douglas Groothuis, Ph.D.
Professor of Philosophy
Denver Seminary
October 2014