Antisemitism: Here and Now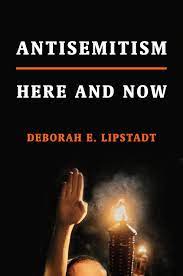 Lipstadt, Deborah E. Antisemitism: Here and Now.  NY: Schocken Books, 2019. Hardcover, 304 pp. ISBN 9780805243383, $25.95
Deborah E. Lipstadt is the Dorot Professor of Modern Jewish History and Holocaust Studies at Emory University. A leading scholar in Judaism, Lipstadt is perhaps best known for her thorough studies of Holocaust deniers and her infamous libel trial in the English court against known neo-Nazi polemicist David Irving in 2000.
I imagine many readers, like myself, instinctually connect the word "antisemitism" with the imagery of 1930's Nazi Germany. What I've come to see as a result of reading Lipstadt's Antisemitism is how the nature of this historical connection can encumber my ability to recognize the antisemitism at work today in its various forms. It is not merely an echo of past forms at play in the present, but "a persisting latent structure of hostile beliefs toward Jews" whose appearance may shift and change across time and context but whose "essence remains the same" (p. 15-16). Throughout her book, Lipstadt does consider the historical evidences of antisemitism but focuses their impact upon current expressions of antisemitism on the obvious rise in both European and American social, political, and academic contexts.
Rational arguments are not likely to supplant irrational conspiracy theories like antisemitism has proven to be (p. 7-8). And so, the reader will not necessarily experience the thrust of this book as an academic treatise to establish a concrete framework of socially just principles. Instead, the book is written as a sequence of letters between the author and two fictional characters assembled from the many individuals Lipstadt has instructed and counseled in light of the apparent rise in antisemitic activity. Although at times a bit contrived, the correspondence format of this book anchors the very palpable complexities of antisemitism within the social realities they are experienced daily. So as one reads through the series of messages, they are guided beyond a mere theoretical exploration of arguments to instead discover themselves as a player in the ongoing discovery of antisemitism at play in their world.
Perhaps the most helpful framework offered is Lipstadt's detailed, five-point taxonomy of the anti-Semite. She engages a full scope in her taxonomy that stretches from fringe, extremist groups to the less recognizable "antisemitic enablers"; even addressing the "clueless antisemite." Each of these designations serves not only as a means to identify antisemitism but to become better attuned to the complex range of systematic antisemitic expressions across media, institutions, politics, and relationships. From here, Lipstadt is able to engage a number of seemingly opposing cultural features in order to discover Jews as the unfortunate scapegoat lying at their intersections. These arenas include: locating antisemitism at work in both the left and right political spectrum, antisemitism and its overlap with racism and hate, free speech and the public attempt to rationalize antisemitism, the difficult territory of Zionism, Israel and Palestine, and the presence of antisemitism in the critical thinking world of academia. Each topic is insightfully layered, although the reader may at times find themselves wanting for more detailed engagement with the arguments or more tangible solutions to the problems. A full treatment on each topic, however, could warrant its own volume.
It is important to recall that this book was written in the wake of the notorious 2017 Unite the Right protests in Charlottesville, Virginia where marchers held tiki torches and chanted "Jews will not replace us!" Moreover, the Anti-Defamation league reported that 2019, the year this book was published, has held the highest record of antisemitic incidents since 1979, following an upward trend for four years. Antisemitism is an insidious and present reality in which Lipstadt's work is well suited to address. Readers well acquainted to current issues of antisemitism may find much of this book familiar and a bit gloomy. What does enable Lipstadt's work to be a considerable contribution to the work against antisemitism is its knowledgeable engagement with the topic delivered in an accessible format for the unacquainted reader.
Nathan Scherrer, MA
Professor of Training and Mentoring
Denver Seminary
March 2021