Becoming the Gospel: Paul, Participation, and Mission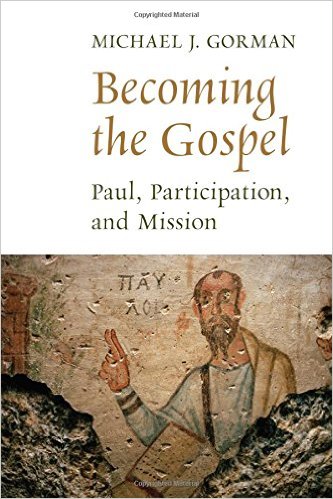 A Denver Journal Review by Denver Seminary Alumna Darlene M. Seal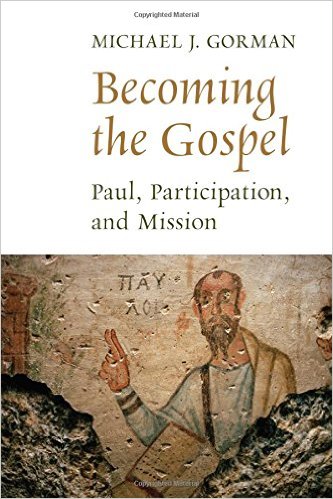 Michael Gorman, Becoming the Gospel: Paul, Participation, and Mission. Grand Rapids: Eerdmans, 2015. $28.00 pap. X +341 pp. ISBN 978-0-8028-6884-8.
Michael Gorman, the Raymond F. Brown chairholder in biblical studies and theology at St. Mary's University and Seminary in Baltimore, has already distinguished himself as a thought-provoking Pauline scholar. This book is the third of what he calls an "unintentional trilogy" (p. 3) of Pauline books about participation and cruciformity. He has elsewhere argued that Paul's paradigm of salvation is characterized by participation and that justification, properly understood, is not a forensic category but a covenantal one: the restoration of proper covenantal relationship with God. In this book, Gorman develops these ideas further by focusing on mission; not only is salvation inherently participatory, but it is also inherently missional.
Gorman's thesis is that Paul expected his churches not simply to believe the gospel but to become it, and thereby participate in God's mission in the world. Theosis is the ongoing process of becoming like God, as revealed in the death and resurrection of Christ, and is the necessary starting point of mission. This is because the truly cruciform life is characterized by participation in God's mission of bringing justice and shalom; that is, the Christian life is inherently, and not merely secondarily, missional. Gorman goes on to demonstrate what the mission of God is and that Paul expected all believers to participate in it. Each of the subsequent chapters, until the conclusion, focuses on one of Paul's letters.
The first exegetical chapter addresses 1 Thessalonians, and argues that Paul's emphasis is on faithfulness, love, and hope. Paul describes God and his mission using these traits, and he praises the Thessalonians for these traits and spurs them on to manifest them all the more, precisely because by doing so they are participating in the divine mission by manifesting the same traits as God has in his engaging with the world. In this chapter, Gorman begins his emphasis on "faithfulness" as a superior translation to "faith," since the latter can be reduced to a mere intellectual assent in Western Protestant thinking.
The following chapter focuses on Philippians. Here Gorman argues that the divine mission of faithfulness, love, and hope is manifested in the narrative of Christ found in the Philippian hymn, and that the believers are to participate in the divine mission by taking up and embodying Christ's narrative. This is the reason why Paul has embedded it within his exhortations for community life and witness to those outside the believing community.
Whereas the previous two chapters describe the divine mission as faithfulness, love, and hope, in the next two chapters the divine mission is one of peace. In the first of these two chapters on peace, Gorman provides a biblical theology of peace, arguing that shalom is the idea of wholeness. In Paul, peace is both something that God gives and something that the church is called to work at. According to Gorman, every major section of Romans is saturated with peace and peace-making. The following chapter is on the same topic, but focuses more specifically on Ephesians. Like in Romans, Gorman sees an emphasis on peace (which includes ideas of wholeness and reconciliation) throughout the letter as God brings peace between himself and humanity, and within humanity by bringing Jew and Gentile together into one body.
When Gorman switches to 1 and 2 Corinthians next, the topic shifts to justice. He begins by establishing links between justice and justification in Paul in general, arguing that Paul's view of justification is covenantal rather than forensic, communal rather than individual, and is inherently missional. This is so because Paul speaks of the human condition, pre-Christ, as characterized by injustice, so that a view of justification that doesn't include justice fails to address the human problem in its entirety. Instead, "justification means that the unjust are being liberated from injustice to live justly" (227). Gorman explicates this topic from several places throughout the Corinthian correspondence, but the most important for his overall argument are the so-called "interchange" texts (language he borrows from Morna Hooker), in which Jesus first becomes like us so that we can become like him. In the first such text, 2 Cor. 5:21, in Christ believers become the justice/righteousness of God, and in the second, Christ became poor so that believers might become rich (2 Cor. 8:9). Gorman argues that these two interchange texts are the foundation for Paul's exhortation for the Corinthians to give generously in the collection in 2 Corinthians 8-9, so that their giving is one concrete example of what it means to share in the divine justice-bringing mission. That is, these two verses are about "missional theosis."
The focus then shifts back to Romans, but this time to demonstrate that the epistle is all about missional theosis. Theosis for Gorman includes sharing in the divine dikaiosynÄ" (justice/righteousness) and glory. The emphasis in the beginning of Romans is on how fallen humanity has lost both dikaiosynÄ" and glory; the middle portion is about how God's mission is to restore these to humanity through their death and resurrection with Christ; as a result, believers live in an inaugurated participation in the eschatological glory that awaits. All of this is the basis for mission, and Romans 12-15 provides a picture of what this missional theosis looks like "on the ground," so to speak, by describing the community as a reversal of humanity in Adam. Gorman's final chapter provides some summary and reflection on the implications of his study, including the emphasis on becoming the gospel rather than merely believing it, and how the emphasis on missional theosis or participation means that various dichotomies the church has tended to set up—between evangelism and social justice, justification and justice, spirituality and reconciliation—are false dichotomies that are incompatible with Paul's theology.
There are many positive take-aways from Gorman's work. His emphasis on participation can serve as a corrective to Western concepts of spirituality and justification as emphasizing the individual and personal to the exclusion of the interpersonal, societal, and cosmic. Even his reading of dikaiosynÄ" as "justice" or "justicizing" rather than "righteousness" questions the paradigms of Western Protestant theology and exposes the extent to which the Church has been influenced by radical individualism. Gorman places his finger on a weakness of some Protestant evangelicalism when he notes that justification apart from participation is a less robust gospel and naturally leads to evangelism that is reduced to an over-simplified individualistic presentation for a personal decision, rather than the biblically robust, holistic desire of God to restore shalom and justice to his creation and to let his people participate in that mission. A view of salvation that takes account of participation with Christ, dying and rising with him, exposes as a fraud any account of salvation that reduces it to a transaction with no concern for a shift of allegiance. In addition, if salvation is inherently participatory, Gorman is right to emphasize that sharing in the divine mission is not just for the clergy, just as it wasn't just for Paul and the other apostles, but the calling of every believer. Finally, Gorman's closing of every chapter with a few concrete examples of how believers and communities are living out the divine mission serves as an invitation to creativity for individuals and communities as they faithfully share in the divine mission in their specific context.
Nevertheless, I do see some weaknesses in Gorman's argumentation; some things simply aren't as clear as they could be, and others I don't find convincing. In the former category: what is the relationship between the divine mission and theosis? Gorman seems to equate them at times. But then why is theosis characterized primarily by God's justice/righteousness and glory and not by other parts of the divine mission discussed in previous chapters?
In his discussion of the dikaio- word group (which includes "justify," "justification," "righteous," "unrighteous," etc.), Gorman argues that it communicates justice and justice-making rather than simply a forensic status (which is what we typically mean when we say "justify"), and that it therefore encompasses reconciliation, transformation, and mission, inherently. But the fact that all of these are necessary aspects of salvation and even that they are inextricably linked to justification doesn't necessarily mean that the dikaio- word group itself entails all of these. Otherwise, why would Paul use other terms to speak of salvation? Moreover, what is the relationship between "justification" and participation? At times, Gorman speaks of participation (especially "co-crucifixion") as the means of justification (which means restored covenant relationship), but at other times he equates the two. His view of participation, it seems to me, conflates what happens at the point of salvation with what necessarily follows, or at least can be misunderstood to be doing so. Gorman speaks of participation as a process, one that includes all of the justice-making, shalom-bringing, mission-sharing he describes. But when Paul uses the language of dying and rising with Christ, he uses it to describe a change in status before he uses it to describe the process of becoming Christ-like (e.g. Rom 6). There is a necessary order here. If something radical hasn't happened already, none of the putting sin to death, carrying out the divine mission, bringing shalom, etc. is either coherent or possible. I agree that we cannot be faithful to Paul and reduce salvation only to forensic categories; but we do lose something significant if we ditch forensic categories and objective status altogether. In short, though I think that throughout the book Gorman is largely correct in what he affirms, I think we need to hold onto some of what he denies.
All in all, Gorman's book provides a helpful corrective and a challenging paradigm-shift regarding Paul's theology of salvation that the Western Protestant church should read and take to heart, even if not agreeing with every argument. Gorman's challenge for us is to see Paul's view of salvation as holistic because the mission of God is holistic. The church, and every believer in it, is not just a passive recipient of the gospel but a proclaimer of it by embodying it. It's this gospel, and not one that's reduced to "go to heaven when you die," that's truly "good news" for the world.
Darlene M. Seal, MA
Denver Seminary
March 2016