Gender Roles and the People of God: Rethinking What We Were Taught about Men and Women in the Church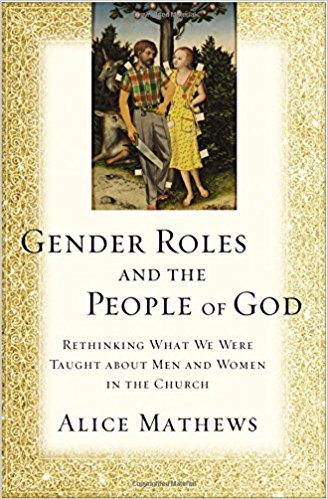 A Denver Seminary Book Review by Denver Seminary Distinguished Professor of New Testament Craig L. Blomberg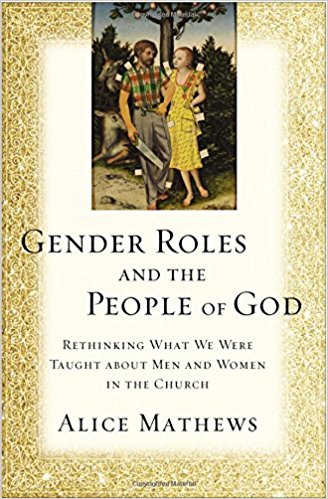 Alice Mathews. Gender Roles and the People of God: Rethinking What We Were Taught about Men and Women in the Church. Grand Rapids: Zondervan, 2017. 238 pp. $19.99 pap. ISBN 978-0-310-52939-2.
From 1986-91, one of the offices immediately next to mine on the Denver Seminary campus belonged to Alice Mathews. We became good friends, and I quickly discovered that she had done a lot of study on gender roles in the Bible. On a couple of occasions, we even had public dialogues on the topic. At last, as the fruit of a long lifetime of study, Mathews, the Lois W. Bennett Distinguished Professor Emerita and former academic dean at Gordon-Conwell Seminary, has corralled her thoughts and put them in print.
Mathews begins with some of the hermeneutical principles we need to utilize, especially distinguishing between descriptive and prescriptive passages. She notes the similarities between some of the nineteenth-century arguments for slavery and some of the current arguments for complementarianism. She discusses the arguments for patriarchy embedded in human creation in Gen. 1-2 but finds each of them wanting. The "helper" (Heb. ezer) of Gen. 2:20 elsewhere in the Old Testament most commonly refers to God and suggests not subordination but rescue. Eve was created not to serve Adam but to serve God and his creation with and alongside Adam.
Mathews highlights what she terms ezer women in the patriarchal world of the OT, including Shiphrah and Puah, the midwives in Moses' day, Abigail the wife of foolish Nabal, the daughters of Zelophehad who requested and received an inheritance, and Ruth who courageously proposed marriage to Boaz. None of these women followed modern complementarian models but defied superiors in various ways in order to obtain justice. The same is true of Deborah and Huldah, two OT female prophets.
In the New Testament, there are even more positive, countercultural models of women playing prominent roles, including, in the Gospels, Mary the sister of Martha, the prostitute who anoints Jesus, the Samaritan woman at the well, Mary Magdalene, Susanna and Joanna. Acts and Paul's letters add Lydia, prominent Greek women in Thessalonica, Phoebe the deacon and benefactor, several of Paul's co-workers and Junia the apostle. Of course, anyone addressing the debate about gender-roles in the NT has to explain 1 Tim. 2:11-15, along with 1 Cor. 11:2-16 and 14:34-35. The context of 1 Timothy is clearly false teachers in Ephesus, Paul uses the present-tense command to explain that he is presently not permitting women to teach, authentein appears in a construction paired with "teach" to reflect one action, and it is best translated as to inappropriately assume or usurp authority or to domineer. This kind of teaching in this kind of context is all that Paul prohibits women from doing.
In 1 Cor. 14, Mathews observes the wide range of interpretations, discusses each of the main ones, and opts not to choose one above the others. But she notes that virtually no one takes it as the straightforward injunction to women's silence in all church contexts that it seems at first glance to be. Thus she concludes that verses 34-35 cannot be used to exclude women from ministry. In chapter 11, the big issue involves the meaning of kephalÄ" ("head"). Mathews finds "source" or "origin" more fitting the context than "authority." Ephesians 5:21-33 further illuminates this debate, as Paul explains what male headship involves—loving one's wife sacrificially with Christ as one's model—hardly an exercise of authority, much less anything at all heavy-handed.
Here Mathews turns to the very recent debate over the eternal subordination of the Son. She highlights how the views of Wayne Grudem and Bruce Ware were shown by fellow conservatives to be not in keeping with the historical teaching of the church. 1 Cor. 15:28 is the thorniest text to deal with here, but she follows Phillip Payne in arguing that Christ turning everything over to God refers to the Triune Godhead so that all three persons form one unity with complete authority. The mission of the Son is complete; stasis in the Godhead resumes. The debate seems arcane, except that many have seen a parallel to the issue of the subordination of women to men (or wives to husbands).
Mathews finally takes the reader on a whirlwind tour of key attitudes and activities related to her topic throughout church history, highlighting that much of what passes for the historic view of Christianity really developed in the Victorian era and then took on distinctive twists in the 1950s in what has been called "the cult of true womanhood." She narrates some of her own life story as someone married in 1951 in the middle of this movement and the pain it is caused countless women who have felt the ideals impossible to attain on the one hand and their gifts and calling quenched on the other. Citing some of the state-of-the-art brain research, Mathews stresses that there are very real biological differences (and so not just in the reproductive organs) but that male and female strengths supplement each other to create what good leadership needs. Men and women were created to help each other and compensate for each other, with neither ruling over the other.
Time and again I had very fond memories of my numerous conversations with Alice, most of them about thirty years ago. While she has updated the discussion by citing and interacting with some of the very most influential studies on both sides of the debate (most notably Piper and Grudem on the one and Payne on the other), she could have strengthened her case considerably by taking into account Gordon Fee's revised NICNT volume on 1 Corinthians, Gary Hoag's BBR Supplement Series volume that demonstrates the background of Artemis worship in Ephesus that the Kroegers read back into the first century from early third-century sources actually existed there already by A.D. 50, and Cindy Westfall's award-winning book on gender in Paul with detailed and usually compelling exegesis on each of the key passages (often more persuasive than Payne's approaches).
At the same time, not all complementarians are created equal and to use Mathews' own metaphor, the goalposts have shifted for many considerably since Piper and Grudem first compiled their anthology. Many of them are as appalled as she is at some of the views of the Council on Biblical Manhood and Womanhood, which their perspectives mirror, but have yet to see the compelling evidence to move them from what William Webb once called "ultra-soft patriarchy" to full-fledged egalitarianism. But her book is a welcome addition to a growing body of literature (see esp. the books by Sarah Sumner and Michelle Lee-Barnewall) that reminds us, even as she has modeled throughout her life, that the goal in all of this is not to retain or wrest power from anyone but to free people up to serve each other and the kingdom of God to the fullest of their abilities. For that point alone, the book merits a wide audience and a careful and thoughtful readership.
Craig L. Blomberg, PhD
Distinguished Professor of New Testament
Denver Seminary
February 2018