How to Prepare for Hard Times and Persecution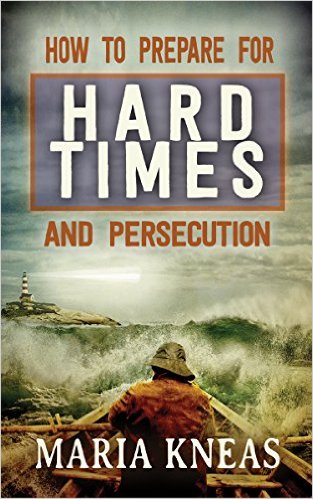 A Denver Journal Book Review by Denver Seminary student Joseph P. Crum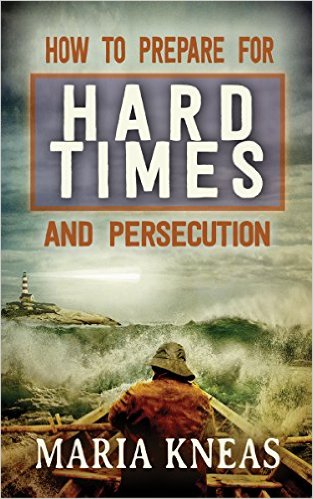 Maria Kneas, How to Prepare for Hard Times and Persecution, Eureka, MT: Lighthouse Trails Publishing, 2015. $13.95. Paperback. 231 pp. ISBN 978-1-942423-02-7.
For the past few years, I have been acclimating back into American society after spending several years in hostile environments where the Christian community is invisible due to the reality of persecution. I have been dumbfounded by the hundreds of conversations with Christians in the USA regarding the lack of acceptance of the teachings of Jesus and the Apostles that assure suffering. Suffering for the name of Jesus should not be denied by Christians, but rather embraced. When I picked up this book, I quickly began to realize that God is spreading that message.
A denial of the persecution that may be coming to American Christians is not God-honoring, and it is not helpful in the commission to make disciples of Jesus. Maria Kneas, a widow and author of two others books, has spent years trying to understand suffering from a biblical-theological perspective. In her journey she began to understand how perseverance through difficult times can be used by God to comfort others.
An increased awareness of global persecution against Christians led Kneas to research the trends behind these events. She has identified the same trends in the narrative of Israel's history, and shows how these tendencies can be seen in American history. Her book, How to Prepare for Hard Times and Persecution, is designed to help the American Christian persevere in faith through each of these trends. In this respect, Maria Kneas is a prophetic voice for American Christians who need to stop believing that following Christ means that they are exempt from the atrocities faced by brothers and sisters around the planet. Christians are being burned alive and beheaded for the name of Jesus. Scripture calls these victims "blessed." Yet, here in America too many are convinced that God would never allow such things to happen to them.
Business owners refusing to offer services due to personal convictions are being ordered by state governments to attend sensitivity training or face consequences of losing their business. Even more severe consequences involve serving prison terms. This is the beginning of persecution against God's chosen people. Radical activists are gaining ground in forcing everyone else to support what they are doing. The government is demanding that Christians abandon their 1st Amendment rights and violate their consciences. Kneas points out how Israel's national history in Scripture shows a progression from a morally founded culture toward a morally debased society. This drift, according to Kneas, resulted in the reality of hard times and persecution. New Testament writers confirmed that suffering will come for the follower of Christ (Matthew 10:22).
Maria Kneas has studied the progression of current events from a biblical perspective, and has written How to Prepare for Hard Times and Persecution in order to help Christians prepare for the reality of what might be the future for Americans. A review of history shows a pattern for the development and growth of Christian persecution throughout the centuries. Kneas shows how the agenda in the United States to indoctrinate people has led to a place in the nation where it is acceptable to dispel morality. Being unable to tell the difference between right and wrong is the definition of being "criminally insane" (p.31). Youth are being indoctrinated to believe that there is no right or wrong. As the example of Israel teaches, a fall away from morality defined by God (holiness) leads to open rebellion and paganism (p.36). This in turn leads to war, plagues, famine, and slavery (p.37). A quick glance at current events shows that instability is imminent. The job as Christ-followers is to continue in repentance, remain sober-minded regardless of circumstances, and to pray.
Through a biblical lens, the progression of God's people from blessings to extreme persecution can be seen in our current culture. Prosperity and blessings have gone to complacency. Complacency has shifted into idolatry of all kinds, including open Satanic worship in our society. Just as God preserved a remnant in Israel's history during His judgment, He will do so with Christians today. However, those who were faithful in Israel suffered the same hard times and persecution as the ungodly. Kneas gives practical guidance to begin developing healthy thinking now.
What I like about Maria Kneas's book is that she addresses the things that Christians can do to be established on the truth of God's word now. Her writing is well-thought out, and anyone following the practical guidance of her book will be unshakeable in their faith during the most extreme persecution when they are grounded in the truth of God's goodness in spite of circumstances. As disciples of Christ, we are all told that we will suffer. Suffering is what Jesus modeled for us, and we are drawn closer to Him through it when we keep our eyes focused on Christ and the promise of eternity with Him.
Honestly, the first few chapters created a bit of anxiety as I read about the troubling things that are happening in the United States. However, this was well worth the read because there were so many relevant passages from Scripture useful for applying God's promises to the state of affairs. Many of Maria Kneas's personal stories were not things that I can relate to, but she has done a wonderful job of getting the reader to focus their eyes on Jesus and eternity. Christ-followers are to prepare their minds for suffering rightly even in the face of the worst persecution.
Joseph P. Crum
Denver Seminary
January 2017