Jesus the Great Philosopher: Rediscovering the Wisdom Needed for the Good Life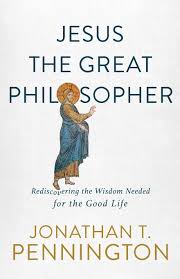 Pennington, Jonathan T. Jesus the Great Philosopher: Rediscovering the Wisdom Needed for the Good Life. Grand Rapids: Brazos Press, 2020. $18.99. Paperback, 230 pp. ISBN 9781587434655 
Dr. Jonathan T. Pennington is associate professor of New Testament interpretation at Southern Baptist Theological Seminary. He has written textbooks for New Testament survey, Greek and Hebrew, and formative interpretations of Matthew's sermon on the mount. In addition, he persists in pastoral ministry and hosts a convivial collection of YouTube videos, Cars, Coffee, Theology – a playful re-envisioning of Jerry Seinfeld's Netflix series. His writing is characterized by both whimsy and scholarship. Pennington exhibits strong skills in formative writing which makes the complex clear. Jesus the Great Philosopher: Rediscovering the Wisdom Needed for the Good Life is a paradigm shifting work.
Pennington sets the stage in chapters one and two with wonderfully illustrative backdrops. In the first thirty-four pages the reader encounters big questions, big discoveries and historical philosophers. Characters such as Socrates and Seneca are introduced with relevant clarity, Pennington plays the role of provocateur, and the chorus explains "the Good Life." The premises could have been an evangelical tragedy in some corners of the church, but instead the book is a triumph. The premise is that Christianity is a philosophy and, thus, the life of Jesus, indeed the whole Bible, shows us how to live the Good life in the way of ancient philosophy. In addition, flourishing cannot take place without educating our emotions and investing in friendships. Lest I beat this Greek tragedy metaphor to death, this first episode had me riveted.
Dr. Pennington writes with expertise, insight and delightful banter. This work is not from the ivory tower. He doesn't leave the reader behind in a thick dust of analysis and word derivations. He doesn't deliver tedium or create shame when the reader doesn't know the timeline for Aristotle, Kant or Descartes. He doesn't leave ideas undefined. But let me begin to explain what he does do.
Pennington defines the Good Life as "the habits of practiced wisdom that produce in the human soul deep and lasting flourishing" (p. 29). Synonyms for the Good Life throughout the book are "the mature person," "shalom," "righteousness" or "kingdom life." This is a deeply important definition and a deeply important point. "Jesus declares that the reason he came was so that people might experience fullness of life (John 10:10)," (p. 68). This is the foundation for whole-life formation and the impetus for our alignment with what and who we were created to be.
The author gives a very helpful overview of the four pillars of philosophy (metaphysic, epistemology, ethic and politic) and allows each pillar to converse with the Old and New Testaments. I may be a rudimentary-level philosopher, but I thoroughly connect with Pennington when he discusses virtue development. "Humans will only find life and flourishing when they imitate their Creator, when they learn to inhabit the world in the ways that accord with God's own nature, will, and coming kingdom" (p. 75). This complexity of human flourishing continues to build in the excellent chapters on human relationships. There, he reveals how interdependent relationships structure humans for the Good. Pennington's premise of virtue formation with a strong reliance on intentional formative relationships not only agrees with ancient philosophy, but with current mentored character education theory and with interpersonal neurobiology.
Jesus the Great Philosopher poses clear questions and inserts relevant illustrations such as Netflix's The Good Place, The Big Thompson River flood – relevant to me as a Coloradan – and even a convincing inclusion of My Little Pony: Friendship is Magic. He had me at The Good Place. At no time did I feel that I needed to catch up to the author. He deftly explains connections between philosophers, the biblical testaments and the mission of the modern church. He makes an excellent case and opens the reader's eyes to the socio-cultural structures of the day which the Bible's original authors and readers would have had. A leader was a philosopher king and this perspective should at least give us insight as we seek to be leaders today. Pennington made me believe the importance of virtue.
If this book has a weakness, it is only that the author defined his audience beyond a doubt. The laser-sharp focus and the discourses on philosophy will push off hedonists, influencers, and today's Errol Flynns who are looking for the Good Life in all the wrong places. Additionally, is the Bible a book about how to live the Good Life or is it more than that? I'm sure Pennington would say that it's likely more, but it's not less. The Good Life is compelling, inherently so according to Pennington, and in light of the modern assertion that "longing for happiness is a bad thing" (p. 207), it's a refreshing perspective that allows the Christian reader to at least consider their own desire once again.
For the teachers, leaders, seminarians and thoughtful book groups who will pick up this work, it will excite you more than disturb you as it shapes your thinking, stirs your emotions, challenges your assumptions and inspires you to become more and more like Jesus.
Debra Anderson, MA
Chair, Training and Mentoring Curriculum
Denver Seminary
February 2021