Life Without Lack: Living in the Fullness of Psalm 23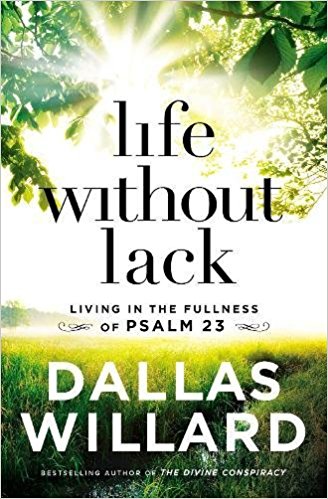 A Denver Journal Review Article by Denver Seminary Associate Professor of Theological Bibliography and Research, and Director of Library Dr. Keith Wells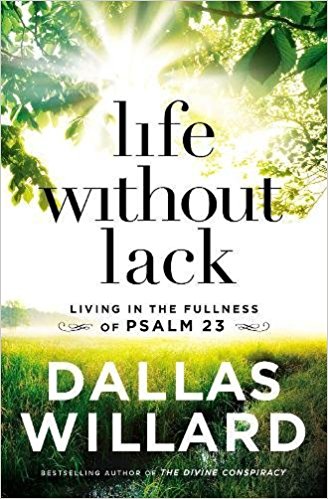 Willard, Dallas. Life Without Lack: Living in the Fullness of Psalm 23. Nashville: Thomas Nelson, 2018. 234 pages. Hardback. $15.31 ISBN: 978-0-718-09184-2.
Few passages of the Bible are as familiar as Psalm 23 yet few people have paused to explore in depth what the psalm actually claims about the nature, character, and purposes of God. The late Dallas Willard, professor of philosophy at the University of Southern California and author of such notable volumes as The Spirit of the Disciplines, The Divine Conspiracy, The Great Omission, Knowing Christ Today, The Allure of Gentleness, and Renovation of the Heart, invites us to journey into the inner dimensions of this psalm and embrace its truth without any hesitation or reservation: "The Lord is my shepherd; I shall not want…I will fear no evil; For You are with me" (Psalm 23: 1, 4). The claim: The God, who is the Shepherd, provides for our lives so that we may live without any need and without any fear. Just think about that claim…Life without lack! How is this possible?! Dallas Willard, in his rich and gentle exposition, unfolds the answer to us.
The seeds of these reflections go back to a series of talks Dallas Willard gave to a small group in a southern California church. Dallas's daughter, Rebecca Willard Heatley, and close friend, Larry Burtoft, painstakingly transcribed the notes from these talks and fortified them with selections from Dallas's other writings. What has emerged is a profound yet practical spiritual direction to experience life with the reality that, "The Lord is my Shepherd…"
Begin with memorizing Psalm 23. Continue by meditating deeply on the shepherd metaphor. Take each phrase of the psalm and contemplate its meaning and significance. Ponder the divine abundance that flows out of God's being and actions. Recall other scriptural texts which affirm God's abounding goodness and power even in the midst of the struggles and hardships. Cultivate the divine presence as a daily walk until moment by moment God is an immediate reality. This is the pattern of living into the fullness of Psalm 23, a life without lack.
Dallas Willard is well aware of the challenges to living such a life beginning with aberrations or distortions of who God is and what God is like. He is mindful of the fact that a biblical theology of God is foundational to living a life of intimacy with God, a life without lack. So in chapters 1 and 2 Willard explains the natural and moral attributes of God and illustrates them with biblical examples. He emphasizes that God is great, God is good, and God provides for us a life without lack.
Dallas Willard turns his attention to the subject of humanity in chapter 3. God's creation is "very good" with humanity at the zenith of that creation. What sets humans apart is the "image of God" in which we were created with the call to steward the created order. The entrance of sin into the world, with the attending consequences of that sin, leads to the distortion and bondage of that creation, and God's intervention to bring about redemption and restoration through the person and work of Jesus Christ. Most people, however, still trapped in the milieu of sin, do not experience the life without lack. The prescription for that to change, according to Dallas Willard, is a battle of the heart and mind.
Trust in God is the key to life, the life without lack, according to Dallas Willard. Chapter 5 develops the themes of faith and trust as keys to unlock God's sufficiency in our lives. The story of Job illustrates that faith and trust in spite of his circumstances. Despite every reason not to, Job still trusts God. It is a movement from "the faith of desperation to the faith of sufficiency." This journey comes to full realization in the "death to self" as expounded in the life of Jesus and the experience of the apostle Paul. It is the journey toward "life without lack" by God's grace, for God's glory, and for our ultimate good.
"Faith (trust), death to self, and agape love support our Psalm 23 life as a triangle of sufficiency" (p. 157). The degree to which we realize these realities for our lives is the degree to which we can live a life without lack claims Dallas Willard. And, as if to anticipate the objection that this is really out of our reach and impractical, Dallas provides in chapter 8 a model of living without lack for a single day, from dawn to dusk. If we can live one day like that, why not each and every day?
One is hard pressed to find anything to criticize in this exposition of Psalm 23 because it is so carefully reasoned, so pastorally sensitive, and so sensibly argued. Perhaps subject and scripture passage indexing would help the reader, as might a more detailed exposition of the shepherd metaphor in all of scripture in an appendix. But, in the end, it remains for the reader now to begin to live, "The Lord is my Shepherd; I shall not want…" May God grant us grace to live a life without lack each and every day we live.
Keith Wells, DMin
Librarian
Denver Seminary
July 2018