Pascal: Reasoning and Belief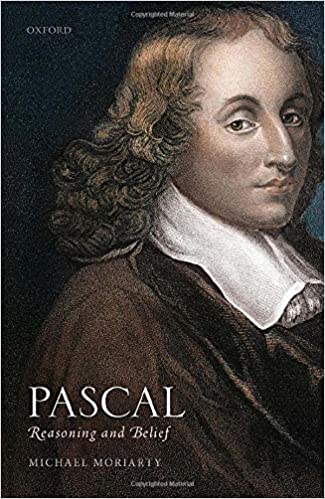 Michael Moriarty, Pascal: Reasoning and Belief. New York: Oxford University Press, 2020. 413 pages with index. Hardback, $70.00. ISBN 978-0198849117
The French polymath, Blaise Pascal (1623-1662), is a source of fascination in several dimensions. He was a mathematician, scientist, a philosopher of science, and inventor of great genius, having invented the first calculating machine and the idea of mass transit. He experimentally proved that nature does not abhor a vacuum. He penned a rhetorical-polemical masterpiece, The Providential Letters, against the Jesuit's laxity in moral theology. His writing style has been the subject of academic analysis, and he is considered a genius of French literature.
But Pascal was also a philosopher, and a good one, although he often is not given his due in histories of philosophy and elsewhere. Bertrand Russell dismisses him unfairly in A History of Western Philosophy (1945) and the most recent and much-used work, The Great Conversation by Norman Melchert and David Morrow mentions him but once in passing. When Pascal is given attention, it is sometimes limited to the wager argument and not put into a larger philosophical context of Pascal's apologetic. As a Christian who had a profound experience of God known as "the night of fire," Pascal wanted to articulate a sustained case for Christianity in an apologetic volume. However, he died before completing it. What he left has come to be called Pensées (or thoughts), plus a number of other writings related to commending the Christian faith. We are now in Michael Moriarty's debt for offering the most comprehensive explanation and assessment of Pascal's arguments for Christianity in recent memory. Professor Moriarty is Drapers Professor of French at the University of Cambridge and has published broadly in early modern French thought, including Early Modern French Thought.
Pascal: Reasoning and Belief is a comprehensive account of Pascal's case for Christianity, focused mostly on Pensées. It is an intensely academic book, and not user-friendly unless one is an academic. All quotations of Pascal are first given in French, but then given by the author's English translation. The print is small, the footnotes are many, the cost is expensive, and the page count is high. But for the avid Pascal scholar, the rewards are rich and varied.
Moriarty patiently addresses Pascal's arguments (which are often given a sketchy form as notes or outlines of arguments), finds the most credible reading, and assesses them rationally. Nothing important is left or given short shrift in the twenty-one chapters of the book. While Moriarty shows a deep and serious appreciation for Pascal, he assesses each of Pascal's argument by the merits and views them in light of his overall apologetic program. Moriarty takes all of Pascal's apologetic arguments seriously, unlike some critics who take much of Pascal's ideas to be beneath them or simply out of step with the times. For example, while Paul Griffith's work, Why Read Pascal? ignores Pascal's argument from prophecy on behalf of the supernatural nature of the Bible and the deity of Jesus, Moriarty addresses this in several places, although I think he gives the argument less credit that it deserves. The typical approach to his argument by Pascal is that modern scholarship has shown him to be naïve and pre-critical. So, the authors move on to other matters. However, the argument has been refined and profitably advanced by a number of scholars, such as Old Testament scholar, Walter Kaiser, in The Messiah of the Old Testament and, more recently, in Is Jesus of Nazareth the Predicted Messiah?: A Historical-Evidential Approach to Specific Old Testament Messianic Prophecies and Their New Testament Fulfillments by Douglas D. Scott.
The cost and density of this fine volume will prove prohibitive for many, but colleges, universities, and seminaries would do well to stock it in their libraries. Serious scholars of Pascal will find it a wealth of detailed analysis. I will give the author the last words of this review, which are the last words of his book. "Pascal cannot give his reader faith in the transformative power of the folly of the Cross; but he is one of the wise and the witnesses who might lead her to the verge of that faith" (394).
Douglas Groothuis, Ph.D.
Professor of Philosophy
Denver Seminary
July 20, 2022