The Amorite Dynasty of Ugarit: Historical Implications of Linguistic and Archaeological Parallels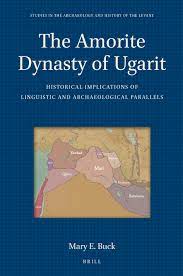 Mary E. Buck, The Amorite Dynasty of Ugarit: Historical Implications of Linguistic and Archaeological Parallels. Studies in the Archaeology and History of the Levant 8. Leiden and Boston: Brill, 2020. ISBN 978-98-04-41510-2. Xiii + 376 pp.
Buck begins her work with a brief history of the discovery of the site of Ugarit. She notes the variety of theories that have been advanced as to who the people were who settled the site after its abandonment at the end of the Early Bronze Age (EB), appearing c. 1800 BC. These people seem to have remained through the Middle Bronze (MB) and Late Bronze Ages (LB), until the abandonment of the site c. 1185 BC. These new people have been identified as the Hyksos, the Hurrians, Arabic speaking peoples, the Canaanites, and the Amorites. While the first three are dismissed with a few sentences, the Canaanite and Amorite origins receive more discussion. Of importance is the cultural continuity from EB to MB. Buck emphasizes that her study will take into account the cultural assemblage of MB Ugarit and use both the material culture and the linguistic data. There has developed among archaeologists the recognition of an Amorite koiné. This was seen by Mesopotamians as the Amorites who threatened their northwestern borders. Buck uses Ugarit as a researchable site, possessing an identifiable material culture of the MB and one of the earliest attested West Semitic languages. She seeks to create a history of MB Ugarit with consideration of "whether their material culture and language reflects cultural correspondence with other sites and population groups in the Middle Bronze Age" (p. 18). Without historical texts from MB Ugarit, it is necessary to rely upon both the material culture and the linguistic substrata found in Amoritie, itself known primarily through personal names of the MB. Buck closes her introduction with an observation that she follows most in understanding MB Amorite as a collection of regional dialects, even different language. She refers to Miglio's discussion of ARM 27.116, a Mari letter where a translator is required for the men from Kurda to be understood by the king of Mari. This is true even though both were in what was Amorite territory.
Chapter 2 considers the identify of Amorites, Canaanites, their regions, and their general life in the MB. A drop in precipitation of between thirty and fifty percent began about 2200 and lasted until about 1900 BC (variously termed EB IV; MB I; or Intermediate Bronze Age). Sites were abandoned, centralized control ceased, and pastoral nomadism became a popular means of living. The 19th-17th centuries (MB II A, B, and C) saw the return of precipitation, resettlement, and the rise of heavily fortified sites. Looking at the southern Levant as an example, Buck notes that Transjordan saw continuity of sites and culture throughout this period whereas Cisjordan experienced nearly complete deurbanization. She is correct that no simple, uniform model explains the variety of events. Earlier archaeologists (Albright, Wright, Kenyon) proposed an invasion of Amorites that ended the EB culture and then began the MB II. During the last two decades of the 20th century AD, Dever and others focused on the theory of returning populations to their former urban centers. Falconer and Esse described urban and pastoral subsistence strategies sometimes coexisting, although the former dominated EB III and MB II, while the pastoral strategy became most popular in the period in between. As in the southern Levant, so in Western Syria, some sites had an initial destruction in the 22nd century and then recovered (e.g., Ebla, Byblos, Hamath). Sites such as Ugarit remained largely uninhabited throughout the remainder of the period. Along with others, Aaron Burke has suggested peaceful Amorite migrations rather than invasions. However, a consensus does not exist.
Nor does one exist with respect to the relationship of Ugaritic to Canaanite and to Amorite. Buck makes the important point that Amorite is attested in personal names, and that this does not allow for an understanding of the syntax and morphology of the language. On the other hand, Ugaritic is largely represented in alphabetic and therefore unvocalized script. This lacks representation of morphology and morpho-syntax markers. Central Semitic is a term used for Arabic, Old South Arabian, and Northwest Semitic. These share the yaqtulu imperfective and the Barth-Ginsberg law (which posits a G-prefix conjugation with types yaqtul and yaqtil, but yiqtal. The Northwest Semitic languages are a subcategory including Ugaritic, Amarna Canaanite, Hebrew, Aramaic, Phoenician, Punic, Moabite, Ammonite, Edomite, Neo-Philistine (not mentioned by Buck), Sam'alian, and the Deir 'Allā text. They tend to be characterized by the shift of w to y at the beginning of a word, a-insertion for qvtl nouns in the plural and the double-marking of the plural, and the 'a- prefixed to niḥnu for the 1cp independent pronoun. To distinguish Proto-Canaanite from Aramaic, Buck follows Huehnergard with four characteristics: shift of qattila and haqtila to qittila and hiqtila in the D and the causative stems, shift from 'anāku to 'anōkī (Canaanite shift), first person suffix conjugation changes from -tu to -ti, the first person plural marker becomes -nū everywhere.
Chapter 3 reviews the MB and LB evidence for the terms Ugarit, Canaan, and Amurru, along with their appearance as gentilics. Some of the most important material from Mesopotamia, Egypt, Alalakh, Ugarit, and the Amarna letters are discussed. The outline is not comprehensive. While Ugarit does occur in the texts listed from Mari and Alalakh, it and Amurru (as KUR MARTU) also appear on some LB Alalakh fragments (R. Hess, "Observations on Some Unpublished Alalakh Texts, Probably from Level IV," Ugarit Forschungen 25 [1992] 113-15). Buck cites two sources of references to Canaan from MB Alalakh, AT 48 and the Idrimi statue. To these could be added the lists of AT 154, 181, 188, and 298. The first three of these identify individuals associated with Canaan, where the land is represented in two different ways orthographically (KUR ki-in-a-ni, KUR ki-in4-a-niKI). The associated names are both West Semitic and Anatolian. AT 298 is a list of more than one hundred women. Column II, line 9 contains the name, IMÍki-na-ḫi. The final ḫi does not occur in the other spellings of Canaan or Canaanite. This may not be a reference to a Canaanite but it remains uncertain what it does refer to. See. R. Hess, "Canaan and Canaanite at Alalakh," Ugarit Forschungen 31 (1999) 225-36. Thus Canaan has a diverse population (supported by the names in the Amarna texts from Canaan). However, there are Canaanites living at Alalakh which is not Canaanite. Some have suggested these may have joined Idrimi and come to Alalakh with him.
In the remainder of chapter 3, Buck repeats her earlier references to Huehnergard and the other evidence that Amorite is a collection of dialects or even languages. This justifies studying what she identifies as Western Amorite (WA). The MB evidence for WA is found in the personal names that cover the regions of Yamḫad and Qaṭna, specifically those in texts from Tuttul, Alalakh (Level VII), and Mari. The Mari evidence is selective, identifying only names explicitly associated with the 58 sites or territories mentioned in those texts. A total of 850 names were gathered by Buck, forty percent (320 names) of which had not been included in I. J. Gelb's Computer-Aided Analysis of Amorite. Even more were not included in Streck's later grammar.
Chapter 4 moves away from texts to the material culture. Buck identifies groups between the beginning of Ugarit's deurbanization c. 2200 BC and the arrival of the Amorite culture c. 1800 BC. Some built silos while others buried their dead on the acropolis. At the beginning of the MB IIB (c. 1800 BC) newcomers constructed two monumental temples on top of the acropolis and built a rampart and glacis around the tell. Prolonged deurbanization began in the sixteenth century and remained until the LB II. No clear material remains were left from the previous settlers. The earliest buildings sunk their foundations into the tombs of their immediate 19th century predecessors. Buck explicitly excludes the Amorite bronze weaponry found in the MB IIA period, weaponry that has similarities with other sites at that time. There is an absence of occupation in LB I (1600-1370 BC) for most of the site. However, the center of the city of Ugarit continues its occupation without interruption. The same continuity was found to exist on the acropolis for the two temples and for the House of the High Priest. C. 1250 BC an earthquake seems to have destroyed the Migdal temple of Dagan so that the area was leveled and an open-air temple terrace replaced the former structure. The other temple, that usually ascribed to Ba'lu, was not damaged as much. It was fully reconstructed.
The most impressive MB cultural development was probably the defenses of earthen ramparts interspersed with watch towers and protected by a stone-covered glacis (protected from erosion, according to Burke who bases this conclusion on their locations where moisture was present). There were also palace structures. They emerged in the MB II and consisted of rooms perpendicular to central courts, of continuous winding corridors into long courts, and of a vestibule or audience space attached to the throne room. The latter feature characterized the Mesopotamian style of palace as well, a distinct architectural form that emerged at the same time as the Syrian Style.
A third architectural feature was the Migdal temple. Two examples were built on the acropolis of Ugarit and contrasted with the EB temple under the one to Dagan. Buck follows Amahai Mazar who identifies the following characteristics. They Migdal temple consisted of a large room with a long-room or broad-room behind the first room. A niche or raised platform was positioned at the far back wall. Two towers of perhaps three stories each could flank the entrance. They would give access to the roof and, built on the highest spot in the city, would provide a commanding view and require thick walls, more than two meters (six feet) in width. These could be found at Megiddo, Shechem, Hazor, Pella, Mari, Tell Munbaqa, Alalakh, Emar, Ebla, Byblos, and Qaṭna. The towers at Ugarit were constructed on the high acropolis of the tell and might have reached sixty feet in height. As Buck notes, they would command the view of ships coming to the ports as well as along the Syrian coastal highway and the inland routes. One might add that on a clear day Mt. Zaphon (Mt. Casius or modern Mt. Aqraa) more than six miles to the north was clearly visible. Situated on the coast, thunder storms at this mountain would have produced a dramatic effect that could explain its legendary connection with the El, Ba'lu, Atiratu, and other deities of Ugarit in the myths described there.
Fourth, there are some eighteen seals from Ugarit in the Classic Syrian style, a style of glyptic art that Buck, following Porada and Collon, identify with Amorite royal style of eighteenth century BC Mari and wider distribution reaching to Tell ed-Dab'a in the Egyptian Delta. The calendars across this region contain several similar month names, and mention of the pagru festival (Mari, Terqa, Saggaratum, and Ugarit). Sacrifice of donkeys took place at special rituals and for the making of covenants, as found at Ugarit, Mari, Alalakh, Aleppo, Terqa, Nuzi, Tell Leilan, and Tell al-Rimah.
Buck quantifies the cultural assemblage as containing five key elements in MB IIB–C and LB I: "fortifications, palace organizational system, migdāl temple construction, glyptic evidence, and evidence for the ritual use of donkeys" (p. 171). Only Ugarit and Alalakh share all five elements. In addition to these, Hazor, Megiddo, Qaṭna, Ebla, and Mari share four of these elements. This is not a large number of sites, although they are widespread. Buck suggests that the spread of this Amorite culture should not be used to explain the return in the urban living in the MB, given the many urbanizing sites that do not share this cultural assemblage.
Migration of a new population to Ugarit in MB II is suggested by massive construction not previously seen at the site and suggesting the intent to settle in and to stay, incorporation of a distinct material assemblage that spans a variety of cultural practices and concerns, and the appearance of a complex social hierarchy necessary for obtaining and organizing the resources necessary for huge construction projects. Buck bolsters her evidence of MB II migratory groups from a center such as Mari settling Qaṭna, Alalakh, and Ugarit on the basis of the West Semitic names of the named king of these centers, the mention of kinship groups, especially the Didanu who is also found as a name on the Assyrian King list and connected with the Upper Euphrates region; as well as in the legendary king Kirta of Ugarit where Didanu is associated with nomadic ancestors. A third point which Buck will develop has to do with the closer linguistic connection of Ugaritic with Amorite than with Canaanite. These all point to what the author designates as an early MB II military movement of different Amorite kin-based groups across the Levant and their settlement in key sites that had been abandoned in EB IV.
Chapter 5 examines the linguistic basis of Ugaritic to establish its closest affinity to Western Amorite rather than Canaanite. A problem for the analysis of Western Amorite is that it is only found in personal names written in the Akkadian syllabary which does not have a distinctive means of representing y, w, ', h, ḥ, ', and ǵ, which did not exist in the Sumerian language that was the origin of the cuneiform writing system. Nor did that system have a means of representing d which could be written with z, d, or s. Yet all these phonemes did exist in Amorite. In addition, dialectical variation is represented in the onomastic representations at Mari. Further, the application of the Barth-Ginsberg law does not appear in the Amorite names from Mari but does occur in names from Yamḫad and Qaṭna. It also occurs in Amarna Canaanite and Ugaritic, although some of the personal names from these texts present a yaqtal form.
Western Amorite includes some 200 different nominal elements and nearly 150 verbal roots, according to Buck's collection. There is vocalization in all these names, a rare asset for West Semitic in the Bronze and Iron Ages. The personal names include more than forty theophoric elements which serve to provide an understanding of the religion of the people who spoke Western Amorite. The evidence suggests that the Barth-Ginsberg law was virtually universal in Alalakh and its territory, while elsewhere the evidence is mixed. Buck suggests that the application of this law began along the western coastal region and spread to other sites.
Buck takes the three common markers for Northwest Semitic discussed in ch. 2 (see above) and analyzed Ugaritic in light of them. While the first common plural independent pronoun is not found in Ugaritic texts, the other indicators do appear, suggesting the features of a Northwest Semitic language. The same is true for Western Amorite.
Buck then compares Ugaritic to Canaanite, specifically that represented in the Amarna dialects found in the correspondence from Canaan. This lengthy discussion is largely drawn from the essay by Josef Tropper, which was a paper presented in 1992 and published two years later ("Is Ugaritic a Canaanite Language?" pp. 343-53 in George J. Brooke, Adrian H. W. Curtis, and John F. Healey eds., Ugarit and the Bible: Proceedings of the International Symposium on Ugarit and the Bible: Manchester, September 1992 [Ugaritisch-Biblische Literatur 11; Münster: Ugarit-Verlag, 1994]). The ten pages of discussion (pp. 215-24) that Buck devotes to this issue look at the eleven similarities that Tropper notes between Ugaritic and Amarna Canaanite. Each one is found to have shared elements in other languages and is therefore disqualified.
However, many of the shared elements were already noted in Tropper's discussion. These are the arguments that Buck makes against Tropper without noting that he made them in the first place or at least argued a more subtle refinement. Thus, Tropper notes but questions the representation of laterals in Biblical Hebrew as "disputed data." He agrees that the monophthongization of some diphthongs is "widespread" (i.e., not universal), and admits that five first-'aleph verbs have a yu- prefix conjugation which is only found in Hebrew and Ugaritic. Tropper agrees that the loss of the "h" in the prefix conjugations of the root hlk was not universal but points out that it was characteristic. Likewise, Tropper notes the presence of mi as an interrogative in Berber but still affirms that miya is an important feature shared in the Canaanite dialects.
I could go on, but this is sufficient to demonstrate that Buck's critique uses Tropper's own qualifications without giving him credit. Instead, she attacks his assertions as though made without these additional statements. In whatever way Tropper may be arguing his points, he is not suggesting that contrary evidence does not exist. He seems rather to suggest that the concatenation of shared features is unique to both Canaanite and Ugaritic. Further, in his 2000 grammar (which Buck elsewhere cites) and again in his 2012 revision of that grammar Tropper clearly asserts that the association of Ugaritic with Amarna Canaanite is problematic. In both cases he examines and concludes this at the very beginning of his grammar. Cf. Josef Tropper, Ugaritische Grammatik (Alter Orient und Altes Testament 273; Münster: Ugarit-Verlag, 2000), pp. 4-5; idem, Ugaritische Grammatik: Zweite stark überarbeitete und erweiterte Auflage (Alter Orient und Altes Testament 273 [2. Auflage]; Münster: Ugarit-Verlag, 2012), pp. 4-5.
Speaking of the grammar, Buck challenges Tropper's assertion of the D-stem suffix qattila form. However, her only evidentiary support is Pardee's assertion of two cases of the Ugaritic 'ihb(t), which are suggested to be D-stem forms. Yet, the standard Ugaritic and Northwest Semitic dictionaries (DULOT and DNWSI) do not recognize a D-stem for this root. In Hebrew the Piel occurs only as a participle in noun forms. However, the šlm root which Tropper uses for his qattila (six times in a vocalized Akkadian text from Ugarit) occurs often as a D-stem in all the Canaanite, Hebrew, and Ugaritic dictionaries. The evidence against Tropper appears to be an argument of special pleading without any undisputed examples.
Buck is on surer footing when she returns to her own study of Western Amorite. She finds the D-stem prefixed forms as yaqattil and the causative stem as yaqtil. The Canaanite shift had not occurred, nor was it present in the LB Alalakh IV Amorite names. A single occurrence of the first-person suffix conjugation ends in -tu. There was no shift to -ti. The first common plural suffix -nā occurs only on nouns and as a direct object suffix on verbs. There are no examples of a first common plur -nū suffix on nouns or verbs. Thus, Buck concludes that Western Amorite did not share the innovations of the Canaanite languages. The Canaanite shift seems to have occurred in a letter from Mari where the place name Hazor occurs and possesses this shift. The same is true of sixteenth century Hazor texts, of fifteenth century Taanach letters, and of examples from the fourteenth century Amarna letters. All these examples are place names. Due to the conservative nature of such spelling, Buck is correct that the shift likely occurred well before 1500 BC.
Another important feature of Western Amorite is found in the complex term, dissimilation of gemination by nasalization. Simply put dd will become nd. The well-known deity Haddu is therefore sometimes vocalized as Handu. This occurs in Western Amorite in names connected with Yamḫad, Qaṭna, Alalakh, Ursum, and Carchemish. It also appears as many as two times in Amarna personal names and in Imperial Aramaic as well as later Mandaic. However, Babylonian also attests to this feature rendering broader than Western Amorite in the second millennium BC. The larger proto-Semitic tradition of the determinative pronoun dV also renders it of less value for a distinctive West Semitic grouping. On the matter of voicing a consonant in proximity to another voiceless consonant, the best example from Ugarit is the solar deity šapšu from the more common form šamšu. MB Western Amorite uses both forms only at Alalakh. Elsewhere, it is always šamšu/ šamaš. LB Ugarit uses šapšu exclusively. This is a significant trait shared between Alalakh level VII and LB Ugarit. After dismissing several other traits as having broader sharing, Buck focuses in on the phonological inventory of Western Amorite and Ugaritic, and discovers that they are identical. This leads to her conclusion that "linguistically, Ugaritic is considerably more archaic than any o the well-attested Northwest Semitic languages and probably descends directly from a Levantine Amorite dialect" (pp. 247-48, quoting Pierre Bordreuil and Dennis Pardee, A Manual of Ugaritic [Linguistic Studies in Ancient West Semitic Volume 3; Winona Lake: Eisenbrauns, 2009], p. 19).
Especially valuable is Buck's examination of the pantheon as represented in the onomastics of Western Amorite. The list on pp. 250-51 is invaluable. When compared with the late W. H. van Soldt's list from the personal names at Ugarit, 'Ilu, Ba'lu, Shapshu/Shamshu, and Haddu are at the top of both lists. In addition, kinship terms occur frequently in names from both collections. However, at Ugarit they are limited to immediate relations: 'ab, 'aḫ, and 'ḫt (father, brother, and sister). These occur in Western Amorite. However, frequent in Western Amorite but absent at Ugarit are the terms li'm, ḥamu, and ḫālu (kin-based extended family, father-in-law, and maternal uncle). 'ammu (paternal ancestor) is also frequent in Western Amorite but does appear at Ugarit. Frauke Gröndahl, Die Personennamne der Text aus Ugarit (Studia Pohl 1; Rome: Papal Biblical Institute, 1967), p. 109, lists some 24 different personal names with this element. Here the relative importance of the nuclear family is attested at Ugarit but less connection remains in terms of the extended family. On the other hand, both the nuclear family and the extended family (both living and genealogical) play an important part in the naming practices and perhaps also the society of the Western Amorite peoples.
Buck concludes with several observations. The population which migrated to the site of Ugarit at the beginning of the MB IIb period (c. 1800 BC) shared the same variety of material cultural features also found at Mari, Yamḫad, Alalakh, Ebla, Qaṭna, and even Tell el-Dab'a in Egypt. Of these sites, however, only Ugarit remained continuously inhabited through the remainder of the MB and the LB. Finally, Buck asserts that the cultural and linguistic features that mark these groups began in the Amorite heartland around the territory of Jebel Bishri and migrated into key strategically-located cities that had been abandoned in the EB IV period. There follows a list of Western Amorite personal names and a vocabulary list with Western Amorite terms .
Overall this is a valuable book that serves to bring the reader up to date on the material culture of the MB Amorite region and on the MB and LB linguistic evidence of Western Amorite and of Ugaritic. Buck succeeds in establishing regional dialects in Amorite, and especially the evidence for Western Amorite. Some decades ago William Moran observed dialectical variation between the northern and southern Canaanite Amarna letters. It might be of value to compare some of this discussion with the discoveries of Buck. In any case the study of Bronze Age West Semitic dialects is not new; but Buck has developed it beyond her predecessors. Cf. Willliam L. Moran, "The Syrian Sribe of the Jerusalem Amarna Letters," pp. 146-66 in H. Goedicke and J. J. M. Roberts eds., Unity and Diversity: Essays in the History, Literature, and Religion of the Ancient Near East (Baltimore: Johns Hopkins University Press, 1975); R. Hess, "The Operation of Case Vowels in the Personal Names of the Amarna Texts," pp. 201-210 in Mesopotamie et Elam: Actes de la xxxvième rencontre assyriologique internationale Gand, 10-14 juillet 1989 (Mesopotamian History and Environment Occasional Publications 1, Ghent, 1991); idem, "Rhetorical Forms in the Amarna Correspondence from Jerusalem," Maarav 10 (2003) 221-244.
As useful as Buck's contribution is, there are several caveats that should be noted. Stylistically, it would have been useful to have had a careful editor review the work and to have removed a number of annoying repetitions. For example, the reader is repeatedly told how the foundations of the MB temple of Ba'lu on the acropolis at Ugarit were sunk into the graves of a previous group (19th century BC) who used the site to bury their dead. This probably needs to be mentioned only once or twice. A number of these points recur.
More significant is the recently announced study of a PLOS ONE research paper regarding LB human skeletal remains at Alalakh (https://www.archaeology.wiki/blog/2021/07/ 01where-are-the-foreigners-of-the-first-international-age/). Apparently, the isotopic analysis reveals that few individuals were born elsewhere. Instead, they were native to the city and its environs. The idea that there was widespread movement of peoples in the MB and LB is not supported by this research. Buck argues for a consistent population (without major migrations) from MB II through the end of the city (c. 1185 BC) at Ugarit. This evidence may support something similar at Alalakh and its state of Mukish to the north of Ugarit.
A third point was addressed briefly in Buck's review of Tropper's earlier work regarding Ugaritic and Canaanite. It deserves further reflection here. It is not appropriate to cite and refute an earlier work of a scholar when they have changed and nuanced their research in subsequent publications. This was noted regarding Tropper's article where the author changed his position in his 2000 grammar. Of even greater concern is the absence anywhere in the book of Tropper's 2nd edition of his grammar. This revised edition appeared in 2012, years before the 2020 publication of Buck's volume and some years after the appearance of many books and other works in the bibliography. The point is, if someone is going to use and regularly critique another scholar's research, they owe it to that scholar to use the latest publication of their material. Buck's criticisms of Tropper need to reviewed in light of what he has written in his later edition. They should be adjusted accordingly.
Finally, mention should be made of the database of personal names from Alalakh at Tyndale House, Cambridge University. The collection of Alalakh names (with other names) and analysis should be checked against this database where analysis has also been done.
Buck has laid a foundation in her research of the important questions identifying and analyzing MB and LB Amorite, Canaanite, and Ugaritic. It forms a starting point for further study.
Richard S. Hess, PhD
Distinguished Professor of Old Testament and Semitic Languages
Denver Seminary
November 2021