The Apostle Paul: His Life, Thought, and Letters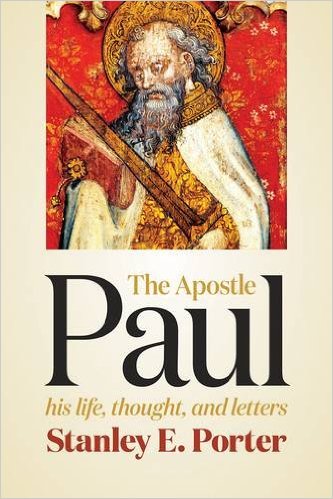 A Denver Seminary Book Review by Denver Seminary Distinguished Professor of New Testament Craig L. Blomberg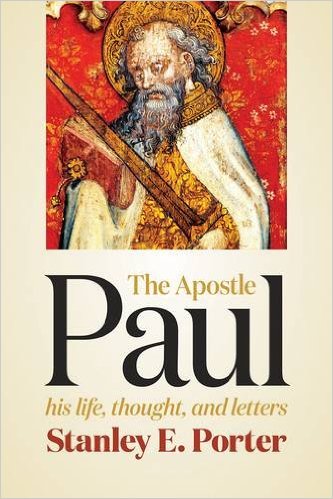 Stanley E. Porter, The Apostle Paul: His Life, Thought, and Letters. Grand Rapids: Eerdmans, 2016. $40.00 pap. xiv + 473 pp. ISBN 978-0-9028-4114-8.
Stanley Porter, who is president, dean and professor of New Testament at McMaster Divinity College in Hamilton, ON is one of the most prolific biblical scholars alive today. Few areas of New Testament studies lie outside his expertise but Paul is one he has come particularly to specialize in. Porter tells the charming story of how he thought when he embarked on this book that it might succeed F. F. Bruce's Paul: Apostle of the Heart Set Free (1977) a generation later but quickly realized Bruce's genius in the number of different areas he mastered. Porter's goals are a bit more modest but still wide-ranging.
Paul's life and thought are treated together in the first major Part of this textbook under the heading of "The Pauline Tradition." Successive chapters treat Paul as a person, the chronology of his life, background to his thought, major themes in his theology, the Pauline letter form, and the related issues of pseudonymity and canonicity. Part 2 treats the letters, also in six chapters, on Galatians, 1-2 Thessalonians, 1-2 Corinthians, Romans, the Prison Epistles and the Pastoral Epistles.
Part 1 is by far the best part of the book. Porter resists the recent fashion to place Paul's upbringing in Jerusalem, keeping his Jewish and Greco-Roman influences more balanced through a childhood in Tarsus. He seeks a balanced approach, also, to Paul's concern with empire, but is not at all convinced that Paul imbibed or used much rhetorical criticism in his letters, especially of the kind that leads to detailed oratorical outlines. Porter believes Paul's religious change can genuinely be called a conversion and he mounts an intriguing case for Paul having actually met Jesus while he was alive.
The chronology of Paul is very similar to Bruce's and (more recently) Rainer Riesner's and is overall compelling. He accepts all thirteen letters attributed to Paul as authentic, and locates the Pastorals after the end of the events of the book of Acts. In terms of backgrounds, Porter adds treatments of constituent forms within letters such as diatribes, vice lists and virtue lists. He also highlight Paul's use of Scripture as the most formative background source for his writing.
Key themes in Paul, after treatments of God, Christ and the Spirit, are summed up with key theological terms or concepts. Grace and faith round out what Porter calls "fundamental beliefs," followed by "developed beliefs" such as justification, law, reconciliation, sanctification, salvation, triumph of God, gospel, church, and Jesus' death and resurrection. Not one of these may be said to dominate or provide an integrating center in Pauline thought, as various scholars have argued, but neither does that exclude any of them from playing an important role. Overall, Porter finds the new perspective on Paul (largely with respect to the law) to have come under "severe scrutiny" (p. 118), with largely deserved criticism.
Porter continues to support the fivefold analysis of many letters via opening, thanksgiving, body, paraenesis and closing. He rightly highlights how no known evidence of early Christian attitudes allowed for pseudonymity and he creatively suggest that Paul himself kept copies of his letters and was instrumental in the formation of a mini-canon of them.
Treatments of the individual letters in traditional, chronological order devotes attention first to classic introductory considerations and then to the contents of the letters themselves. Consistently, Porter opts for the more conservative evangelical perspectives. Thus he dates Galatians early and addressed to Southern Galatia. He defends the integrity of 2 Corinthians as a single letter, written in the order we now have it. The numerous names of people in Romans 16 are not from a misplaced ending of the letter to the Ephesians. The Prison Epistles, on balance, were written from Rome, and it is hard to account for all three Pastorals, especially the very similar 1 Timothy and Titus, via theories of pseudonymity. Only rarely does Porter fail to find one side in a famous debate more compelling than the alternatives. But he does admit not knowing who all were the Philippian church's opponents and how to account for the earliest copies of Ephesians, which lack "in Ephesus" in 1:1.
Porter provides a detailed outline for each letter, using his basic five-part structure and then offers a survey of the contents of each main section. At times, especially earlier in the letters, we get some helpful commentary en route. Romans 7:14-25 is most likely Paul speaking as a Christian, 1 Thessalonians 4-5 is written not to delineate a chronology of end-times events but to encourage the church that those who have already died will in no way lose out. 1 Timothy 2:12 is about women assuming undue authority. But large stretches are little more than paraphrases of what Paul wrote with very little commentary, sometimes barely altering the words of the text itself. If the idea is to spare people with little Bible knowledge from having to actually read the text to know what it says, then the project works; otherwise, I'm not sure what the point of the exercise is.
As should be clear from my own writings, I am in major agreement with Porter on most of the main points and many of the minor ones that he makes. Students can learn a lot about most of the major areas of Pauline studies if they read Porter and no one else. Footnotes and bibliographies are generally up-to-date, copious and with judicious selections. Still, there are some strange omissions and few strange inclusions. I doubt the possibility of a Corinthian imprisonment for Paul is taken seriously by enough people today to merit the page of discussion it receives. But the 2009 Mohr Siebeck volume on Pseudepigraphy and Author Fiction in Early Christian Literature shows too diverse and nuanced a picture of this ancient practice to be ignored altogether. It also seems somewhat unusual that Porter would group so much of Paul's thinking under single-word concepts, especially when he has properly written a lot about the linguistic fallacies of this kind of categorization.
Even granted Porter's dislike for Ben Witherington's socio-rhetorical outlines of New Testament books, it is odd to see not one of his commentaries appear in the otherwise full bibliographies. Several of Tom Schreiner's key commentaries are also left out, presumably deliberately, as are Malherbe and Green on Thessalonians, Ciampa/Rosner and Fitzmyer on 1 Corinthians, Wilson on Colossians, and Best and Arnold on Ephesians. It is fine if Porter doesn't prefer these, but given the length of the bibliographies it is clear he is not just giving his top picks and even if this work went to press several years ago, these are all old and established enough that we would have expected to see them.
On the other hand, McMaster Divinity College students and graduates can consider themselves fortunate as just about everything they have written on one of the Pauline topics covered gets a commendatory footnote. But that is probably a good thing, since these are generally fine works.
Craig L. Blomberg, PhD
Distinguished Professor of New Testament
Denver Seminary
January 2017