The Challenge of Preaching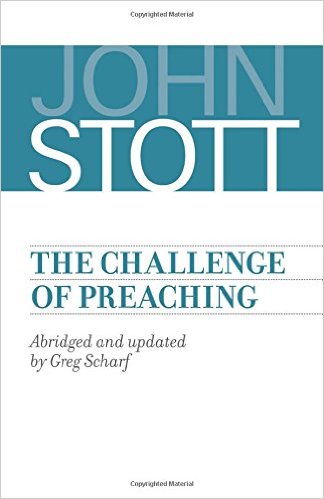 A Denver Journal Book Review by Denver Seminary Professor of Applied Theology and Biblical Preaching Scott Wenig
John Stott, The Challenge of Preaching, abridged and updated by Greg Scharf. Grand Rapids: Eerdmans, 2013. $16.00. Paperback. 132 pp. ISBN 978-0-8028-7335-4.
Anyone familiar with the recent history of Evangelicalism knows of John Stott and the global ministry he had for over half a century all while serving as rector of All Souls Church, London. Stott died in 2011 but as a biblical scholar, theologian and the author of countless books and articles, his influence on pastors, teachers and leaders continues to be felt. One of his most influential works was a book on preaching, Between Two Worlds: The Challenge of Preaching Today, originally published in 1982. Its insights benefitted scores of practicing pastors as well as introducing an entire generation of seminary students to Stott's approach to expository preaching.
Eerdmans has now published this abridged and revised volume by Greg Scharf, professor of pastoral theology at Trinity Evangelical Divinity School. Its purpose is to introduce Stott's work to pastors, preachers and students of the early 21st century and, as a former mentee of Stott's who worked with him at both All Souls and Trinity, Scharf clearly knows his subject. He has been deeply indoctrinated in the Stottian homiletical tradition, if we can label it as such, noting in the Acknowledgements to this volume "…that his impact on my own preaching was far greater than I had recalled. The concepts had so made their way into my bloodstream that I assumed many of them were my own!" (p. xi).
While I appreciate Scharf's heart-felt comments, I never found the original to be as compelling as its fans and some of my friends did. I know that sounds a bit negative given John Stott's reputation and work. But more often than not when I read it and then re-read it, I felt as if I was being taken back to a time and place that didn't resonate with the rapidly changing culture of North America in the latter part of the 20th and early years of the 21st century, let alone the evangelicalism that I was part of. Certainly some of this had to do with Stott's English persona and outlook versus the Baby-Boomer culture of the United States of which I was a part. But my lack of enthusiasm for his approach to preaching mostly centered on what I perceived to be its lack of engagement with the world I lived in. His exegesis was spot on but I always got the impression that the book – and much of Stott's own preaching – stayed too much in the ancient world or at least the British context of the 20th century. I never felt like it addressed the modern – or as we now know – the late modern world of the 1990s and early 2000s with its technology, resurgent Islam and rapid cultural shifts.
Moreover, from various experiences, I've often found abridged and revised versions of books by other authors to be a risky task. So, for all of these reasons, I approached Scharf's update of Stott's book with a skeptical frame of mind, something I don't generally do. But to my own surprise and delight, I not only enjoyed the book but found it to be instructive, helpful and encouraging.
It's never easy to distinguish exactly where Stott leaves off and Scharf picks up but given that caveat, this book reads well. It's composed of seven relatively small chapters, six of which run from ten to eighteen pages. The longest is chapter five 'Preparing Sermons' and takes up twenty four pages. Perhaps it is because I teach preaching, but I found it to be one of the strongest sections of the book. It clearly lays out the process of putting together an expository sermon from a text of Scripture and provides a number of useful suggestions and observations along the way. For example, Stott/Scharf emphasize that the sermon should revolve around one major theme (pp. 58-59) or as we like to call it at Denver Seminary, "The Big Idea." This is followed by a substantive discussion of sermon structure, word choice and the importance of illustrations. The chapter then wraps up with some helpful instruction on the necessity of formulating engaging introductions and relevant conclusions. I really resonated with this because all of these elements are essential to clear and relevant biblical preaching.
Other chapters cover such topics as the challenges to preaching, the theological foundations of preaching, the call to study and the importance of various virtues such as humility, sincerity and courage. While Scharf concludes the book with a brief epilogue there are also two appendices, "The Glory of Preaching: A Historical Sketch" and "McCheyne's Bible Reading Plan." The latter was formulated in 1842 and provides a strategy for reading the entire Bible in a year, the Old Testament once and the New Testament twice. The former gives an engaging overview of preaching through Church History, demonstrating the enormous role it has played – and continues to play – in the expansion of Christianity. Over the years I've read or skimmed various histories of preaching and while this is just one short essay, it was both instructive and enjoyable. It succinctly demonstrated that preaching and preachers are an integral element of God's redemptive program in human history.
My only critique of this book – and it is minor – concerns chapter three, "Preaching as Bridge Building." Its goal is to help preachers span the gulf between Scripture and culture, one of the neverending tasks of communicating the Bible. Scharf has updated the original work at this point, noting some of the major shifts that have occurred globally and ethically over the past few years. And he is to be commended for making things more relevant to our late modern context. I just wish he had taken more time to expound on these ideas, perhaps by showing how this might be done in various cultural contexts. However, he may have been constrained by editorial guidelines so my concern here needs to be taken with a grain of salt.
Regardless of one's church location or cultural setting, preaching in the contemporary era is a challenging task so I'm always on the lookout for ideas and tools to assist both my students and myself in the homiletical task. Recently a colleague asked if I was reading anything new and I responded by telling him that I was in the middle of Stott/Scharf's book. He asked if it was any good and I spontaneously responded, "Yeah, it really is!" Having now finished it, I still hold that view and want to commend it to preachers and students who either need a quick refresher course in homiletics or some further instruction in the enormous value of preaching the Bible in a world that so desperately needs to hear what it has to say.
Scott Wenig, Ph.D.
Haddon Robinson Chair of Biblical Preaching
Denver Seminary
February 2016