The Evangelicals: The Struggle to Shape America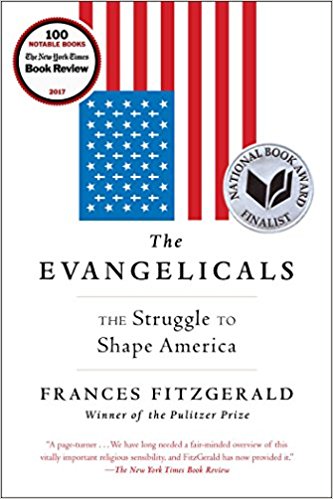 A Denver Journal Book Review by Denver Seminary alumnus and student Brandon Washington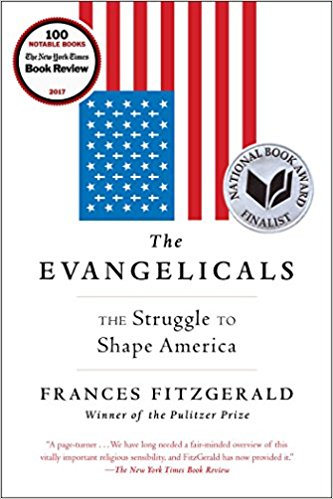 Frances FitzGerald. The Evangelicals: The Struggle to Shape America. New York: Simon & Schuster, 2017. Hardcover, $22.28. 740 pages. ISBN: 978-1439131343
I identify as both evangelical and African American and I cannot ignore the occasions on which the two identities are in conflict. There is an undeniable political divide that exists within evangelicalism, specifically, a divide that follows along ethnic lines. Experience has shown that it is possible for distinct ethnic groups to have divergent political perspectives in spite of their shared theological identity. Since theology is foundational and formative in its relationship with all other disciplines, one must ponder how the political rift occurred in spite of the shared theological perspective. The need to address this apparent paradox prompted my decision to read The Evangelicals: A Struggle to Shape America by Frances Fitzgerald.
Fitzgerald is a gifted communicator and, in spite of the complexities that are intrinsic to her subject matter, her writing style allowed for a pleasant reading experience. She sets out to discover the evangelical identity by assessing its significance to the American political context. Since the nation's inception, voters have been mindful of the religious identity of political candidates. For hundreds of years, attention to this aspect of a candidate's biography was subtle. Voters came to grips with the extent to which they value a candidate's faith when John F. Kennedy proved a viable presidential candidate. However, while his Roman Catholicism was noted by many voters, his faith did not undermine his election. This occasion may have brought the relationship between faith and politics to the attention of the country, but not enough to link them. According to Fitzgerald, the link did not become prominent until Jimmy Carter, a liberal southern Democrat, referred to himself as born again. Carter's confession sparked an interest in faith. Fifty million Americans were born again and Newsweek ran a cover story entitled, "Born Again: The Evangelicals" in an effort to clarify their identity.
According to Fitzgerald, the present form of evangelicalism was introduced under Carter's regime, but it did not come to prominence for another four years. During Carter's tenure as president, Christian leaders like Jerry Falwell and Pat Robertson along with conservative denominations, most prominently the Southern Baptist Convention, mobilized a movement against "secular humanism." Strategically, they chose to reject the notion that religion and politics are separate domains. Allowing them to coexist would result in a formative moral influence that came from the nation's highest political offices. Accordingly, such an approach would require that the millions of American Evangelicals obligate political candidates to publicly espouse protestant Christian values.
Readers of Fitzgerald's work should recognize that she is not functioning as a theologian. Her agenda is sociological in nature. Her previous work addressed the controversies of Vietnam and Ronald Regan's leadership. It is her tendency to use historical contexts to appreciate the circumstances that gave rise to national and political shifts. Her work regarding evangelicalism is no exception. She is using history to discover how evangelicalism came to permeate American politics. Her conclusion may be informed by her cynical view of the evangelical movement. In her estimation, access to the highest political offices in the country has resulted in evangelicals momentarily compromising many of their virtues in an effort to have the long-term win in the morality war. Wittingly or unwittingly, evangelicals have restricted their virtues to the confession of the politician who may or may not espouse those virtues. She uses the present support of president Trump as evidence of this compromise. She writes,
By the time of the 2016 election, the evangelical world had become a complex place. The Christian right no longer dominated evangelical discourse. Further, it had taken a more secular language—there was little talk of Christianizing America. In Washington many thought the Christian dead, but Republican legislators in the red states passed scores of laws restricting abortion and LGBT rights. That Donald Trump, a thrice-married libertine, won the Republican nomination for president with many evangelical notes confounded most evangelical leaders. Clearly something was happening that would change American politics, and the Christian right would not be what it had been before.
In Fitzgerald's estimation, conservative evangelicals have chosen to identify themselves according to a politically upheld morality instead of their theological ethos. Historically, the conservative Christian camps highly valued the clearly defined line between church and state. Such a distinction would allow the Church to inform culture by freely evangelizing without state interference. Such an approach lives up to the self-imposed name evangelical. However, the late twentieth century, starting with the presidency of Ronald Reagan, saw evangelicalism shifting to the more efficient strategy of legislating morality.
Fitzgerald appeals to representative evangelical personalities as a case study that proves her point. The mid-twentieth century followed the lead of Billy Graham, the prototypical evangelical. Graham was careful to avoid the rhetoric of a politician. While he fostered relationships with politicians, evangelistic crusades were his primary strategy of choice. In contrast, the late twentieth century saw Jerry Falwell and Pat Robertson citing biblical texts in defense of the religious right. Political engagement became central to their ministerial philosophies; Robertson even ran for president. Fitzgerald treats such behavior is an unfortunate deviation from the healthy divide between church and state. It has resulted in evangelicalism becoming a political movement instead of an evangelistic one.
While Fitzgerald's assessment of evangelicalism is defensible, it is not without its shortcomings. She briefly touches on the history of evangelicalism during the Great Awakenings and the early twentieth century, but her study of evangelicalism fixates on the last forty years. Her assessment of this era is not necessarily unsound, but such a truncated study gives way to ideological reductionism. Her attention to history fixates on the practices of evangelicalism, but it does not properly consider its theology. In the absence of theological consideration, her appeals to Falwell, Robertson, Reagan, and Trump as representatives of modern evangelicalism are misleading. Also, while she acknowledged the work of Billy Graham, she did not consider the significance of his efforts during the seventies and eighties, which overlapped with the more politicized efforts of Falwell and Robertson. Her approach would imply that evangelicalism is homogeneous, defined by its loudest voices. This mistake is exacerbated by her decision to disregard the black church. The National Association of Evangelicals contends that 44% of African Americans identify as evangelical, compared to 29% among Anglo Americans. When speaking to an African American it is remarkably more likely that you are engaging a professed evangelical than when speaking to an Anglo American. The book was published in 2017. For several years prior to the date of publication, the Black church was the fastest growing branch of evangelicalism in America; it is to this day. Neglecting this reality may have resulted in confirmation bias as she disregarded millions of evangelicals who would not align with the political identity and tactics that she ascribes to evangelicalism. While this may not disprove her point, she has overstated her case by generalizing evangelicals in this manner. It is unfortunate that a 740-page book may need an equally massive appendix to address some of its overstatements.
Brandon Washington, MA
Denver Seminary
May 2018