The Parables: Jesus's Friendly Subversive Speech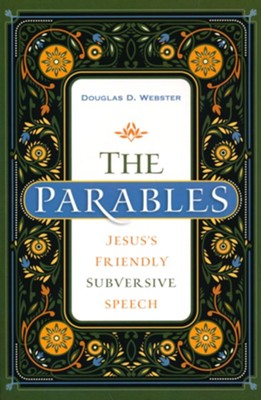 Douglas D. Webster, The Parables: Jesus's Friendly Subversive Speech. Grand Rapids, MI: Kregel Academic, 2021. pp. 347. ISBN: 978-0-8254-4690-0, $22.99, paperback.
One of the most prominent elements of Jesus' public teaching ministry was his use of parables. To communicate spiritual truth about the nature of God's kingdom, he spoke in dramatic fashion of persistent widows, murderous renters, lost prodigals, and even generous Samaritans. For centuries, scholars, professors, and pastors have engaged, wrestled with, and occasionally been flummoxed by these intriguing stories. Now renowned pastor, teacher, and writer Douglas Webster casts his own analytical net into that sea of interpretations.
Webster comes well prepared for the task. He's currently professor of pastoral theology and preaching at Beeson Divinity School in Birmingham, Alabama and has served as a pastor in various venues over the past four decades. Moreover, he's previously published some books on navigating Revelation for congregational edification and how to preach Hebrews, no mean feats. And it's clear from the current text that he genuinely loves teaching the parables.
The book is composed of twenty-two chapters, twenty-one of which are devoted to extended expositions of single parables. The twenty-second chapter covers the four stories which collectively compose the summation of Jesus' apocalyptic discourse in Matthew 24-25. Along the way the reader is invited into the heart of each story that Jesus told and how it contributes to a more in-depth and nuanced understanding of His ministry, the extension of God's kingdom and our part in that. Webster's take is that Jesus often used parables as a teaching tool to get beyond the expected rabbinic wisdom of his day as well as being a technique to challenge the views of more obstinate or obtuse listeners such as the scribes and Pharisees.
As someone who has always loved Jesus' parables, as well as having exegeted and preached on many of them, I found Webster's text to provide some refreshing new insights. One of his main strengths is emphasizing that each parable must be read in its own literary context. For example, he does a stellar job of arguing that we can't really understand either the parable of the unjust steward (Luke 16:1-15) or that of the rich man and Lazarus (Luke 16:19-31) unless we note that they're the bookends of a longer discourse that Jesus is making about his listeners, the nature of money and the values of God's kingdom. From the perspective of the former story, money is a temporal tool of the world which can be leveraged for eternal purposes, if only Christians will do so. The latter parable illustrates how upside-down God's kingdom is – or will be – when it comes in its fullness. Those who are rich and live for money may upon death find themselves in desperate circumstances with no way out while those who had little or nothing on earth enjoy that which is truly life. Webster isn't arguing that the poor automatically inherit heaven or that the rich always are doomed to perdition. Instead, the rich man symbolizes those like the Pharisees who loved money (Luke 16:1-15) while Lazarus probably represents Christ's followers who 'have taken up their crosses to follow Jesus' (p. 222).
A second strength of this work is Webster's engagement with other pastors, teachers, and scholars both past and present. He does a sterling job of leveraging helpful insights on the parables from such notables as John Chrysostom, John Calvin, and Martin Luther. For detailed exegetical assistance he regularly relies on Klyne Snodgrass's Stories With Intent (2018), perhaps the pre-eminent study ever done on the parables. Webster's collective use of these various sources undergirds the strength of his own work.
A third strength of the book is the Appendix, 'Preaching the Parables'. Here, Webster lays out ten suggestions and/or exhortations on how to preach these engaging stories. While some of his ten points are more useful than others, it's something I'm grateful he included. For those who are new to communicating the parables and want some guidance in this regard, this section is invaluable.
My only bone to pick with this book is the author's use of the redemptive historical method of interpretation and its application to preaching the parables. The redemptive-historical method arose from some Dutch Reformed churches and theologians in the 1940s. Purporting to root itself in all of Scripture, it argues that every genre and pericope of the text refers in some way or another to the person and work of Christ. Given that redemption finds its fulfilment in Jesus, it is argued that all of scripture points to him in some way or another. Without going into a detailed critique, I would simply note that not every parable functions in this way. Without question, some certainly do. Clearly, Jesus is the Sower of the seed (Matthew 13:3-8), the Owner of the field (Matthew 13:24-30), and the Master who provides the talents (Matthew 25:14-30). But some parables are told to explicate the value of God's kingdom (Matthew 13:44-45) or motivate disciples towards faithfulness (Luke 18:1-8) or teach about the proper use of money (Luke 16:1-8); they're not reflections on Christ's atoning death, how we can find our true identity in him or how he's the fulfillment of the parable. Given his Reformed orientation, I know that Dr. Webster values the Bible and thus, by implication, he values the work of William Tyndale the 16th century English reformer who first translated it from Latin into English. Tyndale believed in a historical/grammatical hermeneutic and hated how the church father Origen allegorized everything in the Old Testament to make it fit his Christo-centric scheme of interpretation. Unfortunately, the redemptive-historical method sometimes falls into the same trap. Thus, if that approach is used on the parables, it should be carefully and selectively applied instead of being made a template for hermeneutics and homiletics.
Apart from this caveat, I want to heartily recommend The Parables to readers of The Denver Journal. It is a book that will be useful to New Testament scholars and preachers alike. Easily accessible and filled with some real exegetical nuggets, it's a solid work by a notable scholar and teacher. My hope is that it will stimulate even more work into the engaging and profound stories told by Christ and encourage those of us who preach to do a series – or maybe even two – on them in the coming years!
Scott Wenig, PhD
Professor of Applied Theology
Haddon Robinson Chair of Biblical Preaching
Denver Seminary
June 2022