The Rise and Triumph of the Modern Self: Cultural Amnesia, Expressive Individualism, and the Road to Sexual Revolution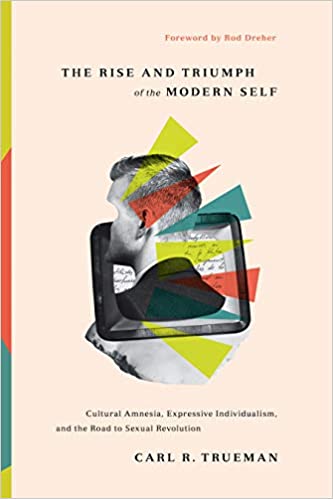 Trueman, Carl. The Rise and Triumph of the Modern Self: Cultural Amnesia, Expressive Individualism, and the Road to Sexual Revolution. Wheaton, IL: Crossway, 2020. Hardcover, 425 pp. ISBN 978-1-4335-5633-3, $34.99.
In his latest book, Carl Trueman, a professor of biblical and religious studies at Grove City College, poses a crucial question for this current moment in history: How is it that the statement, "I am a woman living in a man's body," which was once culturally taboo and even comical, is now understood as a legitimate form of self-expression protected under law. He argues that this phenomenon is nothing more than a symptom of a larger revolution of the self and what it means to be a self. This revolution, despite the polemic, is one in which we are all complicit.
Trueman's book is an academic historian's inquiry into the issue. He makes clear that this book ought not be read as a polemical work or a work of lamentation, but rather that of historical inquiry following the ideological ancestry (not detailed genealogy) of our present moment. In part one, he begins by spending two chapters building what will be his conceptual framework for his historical approach. The philosophical work of Charles Taylor and the psychological and sociological work of Phillip Rieff and Alasdair MacIntyre—primarily Taylor and Rieff— make up the tools by which Trueman not only merely reports on historical happenings but seeks to probe into their ideological mechanisms. The contributions of their work can be put largely into two conceptual categories: Firstly, the concept of the "expressive individual" (Taylor) or the "psychological man" (Rieff) in which the self is understood primarily defined by the "inner-self;" secondly, the concept of an "anticulture" (Rieff) in which a revolutionary work or act seeks to cease all forms of historical continuity with the past. This concept of "anticulture" is driven by what Taylor would refer to as a shift to a poietic view of reality away from a mimetic view; that is, teleology is no longer given by some authority, it is self-created.
In part two, he begins his historical inquiry with the ancestry of the revolution of selfhood. He begins with Jean-Jacques Rousseau and the influence he had in inserting the view that it is society that corrupts the individual into popular political and philosophical conversations. Trueman acknowledges the work of the Romantic poets in the continuation of the individualistic view of the self in which society and its prohibitions are understood as the problem of humanity. He then ends part two with a look into the contributions of Nietzsche, Marx, and Darwin to the understanding of selfhood and human personhood that is endlessly moldable in the hands of self-creation.
It is in part three that Trueman demonstrates the sexualization of the revolution of the individual. Through Sigmund Freud, the self is then understood to be inherently sexual; and through the work of the New Left, that sexualized self is then politicized. Trueman ends the book in part four by examining the historical currents mentioned throughout the book as they are made manifest in this present moment. He demonstrates the historical continuity of the rampant use and acceptance of pornography, court decisions regarding marriage—starting with Reagan's legalization of no-fault divorce, —the ongoing debates on free speech on college campuses, the ethics of Peter Singer, and finally, the growing cultural phenomenon of transgenderism with the ideological ancestry mentioned earlier in his book. Only by way of conclusion in his final chapter does Trueman then begin to speak "unscientifically." He acknowledges that this revolution of the self is not exclusive to one cultural current, but profoundly describes us all in the West. Through this, he offers critiques of the church and constructive imperatives as we move forward in history.
There is no doubt that while Trueman wrote this book as neither a lament or a polemical work—he says as much, —the subject matter and the culture into which this work was published will inevitably make the appropriation of this book both a lament for some and a polemical attack for others. This, however, would be a terrible misappropriation of this book. This is for two reasons; two reasons that I also find to be the greatest strengths of this book. Firstly, this book is an impressive academic and dispassionate (as much as is possible) inquiry into a number of polemical issues in our political culture. Trueman offers the reader an opportunity to step back and take a different approach to understanding this current moment in history. He illuminates a number of nuances and complexities that trip up those who would want to use this book in their polemical warfare. Secondly, while his critiques of the worldliness of the current cultural trends are obvious, he spends his concluding chapter speaking prophetically and constructively to and about the Church. This is book is better used as a work of self-evaluation, not a polemic, especially as his attitude to polemics with secular culture is rather cynical.
This book is an excellent book that will go into my own "must-read" category. It is, however, not without fault. In beginning the book by uncritically positing Charles Taylor, Phillip Rieff and Alasdair MacIntyre as his conceptual framework, his historiography goes without any kind of real, substantial justification. In an age where one's historiography carries moral implications, the lack of justification in Trueman's work is highly unfortunate. In addition to this, there are points in which Trueman's use of illustrations and tone undermine his endeavor to be dispassionate and purely descriptive. In these points, his laments and polemics are still implicit, but only just so.
This should, nonetheless, be read and known by anyone who dabbles in Christian critical thinking. The subject matter, on its own, is of great importance for Christian thinkers to properly interact and minister in the Western world. The bludgeoning of secular culture is not a viable apologetic or evangelistic program, but to do anything else will require that we understand secular culture well. In addition to the mere subject matter, Trueman's scholarship is impressive. He gives readers an understanding —albeit introductory— of the historical through-lines to this present moment, both in breadth and depth. As the western Church continues to wrestle with the possibilities of the future in a rapidly changing world, this understanding will be required for any viable apologetic and evangelistic approaches, whether it agrees or not with the conclusions that Trueman comes to himself.
A.D. Wininger
MA Theology Student
Denver Seminary
April 2021