Understanding the Jewish Roots of Christianity: Biblical, Theological, & Historical Essays on the Relationship Between Christianity & Judaism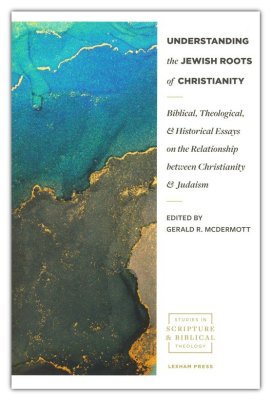 McDermott, Gerald R., ed. Understanding the Jewish Roots of Christianity: Biblical, Theological, & Historical Essays on the Relationship Between Christianity & Judaism. WA: Lexham Press, 2021. Softcover, 264 pp. ISBN 9781683594611, $29.99
Gerald R. McDermott is the recently retired Anglican Chair of Divinity at Beeson Divinity School at Samford University. He is an Anglican priest, a renowned scholar on Jonathan Edwards and author of many works on the topics of world religions and the theology of Israel. Eleven authors contribute essays alongside of McDermott in this monograph; each of whom specializes in the relationship between Judaism and Christianity. At the heart of each essay is an affirmation of Jesus' own Jewishness; born a first-century Jew who lived a faithfully observant Jewish life. This reality often confronts assumptions that exist in modern Christian religious thinking. For instance: if a Jewish individual comes to profess faith in Jesus as the true messiah and son of God, don't they actually convert then from Judaism to Christianity? These and many more challenging questions are brought to bear across the breadth of essays allowing the reader to discover themselves as, what McDermott calls, "functional Marcionites" and to explore the ultimately damaging theologies that follow (p. 213).
I enjoyed particularly insightful considerations in the chapters "Did Jesus Plan to Start a New Religion" by Matthew Thiessen and "Messianic Judaism: Recovering the Jewish Character of the Ekklēsia" by Mark S. Kinzer. Thiessen's essay examines a series of Jesus' actions and sayings which have a high possibility to be interpreted by modern readers of the New Testament as being at odds from the Jewish norm of his day. Instead, Thiessen reveals a trademark "halakic Jesus" whose law observance informs his own legal defense of true religious fidelity (p. 31). That fidelity establishes a consistency in Jesus' actions which not only cements a unity between the Hebrew Bible (Old Testament) and the New Testament but also a Jewish observance in the foundations of early Christian expressions.
Kinzer's work highlights a common assumption behind the perceived split between Christianity and Judaism. He suggests a rupture between three entities with the greatest historical differentiation taking place not between Christianity and Judaism, but between Christian Jews and Christian Gentiles. This split is historically consequential, with much unfolding over time to suppress Jewish expressions in Christian practice. The ecclesial ramifications present to us readers a challenge in the light of resurging expressions of Jewish Christianity; from Hebrew Christianity, Jewish streams in the Russian Orthodox Church, the Association of Hebrew Catholics, to the Messianic Jewish movement many readers may be familiar with today (p. 193-195). What role can the integration of Jewish disciples of Jesus play in healing the kaleidoscopic divisions already extant in the Church?
Other notable insights include an exploration of the early practice of eucharist as rooted in conceptions of sacrifice in the Hebrew Bible. Matthew S. C. Olver brings this central element of modern Christian worship into alignment with core Jewish expressions of worship in his essay "Missed and Misunderstood Jewish Roots of Christian Worship." Also see Eugene Korn's "From Constantine to the Holocaust: The Church and the Jews." The section in which he explores the evolving Rabbinic perspectives toward Christian theology is particularly instructive. The Christian reader will benefit from an expansive understanding of the open doors that exist theologically from the vantage point of historical Jewish theologians.
While discussion concerning the issue of the Jewishness of Christianity is an old one, works like this are a helpful deposit in the ever-sharpening picture of early Christians in their Jewish context. Reader's sensitive to social justice issues at play in the region may find some comments concerning the nation of Israel and Zionism to be a bit tone deaf. With the focus strictly on the relationships between Judaism and Christianity, no essay in the collection is constructed to address this inherently complicated topic outright. It is likely, however, that younger readers consider this as an important barrier to address as they explore new pathways for a future unity hinted at by many of the authors. In all, Christian readers will find this resource particularly useful for revealing and exploring their own unhelpful assumptions or stereotypes toward both the Judaism at play as they read it in the biblical narratives and toward the Judaism of today as they engage it as disciples of Jesus. There is much to commend about this work and its helpful implications for students of bible, history, theology, and ecclesiology.
Nathan Scherrer, MA
Assistant Professor, Training and Mentoring
Denver Seminary
June 2022