Voice and Mood: A Linguistic Approach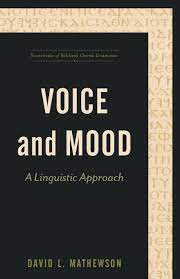 Mathewson, David L. Voice and Mood: A Linguistic Approach. Grand Rapids: BakerAcademic, 2021. $22.99. Softcover, 208 pp. ISBN 9781540961433.
Mathewson's new book, the first in the Essentials of Biblical Greek Grammar series, is a definite must-read for those who teach biblical Greek. It should also be put on the "highly recommended" list for students of the language. Although the linguistic terminology will be unfamiliar to the student who has not studied Halliday's Systemic Functional Linguistics (SFL), Mathewson's clear, careful explanations suffice to make his treatment of voice and mood accessible. The book opens the way for non-linguists to begin to rethink the best approach to and descriptive language for two properties of the Koine Greek verb. If meaning presupposes choice in Halliday's system, three voices and at least four moods (participles, infinitives, and the future tense are discussed in the "Mood" section) give us sufficient choices to fine-tune a verbal idea's meaning.
The first chapter surveys several intermediate Greek grammars and the work of three authors who have recently published treatments of voice. Regarding the grammars, Mathewson opines that all fail to reflect "on the semantics of the voice system beyond the general definition of how the subject relates to the action of the verb" (p.14). At least concerning Mathewson and Emig, I find the criticism valid and helpful. Considering voice from a systematic, linguistic perspective rather than assigning labels which arise from Greek-to-English translational issues seems to be a large step forward. Rutger Allan's, Rachel Aubrey's, and Bryan Fletcher's work on voice pushes toward that step. Allan's understanding of the middle voice as "subject-affectedness" is a useful descriptor. Fletcher adds "ergativity" (whether a verbal idea is internally or externally caused) and specifically causality to the discussion of voice. Mathewson concludes the chapter with what really are questions: 1, does Greek have two or three voices; 2, can deponency characterize a Greek, as opposed to a Latin, verb; 3, can we employ a rigorous linguistic model to the voice system; 4, can causality explain Greek voices; and 5, how do we relate the semantics of voice to the verbal endings (p. 23)?
After his survey of scholarship, Mathewson turns to the linguistic model he will use in the rest of the book. As noted above, he adapts Halliday's SFL for his purposes. Here the student of traditional grammars will need to pay particular attention to new terminology, and those who have a linguistic background can skim. "Voice in Greek indicates the author's decision…to indicate the relationship of the subject to the action in terms of causality and agency" (p. 49). Because Halliday's system is based on English, which has no middle voice, it is important to note that Mathewson, following Porter and others, considers the middle voice to be ergative in that it is internally caused. A Koine Greek author or speaker had the choice to encode a verb to be either active (+Active), where the subject is conceived of as directly causing an action, or not (-Active), where causality is considered to be indirect. When one chooses -Active, a further choice must be made regarding whether external (+Passive) or internal causality (+Middle) is in view. To choose +Active is to choose the default voice, the most used voice with the least semantic weight. To choose -Active +Middle is to choose the least used voice and the one with the most semantic weight. The choice is particularly important because it is perspectival. Voice and mood, along with verbal aspect, are the subjective choices of an author or speaker to portray verbal ideas in a particular way. Having adapted this way of charting authorial decisions (figure 2.2, p. 38) from Porter and O'Donnell, Mathewson clarifies that Greek has three voices.
With that clarification, Mathewson takes chapter 3 to look at all three voices in the Greek of the New Testament. He looks at the active voice in both transitive and intransitive clauses. Because the active voice is unmarked, we can expect more exegetical significance from the choice of the passive or the middle. Thus, Mathewson spends more time on them. He analyses the passive with and without an expressed external agent. When the medium (the affected participant in a verbal process) "is promoted to the grammatical place of subject" (p. 62), we need to take notice. We are so trained not to use the passive voice in English that it is easy to forget that it can be used to confer prominence and maintain "topic continuity" (p. 63). The middle voice is difficult for the simple reason that we do not have one in English; it is often impossible to translate it effectively. This, by the way, is why I am attracted to the terminology/symbols in the book. I do not necessarily need a good gloss for -Active +Middle to understand that πορεύομαι involves indirect and internal causality. I agree with Mathewson that subject-affectedness is the key to the middle voice. "The main point is that with the choice of the middle, causality is internal to the process itself and the grammatical subject is involved in producing the action but is not portrayed as the direct agent or cause" (p. 65). After examining the middle voice in transitive and intransitive clauses, Mathewson takes a couple of pages to focus on deponency. I am among the many former Latin students who was persuaded by Jonathan Pennington to "set aside deponency" where Greek is concerned. I am also persuaded by Mathewson, Porter et al. that "Greek voice indicates where causality and agency lie in relationship to the S + V complex" (p. 33), so the category of deponency is unnecessary. Still, it should be noted that "middle only" (formerly deponent) verbs do not pack the exegetical punch that verbs which can have all three voices do. With fewer choices come less meaning.
The selection of mood is a subjective decision made by an author or speaker to portray a verbal idea's relationship to reality. Mathewson reminds us that according to Porter, "'the choice of attitude [mood] is probably the second most important semantic choice by a language user in selection of a verbal element in Greek, second only to verbal aspect'" (p. 71). Without getting sidetracked by a discussion of objective reality as it relates to the Bible, let us accept that mood can "talk about" reality in a variety of ways. For example, the indicative mood, often taught as the mood of reality, may or may not grammaticalize actual facts. It may be better, therefore, to consider the indicative mood as the mood of "assertion" and the oblique moods to be nonassertive (p. 90).
As he did in the first section, Mathewson begins the second with a review of recent scholarship and concludes that there has been "little development in the treatment of mood across most of the standard grammars" (p. 88). Again, I think his assessment is a valid one; most grammars still use old, descriptive labels uncritically and with little regard to the findings of linguists. F. R. Palmer, a linguist, speaks of mood, or modality in terms of realis and irrealis and assertion (p. 90). "The importance of mood markings is that they depend not on what is factual and what is not but on 'what is asserted and what is not asserted'" (p. 90). To this we can add that modality may be classified epistemic (dealing with levels of certainty of an occurrence happening) or deontic (dealing with potentiality) (p. 91).
Chapter 5 looks at Greek moods as a system, wherein there are two basic choices, assertion or nonassertion. If one chooses +Assertive (indicative mood), one is choosing to make a statement or ask a question. If one chooses -Assertive, one must go on to choose from among the oblique moods (subjunctive [+Projection] optative [+Projection +Contingency] and imperative [+Direction]). The indicative mood and its clause types (charted in the 5 entries of Porter's list on p. 97) are discussed first. The indicative mood is far and away the most used (15,618) of the moods and is therefore unmarked (p. 101). Thus, when a nonassertive mood is employed, we need to pay particular attention. The subjunctive mood (+Projective) can also be used to make statements and ask questions, but they are hypothetical, "presented for consideration" (p.110). Mathewson, using Porter's labels, surveys projective statements and questions, and secondary clauses. I find this method of labeling to be compelling for the simple reason that it is an attempt at an objective approach to function. I say attempt because there are no question marks in Koine Greek; +Interrogative, or -Interrogative are often judgment calls. The optative mood adds an element of contingency to projection. It is the least used mood in the New Testament (68) and may also be analyzed in term of statements, questions and secondary clauses. Because the optative in the least used mood in the New Testament, it has significant exegetical weight. "It tends to signal prominence, particularly in primary (main) clauses" (p. 121). The final mood, the imperative, grammaticalizes direction or volition (-Assertive +Directive >> command). Commands, prohibitions, the third personal imperatives and requests are subsumed under this label. Since verbal aspect, or tense selection, in the imperative mood has been a matter of intense scholarly debate in recent years, Mathewson offers a brief refutation of the "old rules" (p. 128). I agree that imperatives are best understood given "the semantics of the imperative (or subjunctive) forms and the semantics of verbal aspect" (p. 128). According to Porter, the future tense is "'aspectually vague'" and grammaticalizes "expectation" (p. 131), so it is certainly tangential to modality. The future tense and the aorist subjunctive are formally similar, so it makes sense to add it to the mood chart (p. 132) between the indicative and the subjunctive.
Neither infinitives nor participles are moods per se; they are not encoded for +Assertive or -Assertive, but they are discussed at the end of Mathewson's treatment of mood. Again, using Porter's terminology, participles grammaticalize +Factive Presupposition and infinitives do not (p.138). Infinitives, though often called verbal nouns, refer to the verbal idea itself (p. 140). After a survey of the functions of the infinitive, Mathewson concludes that it "is backgrounded in relationship to other verb forms" (p. 150). Participles "presuppose the reality of the state of affairs indicated by the verb" (p. 151) and can function as a modifier (adjectival or adverbial), a substantive, independently or periphrastically. It is worth mentioning that Mathewson states that the adverbial categories (temporal, modal, causal etc.) employed by most grammars are not part of a participle's encoding. It is more important to see whether a participle precedes or follows the main verb and what verbal aspect it has. I was particularly pleased to see Mathewson's treatment of Matt:28:19-20 (pp.158-159). The main verb "make disciples" is preceded and followed by participles; how good to see them translated and analyzed that way!
Mathewson's conclusion brings us back to "the network of choices" a Greek writer or speaker had (p. 169). Clearly, there are many choices beyond what voice or mood to select, but these should habituate us to thinking in such terms. The book drives home that communication must be seen in relation to all the possible choices a speaker/writer has, not each choice in isolation. Its many New Testament examples of voice use and +Assertive and -Assertive clause types contribute greatly to a job well begun. I am hopeful that this series will make better exegetes of us all.
Elodie Ballantine Emig
Instructor of NT Greek
Denver Seminary
January 2022