Why Does God Allow Evil?: Compelling Answers to Life's Toughest Questions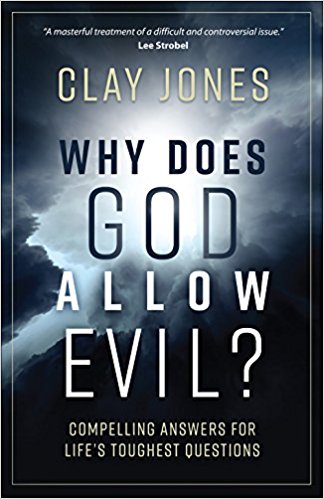 A Denver Journal Book Review by Denver Seminary student Brandon J. Morrison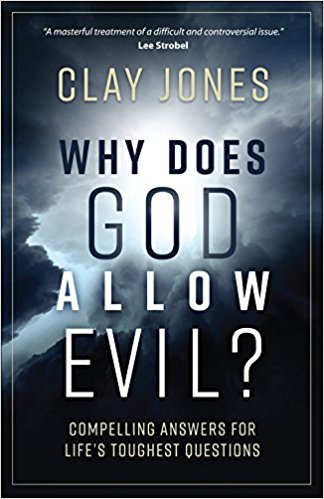 Clay Jones, Why Does God Allow Evil?: Compelling Answers to Life's Toughest Questions. Eugene, OR: Harvest House Publishers, 2017. $15.99, paperback. 215 pages with appendix. ISBN 978-0-7369-7044-0.
The problem of evil has plagued philosophers and theologians for millennia. It is the problem that seems to be a favorite for those who argue—militantly—against Christian theism. As apologists, either lay-people or professionals, we must be prepared to answer this problem, and to answer it in a meaningful and winsome way. Often, this problem is either engaged from a theological perspective or from a philosophical perspective, but rarely from both theology and philosophy. Because of this, we are never given a complete answer, nor are we given an answer that is persuasive to the majority of people contemplating this question: why does God allow evil?
Not many have done as well as Clay Jones, associate professor of apologetics at BIOLA University, in answering such a perplexing question. In his book, Why Does God Allow Evil?, Dr. Jones answers with Scripture and philosophy in a comprehensive manner. He follows the arc of the issue from original sin to the evil we have experienced throughout human history to free will to hope of heaven. Jones has studied this issue for the last three decades and wrote his doctoral dissertation on the problem of evil. His undergraduate work in philosophy and his Master of Divinity both helped him bring balance to his answer as he wrote pithily and in an engaging manner on such a polarizing subject. For his approach to this problem, three things stand out in Jones' answer: 1) his use of visceral examples, 2) his discussion of human free will, and 3) his brief treatise, and conclusion, on a Christian's future hope.
I took Jones' class on apologetic research writing in 2014, and from that point on I was hooked by his approach to the problem of evil through the use of visceral examples of evil throughout human history. The picture painted in the book is grim, yet it is encouraging in the way of providing grounding for an answer to this problem. Jones establishes a biblical view of original sin and of depravity within all of humanity. Once this is established, he uses specific examples of human atrocity in chapter two— "Why Do Bad Things Happen to Good People?" The Holocaust, Soviet death camps, the rape, torture, and murder of 300,000 people in Japan are just three of Jones' examples. While he is somewhat reserved in detail, these are harrowing and difficult passages to read. As he tells story after story, his conclusion is that these horrors are not inhuman but are exactly what humans do (pp. 52-55). His point through this chapter is that evil is committed by ordinary men and women. There is not a subset of humanity incapable of doing evil. We are all capable of horrors if the situation is right. The picture Jones paints is harrowing: "Humans have an amazing capacity for evil, and for each person who pulled the trigger or scalded the unborn, there are family, friends, and even majority parties who knew of the slaughter and did nothing to stop it" (p. 59). Evil is not God's problem to fix, but Humanity's problem to mourn. Much of the evil used to argue against God should be used to argue against the supposed "inherent goodness" of humanity. Humans do evil things often.
Following his conclusion that evil is simply what humans do, Jones discusses that evil is only possible with reasonably free beings who can chose both right or wrong. He argues for libertarian free will. From Jones' perspective on this issue, this is the only way that we can adequately describe the problem without having to attribute the existence of evil directly to the hand of God. Because we have free will, we can choose to feed the hungry, or we can choose to be a part of a mass killing of the innocent. That is, although we are depraved beings, we are also morally free beings. Humanity is responsible for evil. Jones states that because men and women can "choose to sin or not to sin and would then be held responsible for that choice presupposes free will's existence" (p. 115).
Jones believes that the commandments in Scripture presuppose our ability to obey those commandments. If this is the case, our free will holds us as the responsible party for the evil in the world. It is here that Dr. Jones moves from a biblical view of total depravity to a more libertarian view of free will. Ephesians says we are dead in sin (Eph. 2:1). Romans tells us that "there is no one who is righteous" and that "all fall short" of God's standard (Rom. 3:10, 23). Jones sees complete freedom of the will to do good and not to do good. Paul seems to think that we are unable to do good (Rom. 3:12). Peter calls us "slaves of corruption" (2 Pet. 2:19). Paul reminds the church in Rome that they were once slaves to sin, impurity, and lawlessness (Rom. 6:6, 19-20). For Jones, libertarian free will was so obvious that the biblical authors thought it "went without saying," but for the authors themselves sin is a real, deep-seeded issue that renders humans slaves to their sin. This is the main issue that I take with Dr. Jones' writing on this subject. There is a difference between being philosophical about doctrine and being biblical about doctrine. As Thomas Aquinas asserted long ago: philosophy is the handmaiden of theology.
For Jones, the conclusion of the problem of evil is future hope. In his discussion about future hope, Jones lays to rest misconceptions about heaven and eternity (i.e., how eternity relates to our present suffering). On the relation between suffering and eternity, Jones says, "If these things are true, if we really have been adopted into God's family, if we really are the bride of Christ, if we really are His child and as His bride going to inherit all things forever, then eternal life will dwarf our suffering to insignificance" (p. 177). If we understand the significance of what is meant by "eternal" in the phrase "eternal bliss" then we will truly have future hope. This brings significance to suffering now and lets us know that suffering is not eternal for the believer. God will wipe every tear from our eyes (Rev. 21:4).
In his book, Jones gives a concise argument that does answer the problem of evil. Humanity is evil and does evil because of original sin and innate depravity. Though not in a way Jones imagines, humanity is free—making humanity responsible for the evil that humanity does. Humans can have meaningful, future hope through Christ for all eternity. I would highly recommend that you read Jones' book for a more complete and more hopeful grasp on the answer to this great question: why does God allow evil?
Brandon J. Morrison
Denver Seminary
May 2018