Why You're Here: Ethics for the Real World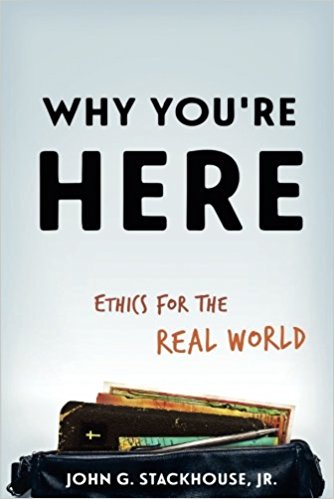 A Denver Journal Book Review by Denver Seminary Student Brad Sutton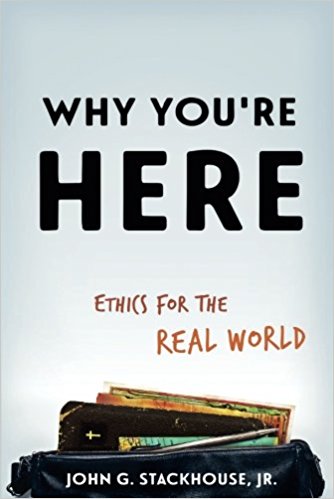 John G. Stackhouse. Why You're Here: Ethics for the Real World. New York: Oxford University Press, 2018. 318 pp. Paperback. $11.99. ISBN: 978-0190636746.
Why You're Here is John G. Stackhouse's attempt to cut a line between two common responses of Christians to culture: taking it over and retreating from it entirely. He presents what he calls a "Christian realism" that advocates for participation in the world around us, however evil it might be. Stackhouse's ethic is one of Christian consequentialism with the primary goal of maximizing shalom in the world. He states that the normal operating order of Christians should be to simply follow God's commands. But in conflicts or ethical dilemmas, consequentialism provides a pathway out and toward God's promised work of a restored earth. He does not defend consequentialism against other ethical methods, but he does a thorough job grounding his ethic through biblical theology.
He argues from the creation narrative in Genesis 1 that all humans have a creation mandate to "maximize shalom" in the world. The nature of humanity contains the command to care for the earth to make the best of what God has given us for the flourishing of all things (19). This is an eternal and universal mandate and acts as the ultimate command to follow in Stackhouse's ethic. The Christian ethic is identical to the moral standard for all humans at this level. Much of Stackhouse's conclusions for Christian ethical living would be acceptable to many secular standards as well.
He does specify that Christians have the distinct, yet subsidiary command to make disciples, as well. This command for Christians fits into the broader command to maximize shalom because following Christ is the ideal response for a human to experience maximal shalom. Some Christians are best suited to be evangelists, but Stackhouse doesn't believe that all should focus on saving souls.
One consequence of placing the call to make disciples under the call for all humanity to maximize shalom, is that Stackhouse encourages Christians to partner with non-Christians to care for the world. Stackhouse defends the necessity of Christians to ally with people who share the same desired goals, but vary in their motivations. Thus, he commends politics, secular education, the sciences, and all occupations as worthy vocations for Christians to pursue. But he is very careful to point out the dangers in embracing culture too uncritically.
His admiration of democratic capitalism is apparent in his Christian ethic. For example, he extols freedom as a virtue that Christians should seek to secure for everyone. This is a fundamental gift from God that would create greater peace and satisfaction in the lives of others if we could provide it. To Stackhouse, this means adopting a more liberal political stance on moral issues than the religious right typically hold. But Christians must continue to defend their religious freedom and the freedom for others to practice their religion. His ethic is also grounded in the principles of effectiveness and efficiency. He espouses capitalistic business principles in his recommendation for individuals and churches to apply themselves in the areas where they will see the greatest results. He implies effectiveness is a marker of faithfulness, going so far as to say "the definition of faithfulness here is results." As with all versions of consequentialism, the practitioners must attempt to measure what the outcome of their actions will be in order to determine the best step to take.
Stackhouse's desire to be balanced exposes the book's greatest weakness. When he takes a position on an issue, he offers such strong validation for competing viewpoints that he does not offer much direction. For example, he uses Jesus' Sermon on the Mount to demonstrate his ethical framework. He concludes that violence and coercion not only can, but should be used in certain circumstances to mitigate evil. He then concedes that not all Christians will agree with him and encourages Christian pacifists to remain firm in their beliefs because that is their role to play in the Church.
Throughout the book, Stackhouse emphasizes the benefits of a diversity of ideals represented in people and institutions as a characteristic of ethical living. For example, he encourages every individual to understand how they are skilled, what opportunities they have, and their limitations in order to perceive what their role in the kingdom should be. Similarly, he applies this logic to churches. Since we are finite beings creating flawed institutions in a temporary world, we must recognize our inability to do everything we want and instead focus on how we can best bring shalom to our communities. Pastors and church leaders should empower and submit to experts within the congregation who can provide Christian perspectives in their field of expertise. Similarly, he advocates for a pluralistic society where multiple ideologies, religions, and personal beliefs are held by members of public institutions. This provides the best opportunity for us to learn from each other and make best use of the gifts and talents each person or group offers in service to the others. In correctly celebrating and affirming diversity within individuals and the church, Stackhouse willingly forfeits his ability to give specific direction to Christians on issues.
Instead, his ethical method relies on Christians discerning which evils in the world require resistance and which are benign enough to tolerate, or even participate in, for a greater good. He doesn't explore this process at all, but recognizes that listening and submitting to the Holy Spirit's leading is crucial. However, I am skeptical that Christians are good enough at discerning God's voice to implement this ethic without turning it into a justification for their most desired, comfortable life.
Why You're Here, is a good explanation of Christian ethics with a realistic view of the world we live in. He demonstrates that following God's will is not only what God wants, but it will benefit ourselves and others around us. It is in our and our community's best interest to follow God. With his foundation rooted in the Bible, Stackhouse's ethic will challenge readers to evaluate their place in the present world. It will encourage Christians to participate in the culture around them for the benefit of others because of our ultimate hope in Christ Jesus.
Brad Sutton, MDiv
Denver Seminary
May 2018