Woke Church: An Urgent Call for Christians in America to Confront Racism and Injustice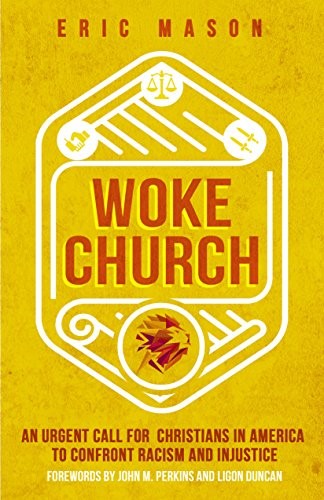 A Denver Journal Review by Mark J. Faulstich
Eric Mason. Woke Church: An Urgent Call for Christians in America to Confront Racism and Injustice. Chicago, Illinois: Moody Publishers, 2018. 192pp. Hardcover, $14.99. ISBN 978-0802416988.
"After this I looked, and there before me was a great multitude that no one could count, from every nation, tribe, people and language, standing before the throne and before the Lamb. They were wearing white robes and were holding palm branches in their hands" (Revelation 7:9, NIV). This assured future gives Christians from all cultures hope; however, this is not the world Christians live in now. Today's world is still mired in many sins, including ethnic and cultural injustice. Jesus has overcome the world, but until His second coming Christians live amid an "already and not yet kingdom" (46). Eric Mason's book, Woke Church, takes this idea and examines ethnic and cultural injustice within the context of the American evangelical church.
However, "Is the Woke Church really woke?" In this context, woke means to be socially conscious of the issues and desiring to do something about it (25). To that end, Mason divides the Woke Church into four sections that highlight many issues surrounding modern accounts of injustice: Be Aware, Be willing to Acknowledge, Be Accountable, and Be Active (32). In examining the core themes of each of these individual sections, the book's holistic message reveals whether Mason achieves his goal of waking the American church and inspiring Christians towards the promised reality of Revelation 7.
"Wake up, sleeper, rise from the dead, and Christ will shine on you" (Ephesians 5:14). Mason keys in on this beautiful passage to inspire Christians to Be Aware of systemic ethnic injustice. He sees the concept of justice as a major theme, not a peripheral one, in the Bible (47). Mason uses Old Testament references (Exodus 23, Leviticus 19, et al.) (51) as well as the New Testament (Matthew 23) (48) to rightly affirm that God abhors injustice, and, therefore, God's people should also abhor it.
However, if an individual is woke to Christianity's full history, Mason's firm language against the church's supposed inaction against systemic ethnic and cultural injustice is misleading. He concludes that hip-hop music has made more impact in forty years than the church has in thousands of years (24). This viewpoint ignores the great works of the Holy Spirit to abolish slavery through Christians such as William Wilberforce. An alternative, comparative example is John Perkins' One Blood: Parting Words to the Church on Race and Love, which paints a more honest picture. To be sure, Christians cannot ignore the church's injustice-related sins, which is covered in the Be Willing to Acknowledge section; however, to ignore its positive contributions over the millennia paints a picture that Mason is grasping for a dramatic "pop culture wokeness" effect, rather than proclaiming the truth in love.
"Going to two world wars was better than being a black man in the Jim Crow South" (76). The Be Willing to Acknowledge section exceptionally revisits many of the church's failures in ethnic and cultural injustice over the last several centuries. For example, on May 31, 1921, white Christians associated with the Ku Klux Klan destroyed 35 blocks and killed nearly 300 black people in the affluent Greenwood neighborhood of Tulsa, Oklahoma. In unpacking this history of violence, Mason grips the heart and mind of the reader into acknowledging that some churches have made (and potentially still make) "unholy alliances" (84), while others purposefully choose to not speak prophetically about such horrific moments (85).
Mason also provides ten powerful laments in this section. For example, he laments, "The fact that the Black Church had to be created" (98). At first glance, those that are not familiar with the Black Church's origin may think the term antagonistic. However, Mason helps the reader understand that the creation of the Black Church was not a desire but was born out of ("White") churches not being willing to accept black people (99). Simultaneously, Mason does acknowledge that there are those in the majority ethnic group ("White Christians") who have a genuine desire to grow in their "Racial IQ" and help heal the wounds (111).
One of Mason's main drivers for writing the Woke Church appears to be identifying practical ways not only to speak prophetically about ethnic and cultural injustice, but to inspire people to do something positive in response. The Be Accountable section is refreshing in that it does not just announce that there is injustice, which many people have written about previously, but it offers ways that churches can make a positive difference. For example, creating a career path and entrepreneurial training program within the church could help those who have been disadvantaged by systemic injustice (138). In addition, dividing concepts like this into intervening, preventative, and systemic justice categories are useful in organizing church thoughts and programs (133).
In the final Be Active section, Mason rightly affirms that churches must make the Imago Dei a much more integral part of the gospel message if they want to be active participants in issues of ethnic and cultural injustice (145). If Christians do not truly view others as the image of God, then they will not necessarily orient their lives towards actively addressing systemic ethnic and cultural injustice.
Unfortunately, envisioning what the Imago Dei truly means is actually one of the weakest areas of the book. Instead of using the terms ethnic and cultural, Mason repeatedly uses the terms race and racism in a manner that can often come across as an us versus them attitude. Instead, Ken Ham and A. Charles Ware give a brilliant biblical and scientific analysis of the reality that all humans are part of one race, not many races, in One Race One Blood, "history has shown us how evolutionary thought fuels racism and how racists use evolution to justify their hatred for those who are different from them" (7). From a biblical and scientific perspective, Mason would be better served by limiting the use of the terms race and racism and rely instead on ethnic and cultural references.
Eric Mason does a reasonable job of expressing how the evangelical church in America can become a Woke Church. All churches should consider his practical ideas to move them closer towards God's kingdom. However, there are cautions that arise, primarily in the areas of misleading, dramatic effect, statements, and the potential for driving an us versus them wedge in between various ethnic and cultural groups. The truth does not need injected drama, as pop culture sometimes seeks, to drive a certain emotional effect in its audience. Instead, Mason should speak prophetically as he has done, but accuracy in love is preferable to fake drama. As a counter, Brandon Washington, in a Denver Seminary Engage360 Podcast titled "Cultivating the Multicultural Church," beautifully sums up the issue as, "a multicultural body of believers is…a comprehensive gospel message," which truly gives rise to a Revelation 7 vision.
Mark J. Faulstich
Denver Seminary
May 2020