Supporting Veterans Living with Moral Injuries
"Proximity: Caring for Those Wounded by War" to create space to examine
practical ways to care for those living with moral injuries in isolation
November 10, 6 p.m. – 8 p.m.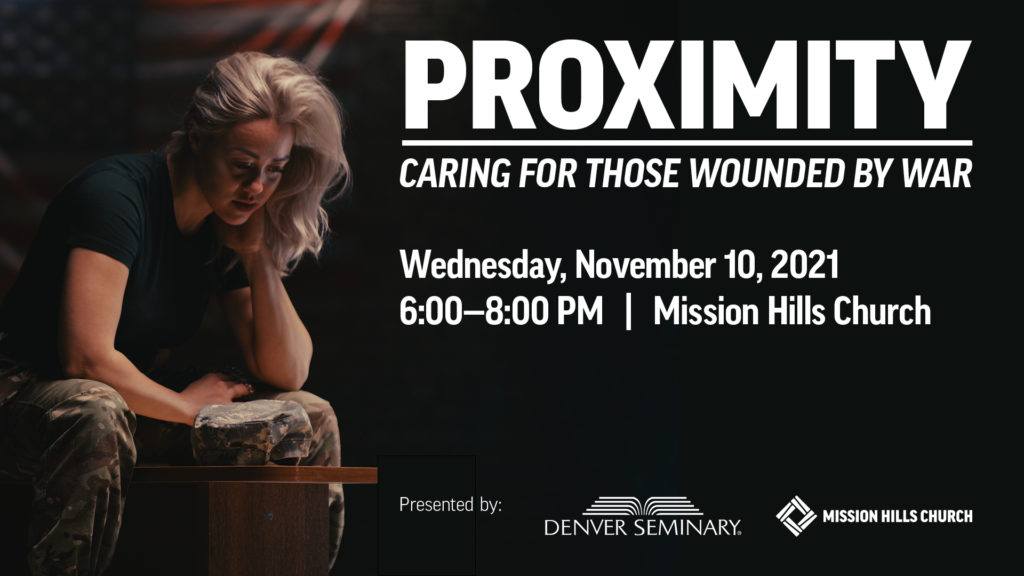 Littleton, Colo. – Physical wounds of war are often obvious. Invisible wounds go unseen, leaving veterans to experience their injuries in isolation. Among those suffering alone are veterans who return from service with moral injuries—emotional injuries that result from trauma, engaging in activities, witnessing acts, or participating in immediate decision-making that violates their values or ethics.
On Wed., Nov. 10, pastoral care providers, chaplains, veterans, service members, and family members of veterans and service members, and others who are interested in learning how they can support those who live with moral injuries will gather from 6 p.m.-8 p.m. MT at Mission Hills Church, 620 Southpark Dr., Littleton, Colo. and via livestream for Proximity: Caring for Those Wounded by War. Attendees will hear from veterans who have been impacted by moral injury and learn how they can better understand moral injury and how they can play a role in the healing process.
"Veterans need a community of loving relationships and pastoral care providers to walk with them as they process their moral injuries. Attendees will leave with practical ways to care for the weary and burdened who continue to live with their moral injuries in solitude," said the creator of Proximity, Brandon Young, a former Army Ranger who served four rotations in Afghanistan. Young is the co-founder and principal of Applied Leadership Partners, a leadership development firm, and a Master of Divinity student at Denver Seminary.
Moral injuries often result in shame and guilt and can contribute to the rising suicide rates among veterans, Young added. "The community's role is critical and simple: show up and love others," he said.
Proximity: Caring for Those Wounded by War is co-hosted by Denver Seminary and Mission Hills Church. The event will feature:
The stories of four veterans
A presentation about moral injury and the related trauma by Dr. Jan McCormack, associate professor and chair of Chaplaincy and Pastoral Counseling Programs at Denver Seminary
A panel discussion with the panelists, moderated by McCormack.
"The evening is going to be challenging. It's difficult to listen to the stories of veterans, but it's imperative that we do so if we are truly to do the work we are called to do as Christians," said Dr. Don Payne, Denver Seminary's VP of Academic Affairs.
Proximity will be held in person and live streamed. Pastoral care providers will be on site, and attendees will be able to engage with the veteran speakers following the event for more intimate dialogue and information.
For more information about the event and to register, go to: missionhills.org/event/proximity or contact Brandon Young at brandon@appliedleadershippartners.com or 303.253.5001.
###
Media contact: Andrea Weyand, senior director of Communications.
Denver Seminary is a non-denominational graduate school of theology located in Littleton, Colo. The Seminary's mission is to prepare men and women to engage the needs of the world with the redemptive power of the gospel and the life-changing truth of Scripture. Denver Seminary offers on-campus, fully online, and hybrid degree programs, and has an extension campus in Washington DC.