Why Study Here?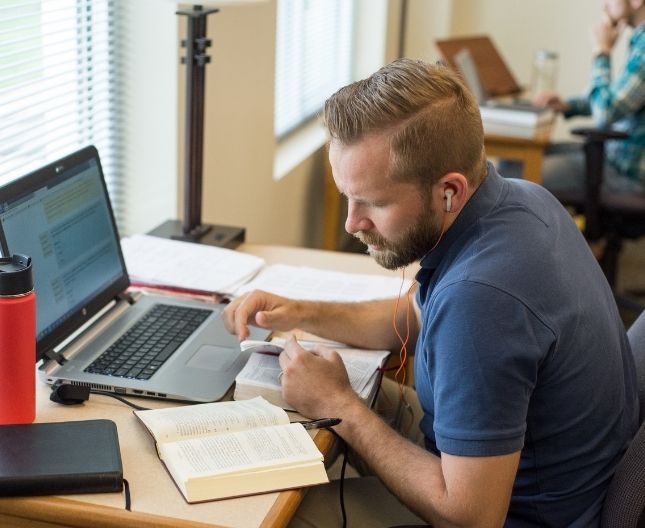 Denver Seminary's world-class faculty; fully online, on-campus, and blended program options; and scholarship and financial aid opportunities, make it possible for you to study without uprooting your family or leaving your job. Our students are invited into high quality, rigorous education that challenges them academically and critically. We aren't going to tell you what to think—we are going to help you learn how to think.
Our community—represented by over 50 denominations—is uniquely known for demonstrating steadfast dedication to the unchanging foundations of biblical faith, our commitment to charitable orthodoxy, and the deep relationships formed among faculty and students. Denver Seminary's core commitments—Biblical Authority, Vigorous Scholarship, Charitable Orthodoxy, Redemptive Relationships, and Global Concern—form a foundation for in the classroom, at work, and in the community. Our beliefs are lived tangibly through the pursuit of faith-filled scholarship, missional commitments, and the work of our 6,000 alumni who serve across the globe, meeting the needs of the world and sharing the life-changing power of the gospel every day.
This is only a snapshot of why students attend Denver Seminary. To learn more about our programs, our community, and studying at Denver Seminary contact our Admissions team.
Take the next step towards becoming a student at Denver Seminary
Visit Denver Seminary
---
Attending seminary is about more than classes. It's also about culture and connections. The best way to get to know Denver Seminary is to visit us.
Whether you are considering attending fully online, at our Littleton or Washington DC campus, or as a hybrid student, an in-person campus visit will provide you with in-person access to faculty and students, meet with financial aid team members, and immerse you into the culture of our institution. If you are unable to attend in person, we encourage you to take our virtual tour and participate in a virtual Preview Day opportunity.
Tuition & Financial Aid
Pursuing a seminary degree is an investment in your calling.
Our Financial Aid team helps you remove financial barriers so that you can pursue your calling. We provide a variety of resources to help you make decisions about how to pay for seminary. Our goal is to help you complete a degree with minimal to no debt.