Welcome to Engage Magazine, a biannual publication of the Seminary.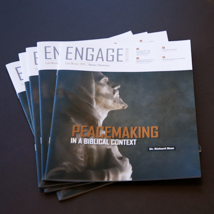 Our Fall/Winter 2021 issue features "Peacemaking in a Biblical Context" by Dr. Richard Hess, distinguished professor of Old Testament, in which he explores the role of God's people in bringing peace to a divided and hostile world.

In addition to faculty articles, you'll find stories about current students and alumni, news about Denver Seminary's initiatives, and information on resources and events.
Subscribe
To receive a digital version of the magazine, subscribe below.
Archives
Spring 2021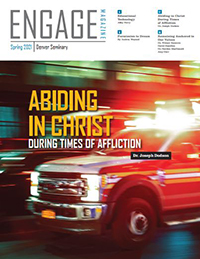 ---
Fall 2020
---
Spring 2019
---
Spring 2018
---
Spring 2017
---
Spring 2016
---
Spring 2015
---
Spring 2014
---
Fall 2019
---
FALL 2018
---
FALL 2017
---
FALL 2016
---
FALL 2015
---
FALL 2014
---
FALL 2013
---