On November 17, 2022 at 5:00 pm
Dr. Craig L. Blomberg Endowed Chair of New Testament Lecture: Interpretations of Romans 7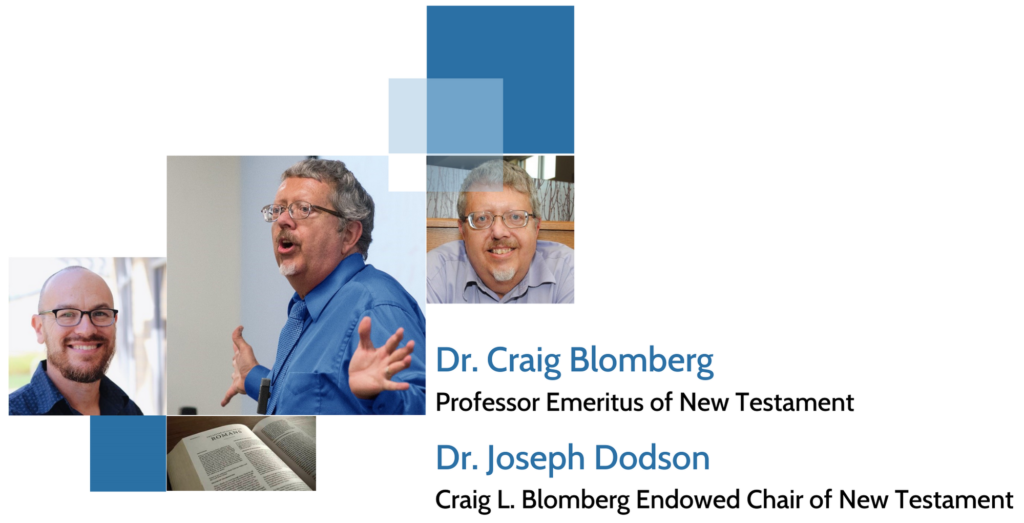 Denver Seminary invites you to join Dr. Craig Blomberg and Dr. Joseph Dodson in an engaging debate of the biblical interpretation of Romans 7 and the implications for us today. Paul writes, "14 We know that the law is spiritual; but I am unspiritual, sold as a slave to sin. 15 I do not understand what I do. For what I want to do I do not do, but what I hate, I do. (NIV) Following the debate, the floor will be open for a Q&A with Dr. Blomberg, Professor Emeritus of New Testament at Denver Seminary, and Dr. Dodson, named to the newly established Dr. Craig L. Blomberg Endowed Chair of New Testament.  
Event Details
Date: Thursday, November 17, 2022
Time: 5:00 – 7:30 PM
Location: 6399 Santa Fe Drive, Littleton, CO 80120*
For questions, contact event coordinator, Shannon Jack.
*Roundtrip shuttle service is available from the Sheraton hotel in downtown Denver to Denver Seminary campus. Shuttle pick-up from Sheraton at 4:30 pm, shuttle pick-up from Denver Seminary after event at 8:00 pm.
Registration