From October 5, 2023 5:30 pm to October 7, 2023 12:30 pm
Public Reading of Scripture Forum
Join us at the Denver Seminary Public Reading of Scripture (PRS) Forum for a deep dive into this historical and biblical practice!
Event Details
Date and time: October 5 · 5:30 pm – October 7 · 12:30 pm MDT
Location: Denver Seminary Chapel, 6399 South Santa Fe Drive, Littleton, CO, USA
Cost: $10 | Register Now
Event Schedule
Thursday, 5:30 pm – 8 pm | Faculty / Staff Reception
Friday, 9 am – 4:30 pm | Breakfast / Lunch provided
Saturday, 9 am – 12:30 pm | Breakfast provided
About this event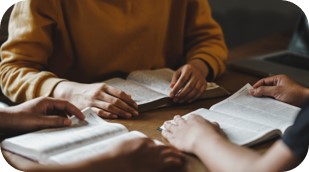 We cordially invite you to join the upcoming "Public Reading of Scripture" Forum at Denver Seminary.
This forum is designed to delve into the theological, historical, and practical dimensions of engaging with Scripture through the Public Reading of Scripture (PRS) practice. The Apostle Paul had directed Timothy, "Until I come, devote yourself to the public reading of Scripture, to preaching and to teaching" (1 Timothy 4:13).
PRS is a longstanding biblical practice involving engaging with a substantial portion of Scripture through "Listening, in Community, Regularly and Extensively, covering the whole Bible." This practice served as a foundational element in the early church's worship.
This practice has significantly declined despite its crucial role in biblical history, particularly in Western Christianity.
Nevertheless, we are witnessing encouraging signs of a revival in Bible engagement. Churches and Christian leaders are reintegrating this practice into various settings using high-quality dramatized audio Bibles. These settings include university campuses, prisons, rescue mission centers, local churches, community small groups, workplaces, and homes.
By attending this event, you will have the opportunity to experience this biblical practice firsthand and engage in meaningful conversations with fellow practitioners.
The storytellers include:

Your registration will include valuable resources and meals throughout the event, including the following books:
"Eat This Book" by Eugene Peterson
"Working the Angles" by Eugene Peterson
"Psalms: The Prayer Book of the Bible" by Dietrich Bonhoeffer
We look forward to your participation in this enriching and transformative forum.
Register