On May 17, 2022 at 6:00 pm
Women Engage Gathering 
God's Gift of Grace: Resilience by Faith 
At this Women Engage gathering Dr. Michell Temple,  assistant professor of Counseling, will lead us in a discussion on how faith informs our responses to life's inevitable hardships and what resiliency resources are available to us as image bearers of Christ. Dr. Temple will help us define well-being, share research-based strategies for developing the characteristics of resilience, and offer practical tools for coping with life's stressors. 
Date: Tuesday, May 17, 2022
Time: 6:00-7:30 pm
Location: Denver Seminary Chapel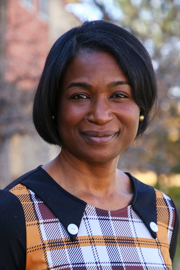 Dr. Michell Temple, Assistant Professor of Counseling, holds a EdD in Professional Counseling and Supervision from the University of West Georgia and a PhD in Counselor Education and Supervision from Regent University. She holds an MS in rehabilitation counseling from Georgia State University and a BFA in acting from Ithaca College.
Dr. Temple's research focuses on the concepts of restoration and transformation from a resilience perspective. Her research areas include people from diverse ability and cultural backgrounds, posttraumatic growth, self-determination theory, and the infusion of spirituality and religion in counseling practice.
Dr. Temple has developed a unique skill set that incorporates spirituality and religion, strength and wellness, and integrative therapeutic modalities to adapt counseling to meet clients' needs.
Register