The Gospel Initiative's mission is to support the Church's mission in creating a compelling, compassionate, and credible gospel presence in contemporary society.
We conduct ongoing research and host conferences related to the most difficult issues in our society. These resources are intended to help pastors and ministry leaders navigate through the complexity and imagine new strategies for gospel engagement. Resources are compiled jointly by TGI staff and program participants. The views and resources presented here do not necessarily represent those of Denver Seminary.
Compelling and Credible Witness: The Church and Climate Change
TGI hosted this event on May 5, 2023.
Conference Videos
Keynote #1 | Dr. Jessica Moerman
Keynote #2 | Dr. Rachel Lamb
Interview | Caroline Pomeroy, Climate Stewards
Panel Discussion | Dr. Lamb, Dr. Moerman, and President Dr. Young
Research Questions and Findings
Few evangelicals appear able to properly conceptualize the relationship of creation to God or the relationship of humanity to creation. This leaves Christians unable to address the ethical and theological ramifications of climate change.
A poor integration of frontline science topics with evangelical theological education makes it difficult for pastors to address climate change with their churches.
Past popular evangelical teaching that the earth would be destroyed in the end times limits evangelical responses today.
Evangelicals face an increased influence of media which sometimes purports to represent our worldview. This leaves many talking and acting on the issue according to the patterns in their media viewing habits.
Some Christians have confused the ethical issues of climate change with the scientific issues. The Biblical mandate to care for creation is clear, and skepticism about the human causes of climate change often masks unwillingness to act or self-justifying attempts to dodge love for our neighbor (cf. Luke 10:29).
Climate change taps the ethics of compromise on many broader conflicts, such as between markets and politics, and between conservation and development. Christians ill-equipped in these areas will be ill-equipped for ethical redress of climate change.
Accepting human responsibility for climate change is not sufficient to endorse all proposed mitigation strategies. Like the rest of society, evangelicals generally lack discernment in the scientific, economic, political, and ethical domains which are required to assess and pursue mitigation strategies.
Among evangelicals who accept the human cause of climate change, they have framed their action on climate change in many ways: benevolent rule of creation, creation care, public health, neighbor love, responsible consumerism, faithful stewardship, economic benefit, conservation, and caring for vulnerable populations. In some cases, the plethora of options has left a watching world confused about our witness and purpose.
Climate related sciences need Christian influence, especially from minority voices. This will have a profound effect on the kind of climate research which is both funded and completed, which in turn will inform the intervention we develop.
Politicians need to hear from Christians that we care about this issue, or they are not as likely to act on our behalf.
Many broad-scale solutions to reducing global warming are political and inter-governmental. Christians need to find ways to express their care for the planet and the poor while wisely posturing themselves with political initiatives, recognizing that political persuasions do not always advance the cause of the gospel.
Evangelicals need to redirect their spending habits away from corporations that are bad actors in order to change the ways of these corporations. History demonstrates that this can be a highly effective means of change.
Evangelicals can help shape the media that gets circulated by being intentional with what sources they read, staying away from sensationalized voices, and promoting integrity on social media. Where we lack sufficient expertise, humility and silence will likely advance the gospel more effectively.
Climate change disproportionally and unfairly affects minority communities, the poor, and the elderly.
Because climate change is experienced differently around the world and in different regions of the U.S., what makes someone vulnerable in one region may not hold for another. Regional expertise and assessment are necessary to determine who is most vulnerable and the challenges they face.
In a culture that cares greatly for the environment and its effects on poor communities, a lack of concern is a bad public witness. To avoid being or appearing uncompassionate, the Church needs to find ways to lament and to wisely pursue corporate mitigation strategies.
Uncritical consumption habits of goods and energy by evangelical Christians create a bad public witness, even if those habits cannot be tied directly to climate change, or if they can only be tied to a small degree.
Political disengagement can make the Church appear like it does not care about the issue, given the need for broad cooperation on mitigation strategies. Likewise, political entanglement between the Church and the state, even when it mitigates global temperature increases, can still be perceived as overly partisan, confusing the gospel with a particular political persuasion.
While imperfect, large Christian nonprofits that organize goals related to climate change create positive examples we can point to, even if we do not participate in them directly. Examples include A Rocha, The Evangelical Environmental Network, Climate Stewards, Tearfund, WorldVision, and Plant with Purpose.
There are fantastic opportunities for regional, corporate creativity on this issue. Interventions that are simultaneously cooperative with credible science and proven means, and declarative of their gospel intent, can both mitigate global mean temperature rise and be a more direct Christian witness.
Conference Summary
On May 5, 2023, The Gospel Initiative hosted a conference at Denver Seminary titled Compelling and Credible Witness: The Church and Climate Change. Dr. Rachel Lamb (Maryland Department of the Environment, Young Evangelicals for Climate Action) gave a keynote address, followed by and address from Dr. Jessica Moerman (Evangelical Environmental Network, Grace Capital City Church). Dr. Mark Young moderated Q&A with both guests. In addition, Dr. Patty Pell moderated a virtual interview with Caroline Pomeroy (Climate Stewards).
36 people attended in-person, 17 attended virtually. 17 event feedback surveys were received and are summarized below:
"I can identify specific attributes inside of the broad evangelical social system that reinforce problems related to climate change."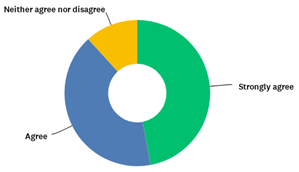 "My church or ministry contributes to the problems I observe in the broad evangelical social system."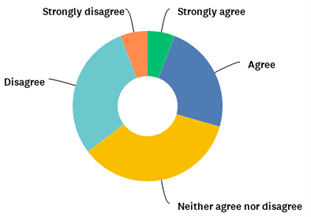 TGI Resource List
---
These resources were consulted by The Gospel Initiative while exploring this issue.
Annotated Bibliography
"Climate Change and Wellbeing Around the World." Gallup Public Sector Report. Gallup, 2022. https://www.gallup.com/analytics/397940/climate-change-and-wellbeing.aspx
Three summary findings make up the report. First, rising temperatures dropped the global subjective wellbeing by 6.5% from 2008 to 2020. Globally, there were three times as many high temperature days in that time. Second, this impact was most pronounced among the elderly, the poor, and residents in high population countries with developing economies. Third, as global temperatures rise through 2030, global subjective wellbeing is projected to fall 17% over that same period. Gallup reached these conclusions by merging the geolocations of respondents to their World Poll with daily temperature measures from NASA. This approach focused on the effects of mean temperature rise where people live. Adaptability and recovery were not considered in future projections of wellbeing.
"Science for Seminaries Final Report." American Association for Advancement of Science. November 2016. https://www.scienceforseminaries.org/wp-content/uploads/2016/12/ScienceforSeminariesFinalReportPublished-1.pdf
Development of the program with the Association of Theological Schools is outlined, citing the challenge that most seminary faculty are unfamiliar with forefront science topics. The most feasible solution was determined to be incorporating science into core seminary courses, giving seminaries the ultimate responsibility for implementation. Eager responses to the program from denominationally diverse seminaries demonstrated the relevance of science for pastoral practice. The project's main goal was "to equip future religious leaders with a solid scientific foundation from which to answer questions and build constructive dialogue on science with their congregations." Seminaries were appointed curriculum planning teams consisting of two scientists and two unaffiliated theological professors. Most commonly neuroscience, cosmology/astronomy, and evolution were integrated into curriculum, but many seminaries addressed ecology and environmental science as well. Seminaries also hosted many creative science enrichment activities on campus and outside the classroom. The high interest and deep need for more scientific education at the seminary level will direct next steps for the American Association for the Advancement of Science (AAAS) and the Dialogue on Science, Ethics, and Religion (DoSER).
Bailey, Sarah Pulliam. "To fight climate despair, this Christian ecologist says science isn't enough." The Washington Post, April 16, 2022. https://www.washingtonpost.com/religion/2022/04/16/climate-despair-christian-scientist-finding-hope/
The article follows Dr. Rick Lindroth in his despair over climate change and the evangelicals who resist the human contribution to global warming. Past popularity of evangelical theology that the Earth will be destroyed, as well as the role of conservative media, are cited as contributors to the problem. Dr. Lindroth advocates for Christians to have "creation connections," such as walking in nature and holding a gaze on a natural object for 30 seconds. He says that such experiences can engender love for nature, suggesting that they create new neural pathways. He summarized climate change: "It's real, it's us, it's bad, it's going to get worse, there's hope if we act now." He recommends methods for consuming climate related news that help Christians to lament, but also to discern when they need to acknowledge their complicity and make lifestyle changes. Ultimately, he hopes Christians will fall deeper in love with nature, knowing that we all care about what we love.
Boorse, Dorothy, Walter Kim, Myal Greene, Timothy Clarke, Mitch Hescox, Jessica Moerman, Thomas Ackerman, Christopher Shore, Jenny Yang, Lanre Williams-Ayedun, and Galen Carey. "Loving the Least of These: Addressing a Changing Environment." National Association of Evangelicals, August 29, 2022. https://www.nae.org/loving-the-least-of-these/
An update on the original document released in 2011. Authors frame climate change action as neighbor love, faithful stewardship, and a means of evangelical witness. An overview of the complexity of climate science is offered along with the mechanisms for limiting bias in the field. Many of the negative impacts of climate change are summarized and the disproportionate effects on people in poverty, both in the U.S. and abroad, are highlighted. While human causes of climate change are affirmed, readers are encouraged to act on climate change regardless of the cause and to continue both learning about the science behind the issue and avoiding polarizing voices on the topic. The recommended action steps confirm with evangelical values, some of which are also economically advantageous.
Burge, Ryan. "The Concerns of Young Evangelicals Offer Political Insights for 2024." Religion and Politics, January 27, 2023. https://religionandpolitics.org/2023/01/17/the-concerns-of-young-evangelicals-offer-political-insights-for-2024/?utm_source=CT+Daily+Briefing+Newsletter&utm_medium=Newsletter&utm_term=800907&utm_content=12059&utm_campaign=email
According to a survey of 2,000 self-identified evangelicals ages 18-25 by Neighborly Faith, climate change currently ranks as seventh among the issues important to them in the way they vote. It fell behind the following issues in order: terrorism, violent crime, gun politics, racial issues, taxes, and abortion.
Hescox, Mitch, and Paul Douglas. Caring for Creation: The Evangelical's Guide to Climate Change and a Healthy Environment. Bloomington: Bethany House, 2016.
The book was written by two self-described Republicans in 2016, when Barack Obama was still the U.S. President. Authors distinguish climate from weather and outline the trends related to climate change. The importance of acting on climate change for the sake of our children and families is a running theme. Skepticism of climate science is addressed, but the human causes of climate change are upheld. A uniquely Christian motivation for action is put forth, with evangelicalism and science being portrayed as compatible. Economic and market-based strategies for clean energy initiatives are mentioned. A multi-pronged approach to acting on climate change is advanced, recognizing that there are no quick fixes or "sliver bullets." Action steps are given for individuals, but more meaningful action is centered on their recommendations for congregations, communities, and public policy.
Krulwich, Robert, Nate Milton, and Buck St. Thomas. Engine Trouble: How Greenhouse Gases Threaten our World. CBS News, July 3, 2022 https://www.cbsnews.com/video/engine-trouble-how-greenhouse-gases-threaten-our-world/ https://www.youtube.com/watch?v=El2vWfFrn8s
Published following the Supreme Court's ruling on June 30, 2022, which limited the Environmental Protection Agency's ability to strictly regulate greenhouse gas emissions from power plants. This short video explains how greenhouse gas emissions impact our climate, historically and today.
Lowe, Benjamin S., Rachel Lamb, and Ruth Padilla-De-Borst. "Reconciling Conservation and Development in an era of global Environmental Change." Christian Relief, Development and Advocacy 2(2) Winter, 2021.
Authors argue from the perspective of life in the Anthropocene that to promote mutual flourishing, Christians must integrate efforts at conservation and development. They describe the tension between these two efforts and the attempts at reconciling them, showing how typically one approach is prized above the other. These approaches reveal competing worldview influences as either overly anthropocentric and favoring development, or overly ecocentric and favoring conservation. Against this dichotomy, Christian Theocentrism is proposed as the only worldview with the resources to reconcile both efforts. Seven implications of this worldview are listed that critique both the anthropocentric and the ecocentric alternatives. Authors suggest four means for faith-based organizations to put Theocentrism into practice.
Magnuson, Ken. "Creation Care." In Invitation to Christian Ethics: Moral Reasoning and Contemporary Issues 501-532. Grand Rapids, MI: Kregel Academic. 2020.
Dr. Magnuson acknowledges that environmental ethics are a major issue in our day, an issue under which Christians have come under attack, and an ethical issue in the Bible. He mentions climate change and global warming as issues under this broader heading of environmental ethics and separates the language we use to describe these issues as yet another problem. He generally follows Dr. Doug Moo in describing environmental ethics from a Christian point of view as creation care. Anthropocentric, biocentric, and theocentric approaches to creation care are discussed, with the bulk of his chapter consisting of analysis of key biblical texts on the issue. In summary, he asserts that creation was ultimately created for God, not for humans. As God's image-bearers, we have the special responsibility, and the special ability, to exercise benevolent rule or stewardship over creation. While there is sometimes tension between certain environmental activists and Christians, there is also much opportunity to collaborate over common interests. Near the end, he makes this excellent point: "Whether or not a change in our energy-consumption habits will have a direct effect on something like climate change, it is an issue for how we steward our lives and resources."
Mattson, Brian, Jake Meador. "How Should Christians Care About the Environment?" The Gospel Coalition: Good Faith Debates. March 6, 2023. https://www.thegospelcoalition.org/video/good-faith-debate-christians-care-environment/
The opening question of this debate is: "Should Christians support economic regulations intended to protect the environment?" Presenters look at three spheres in which any social problem can be addressed: cultures, markets, and politics. Much of this debate comes down to whether markets or politics are a better place to look for solutions to our climate problems. Brian Mattson expresses more skepticism of politics while Jake Meador expresses more skepticism of markets. The human cause of climate change is questioned as a matter of degree, and the issue as a policy question is addressed in terms of China specifically, where both the rate of carbon emissions and the consequences of rising sea levels are higher. Moderated by Jim Davis.
Moo, Douglas J, and Jonathan A Moo. Creation Care: A Biblical Theology of the Natural World. Grand Rapids, MI: Zondervan, 2018.
This widely read work is a standard on many issues related to Christian environmentalism. Chapters one and two address the relationship of Christianity and Christian thinking to creation, setting the stage for the kinds of questions the authors address. Chapters three through nine develop a biblical theology for creation care across the Old and the New Testament. Chapters ten through fourteen make introductory remarks on modern practice of creation care, touching on a variety of environmental issues.
Pierre-Louis, Kendra. "Americans are Missing a Key Stratum of Modern Knowledge." The Atlantic. May 4, 2022. https://www.theatlantic.com/science/archive/2022/05/earth-science-education-climate-change/629761/
Earth Science is characterized in the broader culture and in public education itself as "not really science." Even at the collegiate level, its reputation lags behind other sciences. Among awarded doctorates in the Earth Sciences, 15% fewer go to people of color compared to doctorates in physics, which also effects the kind of research that gets done, particularly on marginalized communities. There is also no Nobel Prize for Earth Science, which suggests that even the body granting the most prestigious science awards finds Earth Science a less worthy pursuit. Without respect for or exposure to Earth Science, people have a hard time understanding the relationship between small, sustained surface temperature changes and intense weather pattern changes. Changes are coming in K-12 educational policy standards, but the solutions are unevenly implemented.
Richter, Sandra S. Stewards of Eden: What Scripture Says about the Environment and Why It Matters. Downers Grove, IL: Intervarsity Press, 2020.
Richter makes a case for Christian environmentalism. Her approach avoids the dicey political language around climate change, but her conclusions hold much application to the topic. She argues that the "rule" and "dominion" language in Genesis 1:26-28 establishes God and Adam in a suzerain/vassal relationship and that our posture over creation can best be expressed today as stewardship. From relevant Old Testament texts, she draws applications to sustainable farming practices, ethical treatment of animals in our food supply, care for endangered species, and keeping an eye on land maintenance in modern warfare. She notes how environmental degradation most adversely effects those at the margins of society, both in the U.S. and especially around the world. She ends with a brief rejoinder regarding the "Day of the Lord" and the New Testament passages that some interpret as the destruction of the material world, arguing that our ethic of creation care transcends even poor readings of these passages.
Reyes-Ton, Ciara. "Coral Reefs, Creation Care, and the Hope of Resurrection." Christianity Today. February 7, 2023. https://www.christianitytoday.com/better-samaritan/2023/february/coral-reefs-creation-care-and-hope-of-resurrection.html
Dr. Reyes-Ton explains the phenomenon of "coral bleaching," a process that can be caused by human activity including climate change. The process leaves coral vulnerable and can lead to coral death. However, she also documents a recent recovery of Mediterranean Pillow corral "rejuvenescence." Since the coral was thought to be dead, she draws parallels between this process and resurrection in Christian theology. She highlights the need for action on corals, and by extension, action in caring for creation in general, noting the relationship between caring actions and Christian hope.
Ross, Hugh. Weathering Climate Change: A Fresh Approach. Covina, CA: RTB Press, 2020.
Dr. Ross begins with an overview of popular opinion regarding climate change, as of 2020. He contrasts this with reliable scientific data that measures the earth's temperature and looks at warming projections that are widely agreed upon by the scientific community. Next, he applies his background in physics and also looks at other scientific disciplines to build a case for a fine-tuned universe. He provides a wealth of scientific data to argue for the anthropic principle and the features of Earth that make technological and economic life as we know it possible. He then mentions short-term interventions to mitigate global warming as well as other large-scale catastrophes such as asteroid strikes and solar flares. His greatest warning is also his most unique contribution to the topic: action on climate change is necessary to prevent the onset of the next glacial event.
Shepherd, Andrew. "Apocalyptic Visions and Anthems of Hope: Climate Change Communication and Future Possibilities." International Journal of Public Theology 15, no. 4 (2021): 463–83. doi:10.1163/15697320-01540014.
Accounting for our lack of a shared political narrative in the West and the emotional dimensions of human decision making, Dr. Shepherd calls for more stories than statistics in our communication about climate change. He finds analogies here to religious discourse, where emotional language of fear and hope are both used to motivate. He analyzes the language in Matthew 23-25, where both fear and hope are called upon, and where the thrust is on our attentiveness and faithful action, regardless of the efficacy of our actions. He then applies these findings to the way Christians talk about climate change, suggesting that proclamation and singing hold promise, as these modes of communication neither assign blame nor create enemy-narratives. In particular, he traces the history of songs from the psalms in the Old Testament through the hymns of the civil rights era in the U.S. to demonstrate their power in shaping political and moral visions.
Smith, Kevin. "Summary of the Cape Town Commitment." Lausanne Movement, accessed March 20, 2023. https://lausanne.org/content/summary-of-the-cape-town-commitment
The Cape Town Commitment, written in 2010, "reflects the Lausanne call for the whole Church to take the whole gospel to the whole world." Climate Change is also mentioned in the preamble, and creation care is a theme of the entire document. The first part highlights Christian affections for God, his word, the world, the gospel, people, and missions. The second part organizes a call to action around the six "expositions" of Ephesians. In the second exposition, titled "Building the peace of Christ in our divided and broken world," climate change is mentioned specifically, and Christians are encouraged to make lifestyle changes, persuade governments, and treat proper use and protection of the earth's resources as missional callings. The site includes a link where you can read the entire document.
Wright, Christopher J.H. "Ecology and the Earth." In Old Testament Ethics for the People of God, 103-145. Downers Grove, IL: Intervarsity Press, 2004.
Wright finds two major themes in the Old Testament that relate to a Christian ecological ethic; the earth belongs to God, and it is a gift to humanity. He writes on the issue of finding ethical principles in the Old Testament for ecological issues that the original author did not directly address. He establishes that the earth is God's good creation and that it is sacred, but not divine. As humans, though we are set apart from creation by being made in God's image, we are still part of it. Our mandate to rule over creation and have dominion over it makes us responsible for it. We are to posture ourselves toward creation as servant-kings. His position is that the fallenness of creation is functional, affecting man's relationship to it, not ontological. However, he emphasizes strong connections between man's sin and creation. He notes how the re-creation of the earth in Christian eschatology forms a unique motivation for Christian ecological ethics. Though not addressing climate change directly, his work has implications for Christians acting on climate related issues.
Select, relevant scriptures:
Genesis 1:26-28, 2:15, 9:8-11; Exodus 20:10; Deuteronomy 5:14, 8:7-10, 20:19-20; Psalm 19:1-6, 24:1, 97:6, 115:16; Proverbs 12:10; Isaiah 6:3; Matthew 6:26, 28-30; Romans 1:20, 8:19-23; Colossians 1:16, 19-20; 2 Peter 3:10-13; Revelation 21:1-5.
Constituent Resource List
These resources were reported by our community. TGI offers those which are most relevant.
Books, listed by newest publication date
John Stott on Creation Care by R.J. Berry and Laura Yoder (IVP, 2021). From the publisher: "Showcasing his unique way of explaining the Bible simply and clearly, John Stott on Creation Care traces Stott's own process of coming to embrace creation care as a vital part of the Christian life – and in turn shows us how it must have an integral place in our own discipleship. Commentary by noted scientist R. J. (Sam) Berry connects Stott's writings together and illuminates how his wisdom still speaks to us today. Alongside reflections from others that Stott inspired and discipled, John Stott on Creation Care is the perfect resource for every Christian looking to understand biblical teaching on the environment and how creation care should form part of their discipleship. It is also an ideal biblical and theological resource for those involved in creation care ministry."
Saving Us: A Climate Scientist's Case for Hope and Healing in a Divided World by Katherine Hayhoe (Atria/One Signal Publishers, 2021). From the publisher: Called "one of the nation's most effective communicators on climate change" by The New York Times, Katharine Hayhoe knows how to navigate all sides of the conversation on our changing planet. A Canadian climate scientist living in Texas, she negotiates distrust of data, indifference to imminent threats, and resistance to proposed solutions with ease. Over the past fifteen years Hayhoe has found that the most important thing we can do to address climate change is talk about it—and she wants to teach you how. In Saving Us, Hayhoe argues that when it comes to changing hearts and minds, facts are only one part of the equation. We need to find shared values in order to connect our unique identities to collective action. This is not another doomsday narrative about a planet on fire. It is a multilayered look at science, faith, and human psychology, from an icon in her field—recently named chief scientist at The Nature Conservancy. Drawing on interdisciplinary research and personal stories, Hayhoe shows that small conversations can have astonishing results. Saving Us leaves us with the tools to open a dialogue with your loved ones about how we all can play a role in pushing forward for change."
False Alarm: How Climate Change Panic Cost Us Trillions, Hurts the Poor, and Fails to Fix the Planet by Bjorn Lomborg (Basic Books, 2021). From the publisher: "Hurricanes batter our coasts. Wildfires rage across the American West. Glaciers collapse in the Arctic. Politicians, activists, and the media espouse a common message: climate change is destroying the planet, and we must take drastic action immediately to stop it. Children panic about their future, and adults wonder if it is even ethical to bring new life into the world. Enough, argues bestselling author Bjorn Lomborg. Climate change is real, but it's not the apocalyptic threat that we've been told it is. Projections of Earth's imminent demise are based on bad science and even worse economics. In panic, world leaders have committed to wildly expensive but largely ineffective policies that hamper growth and crowd out more pressing investments in human capital, from immunization to education… False Alarm will convince you that everything you think about climate change is wrong. It points the way toward making the world a vastly better, if slightly warmer, place for us all."
The Gardeners' Dirty Hands: Environmental Politics and Christian Ethics by Noah J. Toly (Oxford University Press, 2019). From the publisher: "The past three centuries have witnessed the accumulation of unprecedented levels of wealth and the production of unprecedented risks. These risks include the declining integrity and stability of many of the world's environments, which face dramatic and possibly irreversible change as the environmental burdens of late modern lifestyles increasingly shift to fragile ecosystems, vulnerable communities, and future generations. Globalization has increased the scope and scale of these risks, as well as the pace of their emergence. It has also made possible global environmental governance, attempts to manage risk by unprecedented numbers and types of authoritative agents, including state and non-state actors at the local, national, regional, and global levels. In The Gardeners' Dirty Hands: Environmental Politics and Christian Ethics, Noah Toly offers an interpretation of environmental governance that draws upon insights into the tragic – the need to forego, give up, undermine, or destroy one or more goods in order to possess or secure one or more other goods. Toly engages Christian and classical Greek ideas of the tragic to illuminate the enduring challenges of environmental politics. He suggests that Christians have unique resources for responsible engagement with global environmental politics while acknowledging the need for mutually agreed, and ultimately normative, restraints."
Non-book resources
Resources organizations, listed alphabetically