Blessed Are The Misfits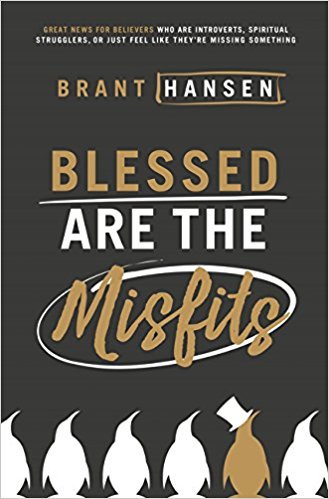 A Denver Journal Book Review by Denver Seminary student Christopher Slager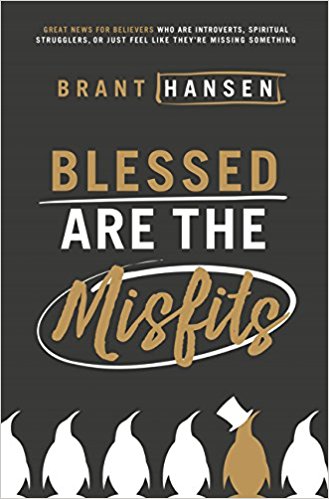 Brant Hansen. Blessed Are The Misfits. Nashville: W Publishing Group, 2017. 256 pages. Paperback. $16.99. ISBN: 978-0-7180-9631-1.
Be honest. Do you find church culture to be a bit confusing? In church, are you often a tepid observer while everyone around you is enamored by the worship music or captivated by a dynamic speaker? In those moments, do you suspect that you might be missing something? Or have you ever felt far removed from God's love because you could not feel his presence? Perhaps you have difficulty with prayer because your mind often loses focus and drifts aimlessly? If you answered yes to any of these questions then you will probably be encouraged and challenged by Brant Hansen's latest book, Blessed Are The Misfits.
Hansen begins the foreword with a warning: "If American church culture makes perfect sense to you and you fit in seamlessly, don't read this." It is an apt caveat because this book is intended for spiritual strugglers: "the misfits, oddballs, introverts, and analytical types who throw [themselves] at God's mercy, saying, 'Yes, I believe…but help me in my unbelief.'" These are the people with whom Hansen—himself an introvert with an Asperger's diagnoses—can relate.
In 2013, Hansen wrote an article at CNN.com titled, Mr. Spock Goes To Church. The article focused on how both his personality and his Asperger's effects his relationship with Christian culture and God himself. Thousands of people responded in the comments sharing how they too identify with Hansen in his sense of isolation on some island of misfit Christians. But the comment section was not the only place where Hansen's words struck a chord with an audience. Hansen is a nationally syndicated, Christian radio host. On the air, Hansen is open about the struggles and doubts he has experienced in his walk of faith. Daily, believers call into the show to express similar concerns with a fellow misfit. Consequently, Hansen sensed a deep spiritual need amongst his circle of influence. Blessed Are The Misfits is Hansen's twenty-one chapter response. Three of those chapters are detailed below.
In chapter two, Hansen directs his attention to those people who cannot feel God's presence in their lives. Subsequently, he asks the question: "If God-feelings are gone, is God gone with them?" Hansen argues that feelings have nothing to do with God's presence in a believer's life. God is present in the lives of believers whether his presence is felt or not. He also suggests that longing for the presence of God serves as evidence of a healthy relationship with God. Hansen elaborates by drawing a comparison between the ancient Jewish betrothal ritual and Jesus' last supper. In the betrothal ritual, there is a time when the bridegroom offers a glass of wine to his presumptive bride. If she accepts, the two are betrothed. However, each will spend time apart while the bridegroom prepares a home. Hansen puts forward a similar scenario between believers and God. In this case, a believer is betrothed to God through the body and blood of Jesus Christ—represented in Holy Communion. However, believers are presently in a post-betrothal and pre-wedding moment as Jesus prepares a room for them. Hansen concludes that the absence of God's felt presence is an effect of waiting. Waiting is hard, but once Christ returns there will be a wedding.
In chapter fifteen, Hansen addresses his fellow misfits who might be tempted to give up on Christian fellowship and corporate worship in order to go it alone. In Hansen's view, to cut ties with the community of believers is misguided. He then offers seven reasons why believers ought to abide with one another. First, community affords accountability in times of conflict when we are tempted to "write narratives in our heads that always feature us as the good person or the victim." Second, Christ-like community provides a corporate wisdom amongst the body of believers. Third, each individual within the community reflects some unique aspect of God's character in his or her own way. Fourth, Christian community is a safe place for the confession of personal sin. Fifth, it is impossible to obey Jesus' command to love or confess or forgive or to teach one another in the absence of other Christ-followers. Sixth, the body of believers ought not rob one another of their unique gifts for building up the Church body. Last, the Church is more than a business venture or an organization of worship. It is a family called to unity. And Jesus stressed unity; therefore, to set off independently is counterproductive to the mission of the Church.
In chapter eighteen, Hansen writes about his doubt and his desire to rebel against the "dishonest church culture" that he has been exposed to. Much of Hansen's exposure to a dishonest church culture is detailed earlier in this book when he recalls the abusive behavior of his father who had been a pastor of a nondenominational Bible church. Hansen confesses that the shock of hypocrisy and exploitation has led him to considered walking away from God. But where else could he turn to—atheism? Here Hansen is equally shocked by the hypocritical nature of the atheistic moral code as demonstrated by someone such as Richard Dawkins. Dawkins, says Hansen, argues against things like design or purpose or evil or any external standard of right and wrong in the universe. Meanwhile, Dawkins "has a long list of things Muslims do…that he says are simply wrong." Yet Dawkins condemns Muslims for these wrongs while rejecting objective moral standards. Meanwhile, other people say that all paths lead to God. Hansen thinks it more likely that those paths lead back to the self. In the end, Hansen concludes: "I could walk away from Jesus, but I'm not sure who else has the words of life."
Blessed Are The Misfits is a crafty title. In fact, I was shopping at Amazon.com for something else entirely when this title captured my eye. Also, as an introverted seminarian, I admit that there are a lot of times when I am a spiritual struggler who routinely asks myself: Am I missing something here? Consequently, I found Hansen easy to relate with through this book.
Nevertheless, I have a few minor criticisms. First, although Hansen does a good job citing Scripture when he quotes from it directly; there are a number of places where he paraphrases or draws upon a narrative in Scripture without citing the exact text. If a paraphrase or a narrative is worth inclusion in the text, then cite it. Second, quotation marks ought to be reserved for quotations, not for emphasis or hypothetical narrative. And third, in a parenthetical statement on page 177, Hansen makes the claim: "One can't make an irrefutable argument for anything, really." However, some claims are refutable. Moreover, Hansen's parenthetical statement could prove counterintuitive to his earlier argument advanced against the atheism of Dawkins and the claim that all paths lead to God.
Be that as it may, I commend Hansen for writing a thoughtful work that neither coddles nor criticizes those who perceive themselves as misfits in Christian culture. Instead, in chapter after chapter, Hansen is sympathetic to his audience while simultaneously challenging his readers to persevere in Christian community. Moreover, Hansen is quite perceptive when he suggests that when distracted in prayer, then, perhaps whatever topic is causing the distraction is also the very topic that is in most need of prayer. And finally, the absence of good feelings about God does not mean that God is not present or helping to bring about your maturity in Him. In the end, we all struggle in our walk with the Lord; however, blessed are those who keep trying.
Christopher Slager, MA
Denver Seminary
May 2018