All Denver Seminary courses and programs provide students with interactive learning environments that allow for flexibility with work and ministry.
Learning experiences can differ greatly in how they are delivered and are typically broken in to learning experiences and related modalities. Below is a detailed description of learning modalities and how they may be combined for the most flexible, collaborative and relational experiences. Denver Seminary categorizes program delivery using one of three instructional learning experiences. All class sections should be appropriately identified using the definitions below. Instructional modalities provide critical information to students by setting expectations for their learning experiences.
Denver Seminary categorizes program modality using one of three instructional learning experiences: Traditional, Blended, and Online.
Program Delivery Experience and Modality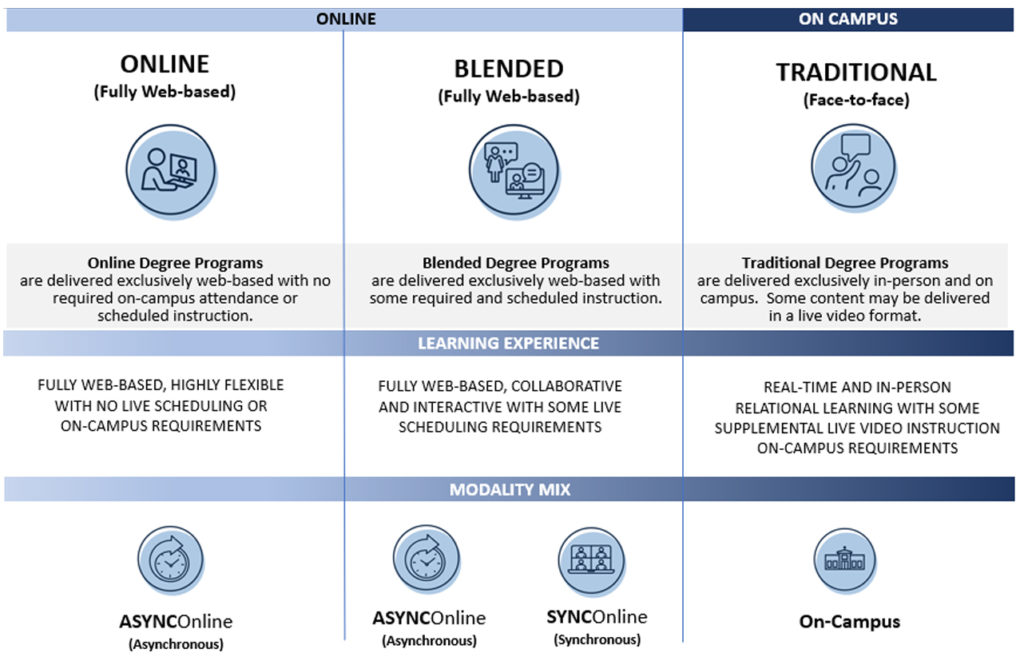 Next Generation Online Learning
Online learning has traditionally been about content delivery. With the Next Generation Online Learning classes offered for Denver Seminary's fully online degrees, that is no longer the case. Our courses are designed for active learning, student-to-faculty engagement, student-to-student engagement, and student-to-world engagement
Online Degree Programs and Delivery
All Denver Seminary "Fully Online" degrees can be completed entirely at a distance. Some of these degrees are majority asynchronous while "Blended" programs require some synchronous attendance via videoconferencing.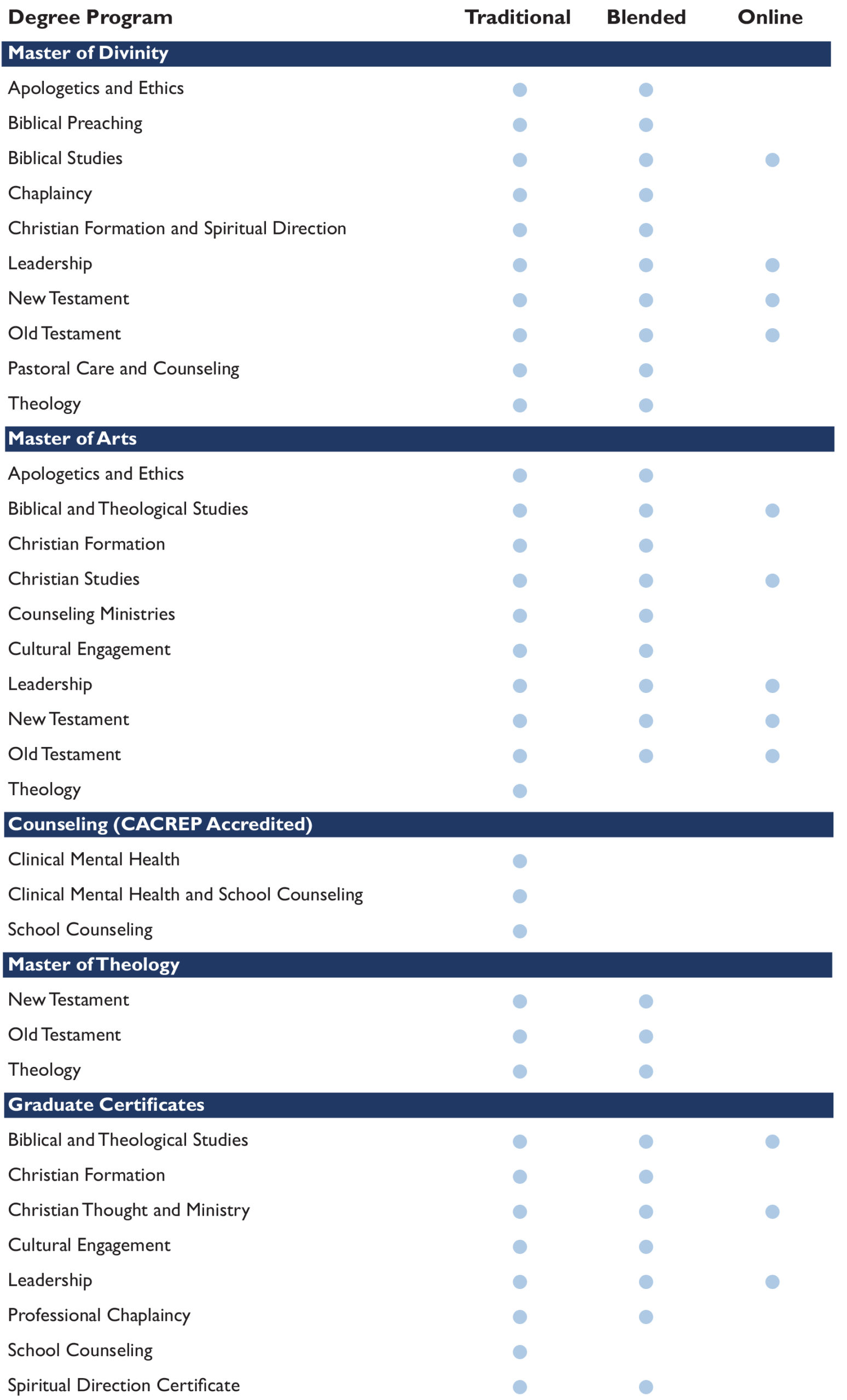 Technical Requirements
Students in Denver Seminary online programs will need to have regular and reliable access to a computer, internet connection, and necessary software in order to participate in online and blended courses.
Online Learning at Denver Seminary
All Denver Seminary programs provide students with interactive learning environments that allow you to maximize the engagement you desire and the flexibility you need for work and ministry.
Course Delivery
When students review the course schedule, the course section codes will identify the specific delivery method for each course.
Asynchronous Online – X section code: Online courses are the most flexible course type. They are primarily asynchronous (without regular, required scheduled meetings) with the exception that a few interactive learning activities that meet via Zoom. These courses have a weekly rhythm of about 50% media and 50% interactive learning activities.

Zoom Live – Z section code: These courses are delivered 100% via Zoom and have designated meeting days and times. Zoom Live class sessions are accessed via the Zoom links in the course Moodle site.

Denver Live – L section code: Denver Live courses require weekly attendance either 1) on-campus, or 2) on-Zoom. Like residential courses, Denver Live courses have a weekly day and time schedule.

Residential – 0 section code: This is the most traditional course delivery method. Residential courses have designated meeting days, times, and meet on campus where and you will engage with the instructor and classmates predominantly in a face-to-face format.

Residential Evening – EV section code: Same as residential but scheduled in the evening.

DC Live – DC section code: DC Live courses are available to all learners, and are built specifically with our DC students in mind. 75% of DC Live courses are delivered asynchronous online, and 25% is delivered live on a Friday PM and all-day Saturday intensive, attended either in-person at our DC Campus, or via Zoom.