Miracles today: The supernatural work of God in the modern world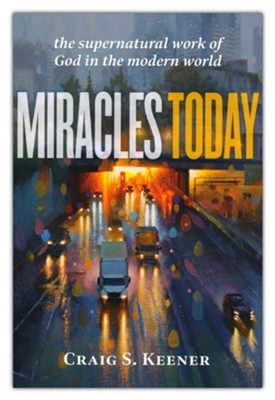 Miracles today: The supernatural work of God in the modern world. By Craig. S. Keener. Grand Rapids: Baker Academic. 2021. $24.99. Softcover, pp.284. ISBN 9781540963833
Photo albums are personal, historical artifacts that give evidence for the life of a family. Miracles today: The supernatural work of God in the modern world by Craig Keener composes a photo album for the people of God. It is complete with narratives that serve as before-and-after pictures, documentation, and ephemera which all gives evidence to miracles.The primary goal of this book is to offer a trim package of new evidence since Keener wrote his 1,100-page Miracles: The Credibility of the New Testament Accounts. This shorter snapshot is likely adequate for any reader wondering if miracles still happen in the way they occurred in the New Testament.
Craig Keener is the F.M. and Ada Thompson Professor of Biblical Studies at Asbury Theological Seminary. His areas of expertise include the background of the New Testament, the historical Jesus, ethnic/racial reconciliation, and miracles. Adding yet another book to upwards of the thirty he's written, he uses plain language to share his passion for the special divine action of God and he leaves no question as to the contemporary occurrence of miracles. Keener notes in the introduction, that this book is more about the reality of miracles than about the theology of why or how miracles sometimes happen or do not happen (xix). As such, the book is not unlike a portfolio of mementos giving praise to God.
In part 1, Keener prepares the reader for the presentation of miracle stories by offering some perspective. As much as this book is a revisited theme and updated format of his first volume, it is also a rebuttal to the influence of David Hume, an eighteenth-century naturalist and essayist who denied the possibility of miracles. Keener defines a miracle as "a divine action that transcends the ordinary course of nature and so generates awe"(3). He explains how miracles rarely violate natural law, do not require that one forgo a trust in science, and articulates that most people in the United States never stopped believing in them. In this part, Keener clearly argues that, for many people, a miracle makes a relationship with God possible.
To address Hume's accusation that eyewitness claims for miracles are not trustworthy, Keener provides an array of eyewitness accounts in part two. He cites that three quarters of the doctors in the United States believe in divine healing, even if it's not acceptable to openly disclose that belief. His case for credibility is bolstered by accounts from educated individuals, and even non-Christians who have been healed, thereby deflating any accusations of Christian bias in their story. To corroborate this, Keener claims that, "God acts in history not because all his people have identical, precise theology. God acts. . . to show compassion on many of the needy and to provide foretastes of Christ's kingdom" (39). To end this part, Keener offers stores of miraculous cures of newborn babies and this discredits the skeptics who attribute miracles to a mere reversal of psychosomatic occurrences.
Keener addresses a new set of objections in part three including the insistences that miracle healings can be faked and doctors who believe in miracles are biased. In answer to this, Keener talks about miracles that had the benefit of being video recorded, medically documented spontaneous cures, and Catholic cases which must adhere to the strict protocols of the Roman Catholic church on testing claims of healing. Healings have been experienced by those who suffered from paralysis, poisoning, brain death, hemorrhages, and cancer among other maladies and injuries. As Keener records example after example of those who have been healed in ways beyond any normal medical expectation, he iterates his claim that one's presumptions will always predetermine one's conclusion (59).
In part four, Keener highlights modern miracles that reflect the sort of miracles Jesus performed. These include healing the blind and deaf, resolving paralysis and palsy, and purifying the leprous. In conjunction with the miracle event, Keener notes when modern miracles have also ignited fresh faith which prompted people to believe in Jesus. Amidst skeptical allegations of misdiagnosis and fake faith healings, Keener lets the evidence speak for itself. With a mixture of longer narratives and short reports, he weaves together stories which often incorporated thirty minutes or more of prayer prior to a recovery of flesh, mobility, sight, or sound. Keener summarizes detractors by noting that their desire to keep their worldview intact is greater than their desire to attend to clear and abundant evidence of extraordinary healings during prayer.
Part five increases the reader's anticipation in its treatment of resuscitation stories. Are people still brought back from the dead? Keener provides affirmative accounts originating in Africa, Asia, and the West. Many of these accounts have been witnessed by doctors or were known to the author's family (Keener's wife hails from the Democratic Republic of Congo). These tales resist allegations of psychosomatic explanations, and only a rare few could possibly be attributed to the Lazarus Syndrome. While resuscitations don't happen all the time, Keener makes the case that they do happen. His personal connections add up to ten fairly close friends who have witnessed or experienced this miraculous work.
In the short part six dealing with nature miracles, Keener testifies to experiences where individuals have prayed to still storms, multiply food, provoke rain, and find groundwater for wells. While the evidence is shorter in comparison to other sections, Keener still attributes these miracle stories to God's work to "protect his people, provide for them, to enable them to fulfill their mission, or simply to reveal himself" (175).
The final part of the book re-engages a theology of miracles. Keener asserts that God does not owe anyone a miracle, and miracles cannot be expected every time they are desired. As well, the natural and the supernatural often work together and they do so in ways that may be invisible. The less dramatic glimpses of God are still evidence of his provision. Humility and faith are required, both to receive a miracle as well as to receive the experience of not experiencing the miracle that was desired. Keener closes with admonitions to attribute the cost of the miracle to the work of Christ.
Keener is clear about his intentions: this book isn't exhaustive, the samples aren't intended to be models to follow, and the book isn't designed to present a theology of miracles. If a reader comes looking for what this book it not, it would be easy to lament the lack of these outcomes. What Keener wrote, however, is a collection of stories and he does so in the hopes of providing evidence which a true seeker might be looking for. Keener acknowledges that there will be materialists who don't really want evidence. He advises asking, "What sort of evidence would you accept?" If they reply, "none," then Keener says it's clear that they "value their starting premise more than any amount of evidence" (5). Providing fresh evidence is the author's goal and he squarely achieves it.
The secondary outcome, which is threaded throughout the background of this book, is the desire to see readers come to faith in Christ. Keener writes, "If you are open to the reality of God, what you recognize as miracles will get your attention and invite your faith in him" (6). Alongside the miracles recorded in these pages, the hope of salvation and a new life in Christ are also a special divine action. Miracles aren't entertainment, but the invitations to secure a relationship with Christ who empowers our days and enables our homegoing to the new heavens and new earth. This book is quietly evangelistic. After looking through the scrapbook of God's action, the reader's wonder is stirred, and the author's hope is that wonder inspires inquiry. Keener kindly answers the reader with the truth of Christ.
It is not only skeptics outside the church who are parroting Hume's arguments, but even those inside. Thus, Keener also has a message for the church. It is so mildly stated in part one that, it might be overlooked. He suggests, "Is it possible that denial of miracles may itself be a false teaching"(15)? A significant portion of Mark's gospel as well as the book of Acts, layers of Luke, John and Paul's writings are comprised of miracles and exorcisms. If we deny miracles, our denial has no biblical support. Keener also provides human support with this meticulously footnoted volume. If we deny that miracles still happen, he provides evidence that says otherwise with a rate of occurrence that exceeds the potential of coincidence. The church should hear this caution and align it with our eschatological hope as we embrace the power of the Spirit.
If anything could distract from the miraculous work of God that fills these pages, it would be the lack of rhythm in the writing. Some stories start and stop quickly while others take up full pages. Some are full-bodied narratives that stir real emotion and others are rustic, brief reports. Bullet point lists are also sprinkled around the chapters. As such, this book is less of a story book and more of a report. However, where the stories are expatiated, the miracles feel all the more powerful. The reader must be comfortable with starting and stopping quickly, without transitional cues, and he or she must try not to not grow fatigued since they know how every story will end.
The reader whom Keener longs to touch is the open skeptic. He is well aware that the hardline skeptic will take a pass on all that he presents and will call miracles "anomalies" that might be explained one day; these individuals will allow nothing to persuade them, and they don't need the book. But Keener hopes that the divine signs he records will get the attention of those who are open. This is a book to leave in neighborhood "little free libraries," to donate to hospital waiting rooms or other places where seeds might be planted in those who genuinely wonder if a relationship with an interested God is possible. This book challenges assumptions about how God must display himself and leaves the reader with hope.
Debra R. Anderson MA
Assistant Professor, Training and Mentoring
Denver Seminary
April 2022