Redemptive kingdom diversity: A biblical theology of the people of God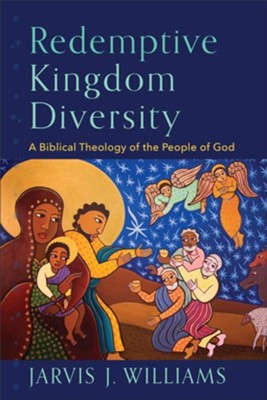 Redemptive kingdom diversity: A biblical theology of the people of God. By Jarvis J. Williams. Grand Rapids: Baker Academic. 2021. $24.99. Softcover, pp.207. ISBN 9781540964625
Redemptive Kingdom Diversity enters the world in a time when socially constructed identities have begun to put up political fences. In some places, diversity of any kind is seen as a threat to the new community God has created in Christ rather than as a value to that redemptive kingdom. Taking a slow survey through the biblical text allows the big picture of diversity to develop while giving insight into the identity of the people of God. In this book, Jarvis Williams does for the people of God what J. Scott Duval and J. Daniel Hays did for the grand narrative of Scripture in, Living God' word: Discovering our place in the great story of scripture. In a survey from Genesis to Revelation, Williams highlights the relational and cosmic implications of a diverse humanity. His exegetical approach develops a biblical and theological vision which highlights identity markers of God's people. He completes the work with comments on redemptive ways forward in which expansive love can break down barriers.
Jarvis Williams is associate professor of New Testament interpretation at the Southern Baptist Theological Seminary. He focuses his research on Pauline letters, in particular, Paul's soteriology in second temple Judaism. In this book, he seeks to correct a metanarrative popularizing a disintegrated, individual spirituality which is currently exacerbated by racism, Christian nationalism, White guilt, and victim mentality. While this book does not primarily combat racism, it surveys the whole narrative of Scripture to uncover racism's impact on God's design for an ethnically diverse people.
Chapter one emphasizes the Divine anticipation of diversity with the creation of male and female, Adam and Eve. Williams demonstrates how these culturally diverse humans rebel against God and vie for power. God marks his people in several ways: the Abrahamic blessing, their rescue from slavery, the gift of the law, priestly responsibility, covenantal faithfulness, purity, and obedience. Israel's identity as God's people is connected to their pursuit of justice for the marginalized and circumcision of the heart. These important markers set the stage for the transformative work of Christ.
In chapter two, Williams moves quickly through the books of history, wisdom, poetry, and prophets to further develop his thesis. He does not claim to be exhaustive in any chapter but continues to highlight additional identity markers along the way. In this chapter, righteous suffering — suffering that does not extinguish fear of God and love of his law — is clearly a mark of God's people. The failure of God's people to live distinctly according to the covenant is met with God's judgment and faithfulness. God continues to construct their identity as people who are marked by circumcision, gratitude for God's redemption, and fear of the Lord as a result of his saving works. The prophets foretold of a coming anointed king, a messianic servant who will establish a new covenant and mark the people as participants in restoration. This would occur even while they remained at risk of destruction, death, and extinction due to fluctuating obedience.
Williams pivots in chapter three to the new covenant and writes that the marks of the people of God are no longer ethnic origin, physical kinship to Abraham, or Torah. He highlights new identity markers including exclusive faith in Jesus Christ, faithful obedience to his path of righteousness, love for neighbors and doing what is right toward them in society, and ethnic and social diversity. The Gospels show Jesus as the fulfillment of every promise of salvation, which was also extended to the Gentiles. Williams credits this pivotal, multi-ethnic transition as the rationale for calling believers Christians at Antioch.
The survey of Paul's letters in chapter four highlights additional identity themes: God's people are those who live in various states: pursuit of sacrificial love, anticipation of the age to come, forgiveness, and transformed character. Williams reiterates an original assertion that socially constructed identities do not establish status or privilege. This assertion is seen to be particularly important as the Gentiles graft into the salvation promise. Pauls' letters to the various churches and leaders exhort all to be faithful in suffering, in utilizing gifts, in examining all teaching, and affirming the truth of the supremacy of Christ. These exhortations are mutually applied to both Jew and Gentile which signifies the unification of all things and all people in Christ.
The people of God are marked in a variety of ways in the general epistles and Revelation. Chapter five features marks of Christian identity as the kind of people who have a faith that works, who persevere in suffering, live with virtuous hope, and remain in Christian fellowship. Williams ends the chapter with a survey of Revelation in which God's redeemed people live by a unified ethic in a perfectly reconciled, eternal, multi-ethnic worshipping community .
After a short synthesis and restatement of his assertions in chapter six, Williams moves to a focus on Christian orthopraxy in the last chapter, with focuses on racism, ethnicity, classism, and political identity. Williams encourages the reader to pursue redemptive kingdom diversity in Christ in the everyday rhythms and relationships of life. Race is not biologically proved, but socially constructed for the purpose of asserting power over the other. Ethnicity is connected to measurable markers such as language, values, geography, religion and more, none of which is replaced in the transformation of Christ. Williams asserts that "Christians. . . should not view diverse ethnic groups or skin colors with contempt" (161). This divides the people of God and dehumanizes his image-bearers. He explores the non-redemptive positions of White guilt and victim mentality while encouraging the reader to consider working intentionally and relentlessly for mutual responsibility.
The survey of the scripture which Williams navigates, is a successful device to help the reader focus on one particular theme of Scripture: the identity of the people of God. The journey reveals that the people of God are not designed to operate in factions, but in family. The roots of racism, systems of inherently oppressive power, begin early in Scripture and prove to only divide God's people and dehumanize his image. This book reads like a catalog of scriptural evidence for the totality of depravity that the Lord God patiently works to restore. The approach feels sufficient to support his thesis. Jarvis' claims are comprehensive in scope. He sets out to show how God has always intended to restore diverse humanity's vertical relationship with himself, humanity's horizontal relationship with one another, and the entire creation through Jesus, the seed of the woman. The survey highlights how God's design commands, anticipates, and celebrates ethnic diversity in his people who are transformed, unified, and redefined by Christ.
Secondly, Williams contributes his voice, as a scholar of color who is writing in the American South, to a relevant moment in in our present culture. His call for Spirit-empowered, truth-telling love is a cry for every community to respond to the love of God with a unified identity. What Williams succeeds at is to paint a picture of that identity, naming the markers that are possible regardless of ethnicity, class, or socio-location. He charges the people of God to be in pursuit of Spirit-empowered love for one another, incorporating ethnically diverse groups into a multi-ethnic community aligned by common grace and common sense. It would be hard to read this book and not walk away with an adjusted composition in one's picture of the body.
Williams clearly notes that he was not working to be comprehensive, and yet the diversity theme seems to fade in the frequent, theologically rich assertions in his first chapters. Old Testament commands that involved including strangers and foreigners in Israel's habits and celebrations could provide an intriguing bridge of relational ethics and may also contribute to redemptive kingdom diversity. It's possible that if Williams had addressed redemptive stranger relations (e.g., Ex. 12:48-49; Lev. 19:34; 25:35; Job 29:16), this may have provided more support for his thesis.
Readers may be used to self-help applications, but this is not a "how-to" book. Most of the applications at the end of the book, are rather high-shelf ideas that leave the reader to be the locus of integration. At times, I wished Williams would speak more concretely regarding possible redemptive solutions. Phrases such as, "display a Spirit-empowered love," or "walk in obedience to the gospel," leaves the reader in the abstract intention rather than action. While his objective is not necessarily to tell the reader what to do, doing is part of orthopraxy.
Williams has written a tightly focused book. He set out to write about social constructs connected to power that do not contribute to spiritual status or privilege. As such, there was a missed opportunity to address patriarchy, even parenthetically, because it also fits his definition. It's unfortunate that the diversity of men and women which so strongly began his argument is quickly lost and not picked up again as the book progresses. Men and women, as redeemed sons and daughters of God have the Spirit by faith and are no longer slaves "under sin," nor "under the curse," nor under corrupt systems of authority. If we are really going to speak about human flourishing in a diverse kingdom, speaking against patriarchy in a short orthopraxy section alongside classicism and Christian nationalism would have been appropriate and may have added rigor to the argument.
Recommended readers of this book include those who would benefit from a purposeful overview of Scripture, such as learners in a college-level biblical theology course. Additionally, a thoughtful reader who is willing to reflect on the ways in which he or she has assimilated the ways of the world would likely find encouragement in re-attending to their called identity amongst the people of God.
Debra R. Anderson, MA
Assistant Professor, Training and Mentoring
Denver Seminary
April 2022