Spiritual Practices of Jesus: Learning Simplicity, Humility, and Prayer with Luke's Earliest Readers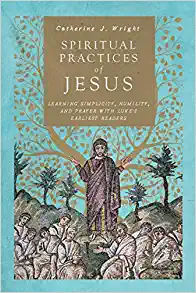 Catherine J. Wright, Spiritual Practices of Jesus: Learning Simplicity, Humility, and Prayer with Luke's Earliest Readers. Downers Grove, IL: IVP Academic, 2020, pp. 240. $21.49. ISBN: 978-0830852260.
What is the purpose of reading biographies? Why, year after year, do tomes detailing the experiences, habits, and decisions of great men and women fill the bestsellers list? While a multitude of reasons likely contribute, at least some of the popularity of bibliography is due to our admiration of the subject at hand, and the corresponding hope that in understanding their lives we may, in some way, mirror their greatness. It is this formational desire that Catherine Wright, Associate Professor of Biblical and Theological Studies at Bethel University, attributes to the Gospel of Luke in her recently published Spiritual Practices of Jesus: Learning Simplicity, Humility, and Prayer with Luke's Earliest Readers. Luke, she argues, was intended to shape the lives of its original readers. This well-researched ancient biography thus portrays Jesus both as Plato's "ideal king" and the ideal teacher/philosopher: a man whose virtue was expressed so profusely through his life and reign/teachings that it inspired and changed his subjects/students. Spiritual Practices of Jesus is Catherine Wright's attempt to reorient her readers' approach to reading Luke in order that they, too, may emulate the simplicity, humility, and prayer life of Jesus Christ.
The text is divided neatly into three relatively equivalent sections on the selected trio of virtues. Each section is further divided into three subsections containing (1) exegesis of the relevant Lukan pericopes; (2) the reception of these pericopes by the original audience; and (3) commentary on Luke from the early church fathers. Notably, when Wright discusses the reception of Luke's text (2) she almost exclusively references Greco-Roman philosophers, with the additional minority inclusion of some Jewish thinkers.
For Wright, Lukan simplicity is "a lifestyle characterized by complete dependence on God, willingness to share possessions, and habits of almsgiving and generosity" (20). Self-indulgent expressions of wealth are contrasted with sharing resources and trusting God for provision, as Jesus did in his ministry. This sort of life would have been well-appreciated, at least idealistically, by the Lukan audience. Rich individuals were expected to practice benefaction, and philosophers such as Seneca and Plato's Socrates lamented humanity's enslavement to pursuing wealth. In Jewish thought, Sirach writes that the "one who pursues money will be led astray by it" (31:5-7) and the Psalms of Solomon labels excessive wealth as sin (5:16-17). In her analysis of the early church, Wright highlights the almost obsessive concentration on almsgiving in the writings of the church fathers. In their ancient perspective, personal wealth already belonged to God and so it should easily be given away. Thus, even the wealthy can be saved; that is, if they properly handle their wealth through the guiding principle of generosity.
In regards to the Lukan portrayal of humility, Wright observes a strong contrast with its corresponding vice, pride. The leaders who elicit flattery and honors (20:45-57) and elevate themselves at the expense of others (18:8-14) are examples of how Kingdom adherents should not act. Instead, one should emulate heroes like the humble centurion (7:1-10) and especially the servant Lord. While Roman emperors were somewhat famed for their extravagant, honor-clutching lifestyles, Wright argues that Greco-Roman culture would have actually appreciated the idea of a humble ruler, which aligned with theories of a philosopher king whose very lifestyle elicited good conduct in his subjects. That being said, Jesus' servant humility and deliberate rejection of praise (11:27-28, 18:19) would have been at least somewhat counter-cultural. Aristotle defended one's right to accept honors due to them while also acknowledging that virtuous men have no need for such honors. Other philosophers such as Epictetus and Plutarch find a place for modesty in their teachings. In the church fathers we find a great acceptance of humility, which was in some ways the essential virtue of a mature Christian. Humility recognized the reality of one's place before God, while pride could be lethal to the Christian walk.
Wright highlights the notable emphasis in Luke's gospel on Jesus' habits of and teachings on prayer. Jesus embodies his instruction, frequently withdrawing on his own to pray, as well as praying prior to significant events such as the selection of the 12 apostles and the Transfiguration. In Greco-Roman literature, heroes were often portrayed as individuals who solicited the aid of the gods and were guided by them. Rulers, too, were expected to be individuals who prayed, though this was often part of their required responsibilities. The church fathers struggled theologically with understanding Jesus' prayer life. Why did the incarnate God need to pray? Did he lack some spiritual strength? While modern commentators would emphasize Jesus' humanity in answering these questions, our ancient compatriots were greatly concerned about painting a picture in which Jesus lacked any sufficiency. Thus, they largely viewed Jesus' prayer life as more exemplary than necessary.
In one sense, Spiritual Practices of Jesus is a difficult book to categorize. At times it reads densely as an academic text (this is not a "beach read"), yet is situated by its title within the world of spiritual formation and Christian spirituality. Furthermore, nearly a third of the book is dedicated to examining philosophy, adding another hurdle to casual readers. That being said, I think Wright ultimately succeeds in her attempt to turn the spotlight on the formational impact Luke's gospel can have on the receptive reader. In teaching scripture one must avoid both the extremes of simply moralizing every pericope on one end, and on the other treating the text so dispassionately as to inoculate yourself from its character-shaping nature. A brief look at the American church shows that we need not fear an overemphasis on simplicity, humility, and prayer. Perhaps in better appreciating the formational intent of scripture American Christians can shift from clinging to extravagance to holding possessions lightly, from seeking prestige and platform to being dedicated to servanthood regardless of one's skill, and from begrudging prayers to vibrant reliance and communion with our Father in heaven.
Brian J. Gehr, MDiv
ThM-New Testament Student
Denver Seminary
January 2022