Staying Awake: Denver Seminary Trained Chaplains Minister through Faithful Presence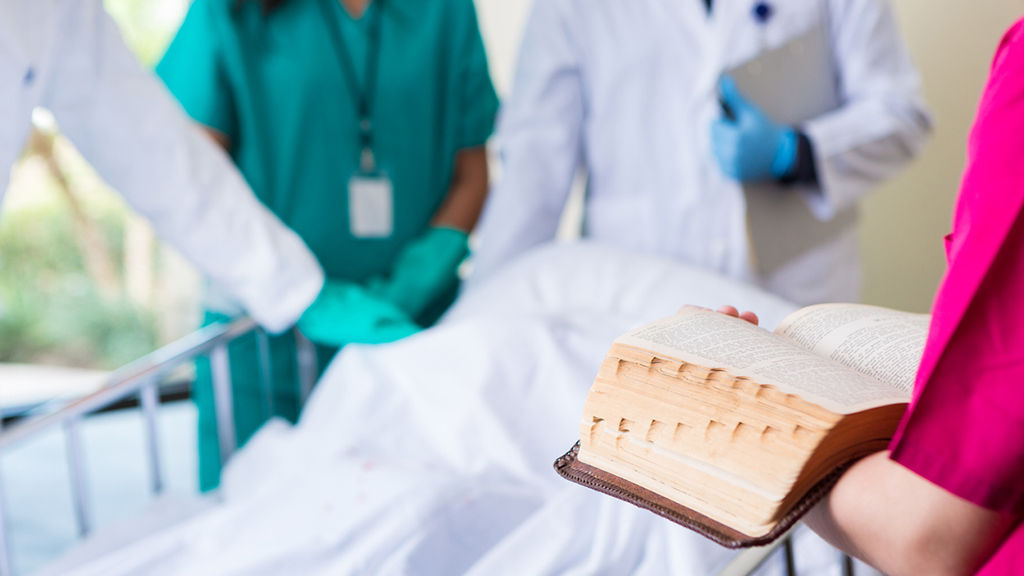 "I am deeply grieved to the point of death," Jesus told Peter, James, and John in the garden of Gethsemane. "Remain here and stay awake."
They couldn't do it, of course. The disciples kept drifting off to sleep, provoking the frustration of a Savior just hours away from death.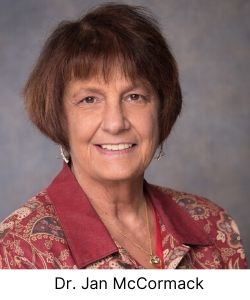 "Can you just stay awake with me?" Dr. Jan McCormack, associate professor of Chaplaincy and Pastoral Counseling and director of Chaplaincy and Pastoral Counseling Programs at Denver Seminary, quoted Jesus' words.
"It's my decision," she imagined Him continuing. "Don't fight for me, don't give me advice. Just be with me."
This simple yet rare approach to ministry — just be with me — has shaped Jan's personal life, career, and leadership of the chaplaincy program at Denver Seminary for decades. A retired Air Force Chaplain who has also served in chaplaincy roles in hospital contexts, with police officers, and with prisoners, Jan's relationship with Denver Seminary began when she enrolled for one class because she was "bored in the military." Eventually, she would create the chaplaincy program at Denver Seminary.
The reason to start with Dr. McCormack is not simply that she founded the program, though that would certainly be reason enough. Rather, it's this — in every conversation with chaplaincy alumni and current students, they spoke about Jan in a way that I would describe as gushing if their words hadn't been so utterly sincere and soulful. Their descriptions overflowed with phrases that could be considered flattery — "she changed my life." But I believed every syllable.
---
Daniel Werho
Take Daniel Werho, for example. Daniel wanted to pastor in a military context. Torn between two seminaries, he met with Dr. McCormack in pursuit of clarity.
"Maybe there is no right choice," Daniel recalled Jan saying. "Maybe they're both good choices, and you can just make the call and go forward with it."
Jan also suggested to Daniel that his freshman year of college — a season he saw as characterized by rebellion — had simply been a stint of trying to figure himself out. Daniel was looking for autonomy, and Jan gave him the freedom to wrestle. "Her personal touch…knowing that she [set up] the chaplaincy program…how well she knew military ministry from her own chaplaincy experience," Daniel listed during our phone call. "She made such an impact in one breakfast."
He applied to Denver Seminary and spent the next four years as a part-time youth pastor and a student.
When Daniel applied for a waiver to go active duty sooner than later, he was denied. So he worked at a liquor store and in data entry. "Everything is redeemable," Daniel said, explaining only halfway tongue-in-cheek that working at the liquor store taught him emotional intelligence and the data entry position trained him to complete tasks quickly. Daniel would use those skills time and again once he began his role in the military. By June 2012, he was an active duty battalion chaplain at Fort Drum.
Within nine months, he would be deployed to Afghanistan. Daniel was afraid, and so were his fellow soldiers. Members of the advance team that arrived a week before them had been killed.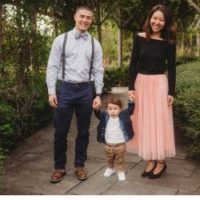 "When we showed up on ground, they had just rebuilt the tent that the rocket hit. They asked me — would you mind being the one who sleeps in the tent set up where someone died?"
Daniel Werho
Daniel was honored. Acts like this one, hard as it was, were what he'd signed up to do as a chaplain — to honor the fear and sadness and anxiety of those around him in whatever ways they needed him to do.
"Because I'm so big on authenticity, I felt that my ministry was to show them that it was okay to be afraid," Daniel said. "I shared how scared I was and said that I was praying and helping those around me to get through it. There's pressure to act like [the danger] doesn't bother you, but I was big on telling the truth that it did."
Military chaplaincy would also lead Daniel to be a pastor for chapel services in Stuttgart, Germany, host barracks Bible studies, and develop programs that give soldiers opportunities to provide feedback in settings when they may otherwise go unheard. These days, Daniel is a Chaplain at Fort Bragg in North Carolina, working with others to create Christian worship for soldiers by soldiers.
This embedded, alongside, staying-awake approach characterizes the work of many chaplains in the military and in other institutions alike — such as the prison system.
---
Justin Reddick
Justin Reddick — a soon-to-be graduate of the Denver Seminary Master of Divinity program with a concentration in chaplaincy — joined the Bureau of Prisons in 2012 after spending 15 years in retail management. He is now a Religious Services Assistant at the nation's only Administrative Maximum Penitentiary, (or A.D.X. Supermax) — A.D.X. Florence, in Florence, Colorado.
A prolific artist who began expressing himself through creative work as a 19-year-old painting baseboards at a local Safeway, Justin would eventually wed his love for inmates, chaplaincy, and painting. For years, painting had been a way for Justin to tell his own story. But when Jesus entered his life, Justin found himself drawn to the concept of "giving up painting my story, and replacing it with the prison…which became my new blank canvas in a way."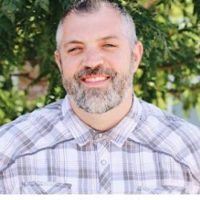 "I found prison to be one of the most diverse places to serve those less fortunate."
Justin Reddick
Justin built the Creative Arts Platform, a "highly personal experience" in which staff facilitators "[dedicate] themselves to helping these inmates re-frame their stories."
"Stripped of most postmodern societal norms that tend to dominate most secular art circles, with CAP we simply create because all humans have been called to do so," Justin said. "In this space, inmates can strive to find acceptance and forgiveness in self and the world through communicative creative exploration
Justin also said that Dr. McCormack's chaplaincy curriculum gave him "the necessary tools to pursue a career as a chaplain — no matter the setting." For Justin, and for Jan, and for seemingly so many other chaplains, while the nuances of the settings in which they serve matter a great deal, the foundational elements of chaplaincy — stay awake, enter in, be present — stay the same.
---
Ken Webb
For Ken Webb, that setting is a drag racing track. A former firefighter and paramedic, Ken left his career at age 42 and became a seminary student. He started out at Denver Seminary pursuing a graduate certificate in theology.
Enter Dr. McCormack.
"Words can't even describe her," Ken, who is now the Field Ministry Director for Team Racers for Christ, which "recruits, trains, equips, and sends chaplains to serve at motorsports events," said. "I graduated in '06 and we're still friends, still interacting. She's not only been a professor but a friend, a mentor, and a colleague."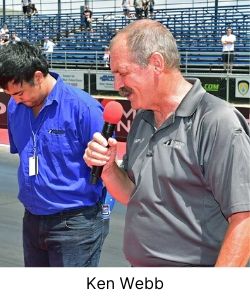 Ken became the chaplain to a drag racing speedway. "My first day at the race track, I officiated a wedding," he recalled. "The following month, we had a fatality and I officiated the funeral. I asked the Lord, 'Why did you call me to this? I've never done this before!"
But God reminded Ken of the ways he had been prepared for exactly these types of occasions. His classes and mentors at Denver Seminary and his understanding of traumatic events gained through his years as a first-responder empowered Webb to minister to people at the race track. When Webb was asked to officiate the funeral, he called one of his Denver Seminary mentors who had years of experience officiating ceremonies.
---
Gwen Hanna
Gwen Hanna was once such a hurting one. A career missionary and teacher, Gwen had suddenly become a single mother of her two daughters after her abusive marriage ended. For two years, Gwen stood at the barn gate, watching her daughters acquire tools for living emotionally and mentally healthy lives through a therapeutic horseback riding program.
Gwen began to see horses as amazing creatures used by God for powerful work. She left her 30-year career to work at a ranch, but then that job fell apart. During the tumult, she had coffee with a friend and shared that she felt God nudging her to get a masters in counseling. She also knew she needed to increase her horsemanship skills. Gwen enrolled in Denver Seminary's counseling ministries master's degree and began to volunteer at a ranch as a horse leader and side walker.
"Seminary, for me, was a sabbatical," Gwen said. After 30 years of pouring out, seminary, and specifically the chaplaincy program, gave her the opportunity to "focus on just this."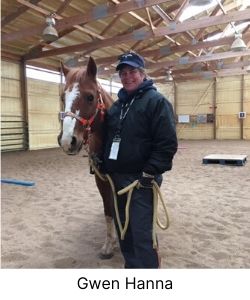 Now, Gwen operates under her own nonprofit organization, Under His Wings, through which she serves as the chaplain at Car-ynne 4 Kids, a hippotherapy ranch in Littleton, Colorado. Reminiscent of the days when she lingered at the gate during her daughter's horseback riding sessions, Gwen now lingers at the gate with parents and siblings of children who come to the ranch for therapeutic riding sessions. Sometimes moms and dads come to the ranch exhausted by the balancing act of parenting one child with an able body and one with disabilities. Sometimes siblings show up angry or depressed because they feel like their disabled sibling gets all of the attention. Gwen tosses an arm over the gate next to a worn out mom, or asks a little brother if he'd like to go on a walk, and she just spends time with them. She doesn't preach. She doesn't proselytize. She stays awake.
Gwen regularly draws upon the classes she took at Denver Seminary —not the least of which was Clinical Pastoral Education (CPE). CPE is one of the hallmarks of the Denver Seminary chaplaincy program. In order to obtain a CPE credit, students participate in real-world chaplaincy internships accredited by the Association for Clinical Pastoral Education. At Denver Seminary, the CPE is required for any student enrolled in an MDiv program with a chaplaincy emphasis or in a chaplaincy certificate program. Typically, students would graduate from their program, then independently pursue a CPE credit.
As far as Jan knows, Denver is the only evangelical seminary with the CPE credit embedded into the degree program. This integrated approach facilitates another unique element — community-based CPE. Due to the students' close relationships Jan and fellow Denver Seminary faculty, they have the privilege of pursuing internships that match the interests and passions they've developed throughout their lives and during their time in seminary.
---
Rotunda East
Rotunda East, who went into the Air Force at 18 and served in active duty information and communications roles for 21 years, began to find the match for her interests and passions during her time Master of Divinity with an emphasis in Pastoral Counseling and Chaplaincy program. After she retired from the military in 2010, Rotunda attended a Denver Seminary viewing day and knew immediately that she was where she was supposed to be.
How? Dr. McCormack.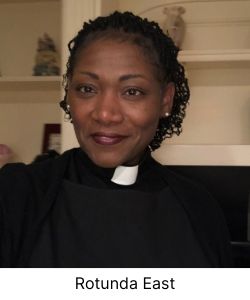 "I knew whatever department she was over was the one I needed to be in," Rotunda said. At that point, she didn't even know that Jan was a retired Air Force chaplain. She just knew that she wanted to be around the "essence of [Jan's] being," and that Jan's invitational energy convinced Rotunda that she could succeed in seminary, and not only that, but Jan would be by her side.
Seminary revealed to Rotunda how much she needed to grieve some of her experiences in the military. Her soul formation classes taught her the importance of self-care and helped her see that she hadn't cultivated a practice of caring for herself. Eventually, relationships with students and faculty at Denver Seminary prompted Rotunda to go to the VA.
"I needed to face the fact that I had PTSD," Rotunda said. "I had a traumatic brain injury from running over an IED.
Denver Seminary stepped in and helped me. I had memory issues from the TBI so Denver got me to a tutor. The ways that I was normally used to studying. I was only using what I knew to use. Those tutors and professors really helped things get easier."
"I didn't always know what to say to the professors in the counseling department," Rotunda recalled. "But they just let me sit, and now I practice that in the work that I do."
Rotunda, who is now the Chief of Chaplain Service at Providence VA Medical Center, specifically wants to provide such a space for female veterans. Denver Seminary helped her see that she, a female veteran, was worthy of the help she needed. Rotunda knows that many of her peers do not believe that to be true of themselves, and she wants to encourage them to grab hold of the fact that it is.
"They're trying to be wives, mothers, daughters again. They're sitting in church. But [their former identity has] been stripped and they don't know how to [be this new person]. So I think that's my next area of service — to reach out in the community to the female veterans in order to help them reintegrate into the many roles in their lives."
---
Whether in the military, at a horse ranch, at the racing track, or in a host of other institutions like hospitals, nursing homes, and police stations, Denver Seminary trained chaplains live and work according to Jesus' call to stay awake. Dr. McCormack dreams of a day when Denver Seminary will have an endowed chair for chaplaincy so that hundreds, maybe thousands, more students can learn how it may look to be a faithful presence, unshaken in the face of the pain of others — not because they know how to fix all of it, but because they know how to draw near to sufferers. And when the afraid, the confused, the hurting, ask how they can have hope in such a dark world, they tell them about the One who stayed awake on our behalf.