Denver Seminary Grows its Chi Sigma Iota Chapter with 70 New Inductees
Littleton, Colo. – Denver Seminary's Chi Sigma Iota chapter (Delta Sigma Lambda) continues to grow, inducting more than 70 students in the 2022-23 academic year. Since its inception at Denver Seminary, the chapter has grown to 143 members, including 82 students and 61 alumni.
CSI is an international honor society that values academic and professional excellence in counseling. CSI promotes a strong professional identity through members who contribute to the realization of a healthy society by fostering wellness and human dignity.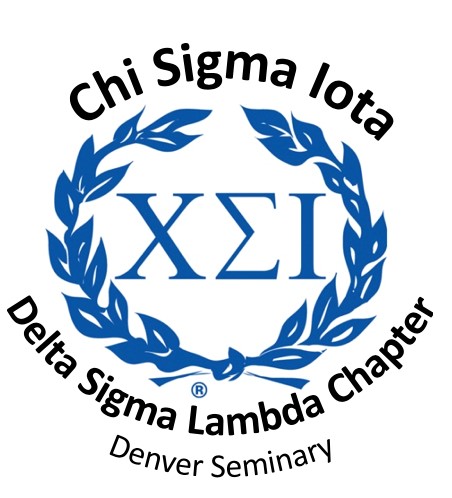 For students, actively participating in Delta Sigma Lambda at Denver Seminary provides an opportunity to grow professionally and personally, said Dr. Liz Norris, assistant professor of Counseling and faculty advisor to the CSI chapter.
"Being part of a professional organization while in graduate school provides an opportunity connect with those in the counseling profession now, and helps you build a solid network of professionals after you graduate," Norris said. "Because CSI is an international group, you now have colleagues everywhere, and you can utilize those connections for jobs, resources, client referrals, and more.
In addition, CSI offers its members free and discounted opportunities for continuing education and professional development. Local chapters, including Denver Seminary's chapter, host service activities, trainings, and community outreach.
Eligibility for membership is extended only to those students in the Clinical Mental Health Counseling and School Counseling programs who have completed at least nine credits and have a cumulative GPA of 3.5 or better. Students must be approved by the chapter faculty advisor and deemed promising for endorsement as a professional counselor whose ethical judgment and behavior will be exemplary.
For more information about Denver Seminary Chi Sigma Iota chapter, contact Dr. Liz Norris.
###
About Denver Seminary – Denver Seminary is a non-denominational graduate school of theology located in Littleton, Colo. The Seminary's mission is to prepare men and women to engage the needs of the world with the redemptive power of the gospel and the life-changing truth of Scripture. Denver Seminary offers residential, fully online, and hybrid degree programs, and has an extension campus in Washington DC.
About Chi Sigma Iota – The mission of Chi Sigma Iota is to promote scholarship, research, professionalism, leadership, advocacy, and excellence in counseling, and to recognize high attainment in the pursuit of academic and clinical excellence in the profession of counseling.