The Next Evangelicalism
Denver Seminary President Dr. Mark Young
Founded in 1950, Denver Seminary has been at the center of the evangelical movement for over 70 years. Dr. Vernon Grounds, who served at the Seminary from 1951-2012 as Dean, President, and Chancellor, described Denver Seminary as a place of "vibrant evangelicalism."
Vibrant evangelicalism. What a beautiful phrase. We embrace that vision for our school and the entire movement. Unfortunately, there's a lot of confusion today about what "evangelical" means. Historian Molly Worthen describes the problem well, "The term evangelical has produced more debate than agreement. The word is so mired in adjectives and qualifiers, contaminated by politicization and stereotype, that many commentators have suggested that it has outlived its usefulness."1 Worthen is right about the confusion around "evangelical," but I don't agree with those who think the term has outlived its usefulness.
We have to be honest with ourselves about what evangelical has come to mean in the broader culture. Stripped of its rich theological heritage and meaning, evangelical is now more a political identity than a religious identity. It would be easy to stand back and blame others for the desecration of the term, but that would be cowardly. Our identity crisis is a self-inflicted wound. The broader culture sees us as a partisan political bloc because too many who call themselves evangelical have knelt before the Baal of political power and put their faith there more than in the redemptive power of the gospel of Jesus Christ. We've lost sight of what matters most—the hope of the gospel—in our misguided, quixotic, and idolatrous quest to "win" the culture wars through political ascendancy.
Given the confusion we've created around the term, is it worth holding on to "evangelical?" I think so, but only if we commit ourselves to making our identity more about the gospel than our politics. We have to redefine "evangelical" and remake a movement that has lost a clear sense of its identity and mission. We need to help spawn the "next evangelicalism" as a credible and compelling gospel presence in our thoroughly secularized, overly politicized, and dangerously polarized society.
It's tragically ironic that evangelical means something other than gospel-centered. The word comes into English from the German, evangelische, itself derived from a Greek term used throughout the New Testament that is most often translated "gospel."
God has done something in Christ that no one else could ever accomplish. This "good news" embodies God's justice, mercy, and grace. It grounds the hope of redemption in the single most important event in human history, what Lesslie Newbigin calls the "Christ event," namely Jesus' death, resurrection, and ascension.
What would it take for evangelicals to be defined first, foremost, and solely by this good news?
Let me propose two starting points: a gospelcentered hermeneutic and a gospel-centered identity and mission.
A GOSPEL-CENTERED HERMENEUTIC
Hermeneutic is a fancy academic term that means a method of interpretation. It's the way we read and interpret the Bible. A gospel-centered hermeneutic reads the Bible as a story, the one true story about the one true God's engagement in human history. It's a redemption story that centers on the Christ event. We can think about it this way. In the Bible, Jesus' death, resurrection, and ascension are like the neck of an hourglass into which all the sand flows and from which it then flows out. From the beginning of Genesis, everything in the Bible flows toward the Christ event and finds its ultimate meaning there. And from that event until the end of the Book of Revelation, everything finds its ultimate meaning there as well.
Reading the Bible as a cohesive story centered on the Christ event rescues us from reading the Bible in a way that makes it say far less than it actually does. We often read the Bible like it is a handbook for happy living, a rule book to keep us from getting into trouble, and a guidebook to help us figure out the future. Indeed, the Bible contains wisdom for life, guidance for righteousness, and the promise of Christ's return. But if the Bible is the one true story of the one true God's redemptive engagement in human history, it is much, much more than a handbook, a rule book, and a guidebook. The Bible places the Christ event at the very center of all human history.
When the gospel frames the way we read the Bible, it begins to shape everything we think about God and his engagement in our lives. It centers our thinking on the single most important event in all of human history and directs our hearts to the one who conquered sin, death, and evil—Jesus Christ. Reading the Bible this way urges us to see ourselves first and foremost in the light of the gospel.
A GOSPEL-CENTERED IDENTITY AND MISSION
We all bear multiple identities—family, nationality, gender, race, profession, social class—and all of them matter. They form our sense of self and function socially to create ingroup-outgroup dynamics. Our identities spur us to build relationships with some and to separate from others, they create both comfort and discomfort, and far too many other polarities in our lives. All of our identities matter, but being the people of God matters most. We who have put our faith in Christ are the people of the gospel before we are anything else. Before our nationality, ethnicity, gender, occupation, even family, we find our primary identity in our relationship with Christ. (See Gal. 3:26–28)
Our identity in Christ is both personal and communal. Each of us has a relationship with Christ but that relationship was never intended to be solely individual and personal.
A gospel-centered identity and mission demands that we critically assess how our embrace of other identities affects our ability to create a credible and compelling gospel presence. If we are known more for our politics than our gospel, we are embracing an identity that is far less redemptive and life-giving than the gospel. And we are failing to live into and live out who God created us to be. We are the people of God's mission.
Let's remake and redefine evangelicalism as a gospel-defined movement whose very presence brings life to the world. That's our passion at Denver Seminary. Join us in it.
---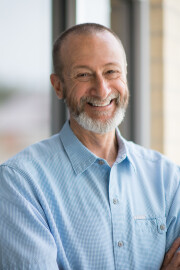 Prior to joining Denver Seminary in 2009, Dr. Mark Young served as professor of world missions and intercultural studies at Dallas Theological Seminary from 1995-2009 and was the founding academic dean of the Biblical Theological Seminary in Wroclaw, Poland. Dr. Young has authored The Hope of the Gospel: Theological Education and the Next Evangelicalism (Eerdmans Publishing Company, 2022), and One True Story, One True God: What the Bible Is All About (Our Daily Bread Publishing, 2021).
1Molly Worthen, Apostles of Reason: The Crisis of Authority in American Evangelicalism (New York: Oxford University Press, 2014), 3.