Contact
Jeff Cook, PhD
Associate Professor of Counseling
Contact
Adam Wilson, PhD
Assistant Professor of Counseling
Clinical Mental Health and School Counseling (Dual Concentration)
The dual concentration in clinical mental health and school counseling is designed to train clinically competent counselors who are able to integrate Christian faith with the professional knowledge and skills necessary to address the growing mental health needs within clinical and/or school-based settings and to promote the social, emotional, academic and career development of clients and K–12 students. The dual concentration prepares students to meet requirements for both clinical licensure and school counseling endorsement in the state of Colorado. The program is accredited by Council for the Accreditation of Counseling and Related Educational Programs (CACREP) which provides recognition that the content and quality of the program has been evaluated and meets standards set by the clinical and school counseling professions. Students in this program also take part in our Personal Formation Program as they grow during their time at Denver Seminary.
The dual concentration is informed by the research and results of The School of Counseling Mental Health Initiative (SCHMI). The SCMHI is conducting school-based mental health research in collaboration with public, private and charter schools to address the emerging needs and trends in the field of school counseling.
How Can I Use This Degree?
Pursue counseling licensure in the state of Colorado
Pursue school counseling licensure in the state of Colorado
Serve in various clinical settings (e.g., community mental health centers, private practice, etc.) as well as provide clinically informed school counseling in public and private K-12 school systems
What Courses Will I Take?
See each course you will take in these programs by reviewing our degree worksheets:
Clinical Mental Health and School Counseling (Dual Concentration)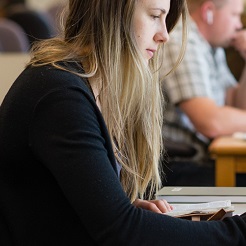 76 credits total
Dual degree options (MA or certificate in BTS)
Available on the Denver campus