Contact
David L. Mathewson, PhD
Associate Professor of New Testament
Questions?
Denver Campus Admissions
P: (303) 762-6937
Washington D.C. Campus Admissions
Master of Theology with a New Testament Concentration
The master of theology (ThM) with a concentration in New Testament is the highest-level master's degree available. It will help you deepen your understanding of New Testament scholarship. With all-new 800-level courses unique to the ThM program, you'll evaluate ministry trends, cultural shifts, and current events in light of sound biblical theology. You'll learn directly from the original Greek text and engage culturally and cross-culturally from a biblical perspective.
This degree provides students with opportunities to focus on advanced Greek grammar and linguistics, and to explore and analyze surveys related to the historical Jesus. Students will critically evaluate issues and discussions in Pauline studies, including rhetorical analysis and new perspective approaches to Paul. If you desire to specialize in New Testament for teaching, ministry enrichment, or PhD preparation, the ThM will provide mastery of biblical and theological foundations and will enrich your ministry.
How Can I Use This Degree?
Develop a specialization to solidify and enhance biblical and theological foundations for pastoral or teaching ministry
Prepare for PhD studies
Clarify, refresh, and refocus your thinking to enrich your current ministry
Become a writer for Christian or secular publications
Where is the ThM New Testament concentration offered?
Denver campus / Fully online at the Global campus

How many credit hours is the ThM New Testament concentration?
30 credit hours

How long does it take to complete this degree?
1 year (full-time study)
What Courses Will I Take?
See each course you will take in these programs by reviewing our degree worksheet and academic catalog:
Degree Worksheet / Academic Catalog
Program Requirements:
Master of Divinity degree or its equivalent
GPA of at least 3.0
For more information about this degree program, please contact the Admissions Office or call 303.762.6937.
---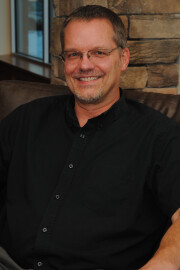 Faculty Highlight
Dr. David Mathewson, associate professor of New Testament, joined the faculty of Denver Seminary in 2011. He is a member of the Society for Biblical Literature. Dr. Mathewson earned a BA from Colorado Christian University, an MA from Denver Seminary, and a PhD in New Testament from theUniversity of Aberdeen. He is the author of Verbal Aspect in the Book of Revelation and A New Heaven
and a New Earth: The Meaning and Function of the Old Testament in Revelation 21:1–22:5.
For more information about this degree program, please contact the Admissions Office or call 303.762.6937.