Contact
Janet R. McCormack, DMin
ACPE National Faculty Certified Educator; Associate Professor and Chair of Chaplaincy and Pastoral Counseling Programs
Questions?
Denver Campus Admissions
P: (303) 762-6937
Washington D.C. Campus Admissions
MDiv with a Chaplaincy Concentration
Would you like to represent Christ in arenas where few others have access? Chaplains work among those who are not likely to be drawn to typical churches or ministries, and with that being the case, a chaplain has the privilege of acting as a spiritual leader who performs the same type of services and ceremonies as a pastor or priest in environments outside of the church.
Chaplaincy ministry normally requires ordination and endorsement from a nationally recognized faith body. The master of divinity with a Chaplaincy concentration will provide the broad-based biblical, theological, and pastoral training you need in any kind of ministry any chaplaincy vocation.
With this degree you also earn a unit of Clinical Pastoral Education (CPE) under the accreditation of the Association of Clinical Pastoral Education (ACPE) and Department of Education. Besides being an off-campus clinical internship, it will allow you to compete for CPE residencies immediately after graduation and for healthcare chaplaincy positions. Denver Seminary holds the distinction of being one of only three ACPE accreditation centers across the whole country.
Learn about our Clinical Pastoral Education Center.
The Chaplaincy concentration in our MDiv program will send you out ready to make an immediate impact
How Can I Use This Degree?
This degree allows students to take ministry to people outside of traditional church settings, such as…
Military chaplaincy
Healthcare settings
Hospice, palliative, eldercare, and teen residential centers
Prison ministry
Sports and leisure organizations and teams
Ministry to first responder units (police/fire/EMT), crisis and disaster teams
Crisis counseling centers
High school/graduate school educational institutions
Business, workplace, or industrial organizations
Rescue missions and other parachurch organizations
Where is the MDiv Chaplaincy concentration offered?
Denver campus / Fully online at the Global campus / Washington DC campus

How many credit hours is the MDiv Chaplaincy?
79 credit hours

How long does it take to complete this degree?
3 years (full-time study)
What Courses Will I Take?
See each course you will take for this program by reviewing our degree worksheet and academic catalog:
---
Frequently Asked Questions About the Denver Seminary Chaplaincy Program
Chaplains and pastors provide spiritual guidance. However, there are some distinctions that are important to note.
A pastor is often associated with a specific church and oversees the needs of a congregation. A chaplain usually provides spiritual care outside of a church in a variety of situations and may serve in the military, a hospital, with law enforcement, and even workplaces. They often meet the spiritual needs of those from different or no faiths, providing support during times of crisis or trauma, illness, or grief.
Denver Seminary's chaplaincy training is available online or in person.
Chaplains use their ministry skills to offer spiritual care to address the emotional wellbeing of people in times of crisis, illness, grief, trauma, and more. They often provide a sense of connection, comfort, and hope during the most difficult times.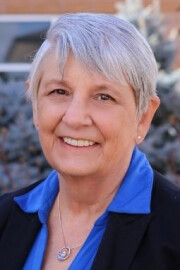 Faculty Highlight
Dr. Janet R. McCormack is associate professor and chair of Chaplaincy and Pastoral Counseling Programs. She is ordained by the American Baptist Churches, USA and is a retired Air Force chaplain with 22 years of experience in military chaplaincy. She is an Association of Professional Chaplains board-certified chaplain with experience in hospital, police, prison, NASCAR, drag racing, crisis, and trauma.
"Denver Seminary is leading the way in providing vital education and training for chaplains under the professional and insightful leadership of Dr. Jan McCormack."
Lorraine Potter, Chaplain, Major General, USAF (Ret.)
For more information about this degree program, please contact the Admissions Office or call 303.762.6937.