Contact
Richard S. Hess, PhD
Distinguished Professor of Old Testament and Semitic Languages
Questions?
Denver Campus Admissions
P: (303) 762-6937
Washington D.C. Campus Admissions
MDiv with an Old Testament Concentration
Do you have a passion for the Old Testament that pops up in conversation on a regular basis? Steward it well by exploring the MDiv with a concentration in Old Testament. This degree allows you to study 70% of the Bible and to develop your knowledge and skills of how to preach and teach the Old Testament to the world.
Teach and preach the whole counsel of God's word powerfully. Probe the riches of worship from the Psalms, of ethics and how to live and lead from the Law and Wisdom Literature, and of the heart and holiness of God from the Prophets. These truths will not only inform your preaching, teaching, and research, but will transform the way you live out and share the gospel in the world.
How Can I Use This Degree?
Preach, teach, and live out God's heart for missions
Create a theological framework for your outreach ministries
Pursue a doctoral degree, advanced research, and teaching
Why Study Biblical Hebrew?
Studying Hebrew enables you to engage deeply and richly with God's written word during your independent study in its original language. Having knowledge of the original Biblical languages enables one to observe, understand, evaluate, and interpret the inspired details of the biblical text with more accuracy, clarity, fairness, and confidence.
Where is the MDiv Old Testament concentration offered?
Denver campus / Fully online at the Global campus / Washington DC campus

How many credit hours is the MDiv Old Testament concentration?
79 credit hours

How long does it take to complete this degree?
3 years (full-time study)
What Courses Will I Take?
See each course you will take for this program by reviewing our degree worksheet and academic catalog:
To fulfill the degree requirements you will take courses that focus on the Hebrew language, theological foundations and elective courses.
---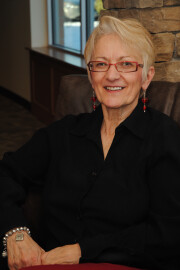 Faculty Highlight
Dr. Hélène Dallaire joined the faculty of Denver Seminary in 2006. She is an ordained minister with the Evangelical Church Alliance, and is a member of the Society of Biblical Literature, the American Academy of Religion, and the National Association of Professors of Hebrew.
Dr. Dallaire earned a PhD and an MPhil in Hebrew and Cognate Studies (Comparative Semitics) from Hebrew Union College—Jewish Institute of Religion, an MA in Biblical Literature from Oral Roberts University, and a BA in Psychology from Ottawa University. She completed additional work at the Hebrew University of Jerusalem, the Jerusalem University College, McMaster University, and Western Pentecostal Bible College.